Budget compromise includes $1.6 billion to resettle latest undocumented minors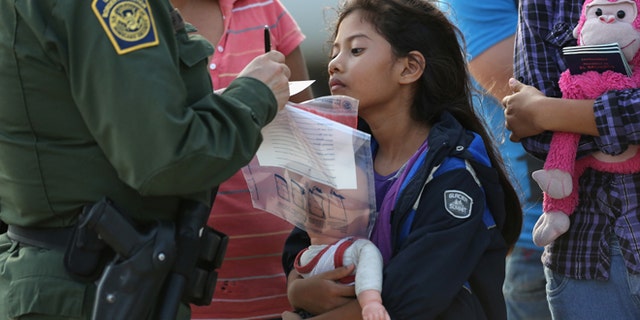 Part of the $1.14 trillion budget deal that Congress sent Friday to President Barack Obama includes a provision to spend more than $1.6 billion over the coming two years to resettle undocumented minors who have come to the United States from Latin America in recent months.
The provision, which was reported by the Washington Free Beacon, comes as U.S. Border Patrol reported that more than 10,000 unaccompanied children crossed into the U.S. in October and November, double the number of crossings in the same two months of last year. The increase prompted federal officials to open two shelters in Texas and one in California.
Some 1,000 children are expected to be sent to two sites in Texas and to be reunited with family members who are living in the United States.
The bill would give $1,645,201,000 through fiscal year 2018 "for necessary expenses for refugee and entrant assistance activities" under the Immigration and Nationality Act and the Refugee Education Assistance Act, according to the text released Tuesday.
A 65-33 Senate vote on the total budget deal on Friday sent the measure, which combines $1.14 trillion in new spending in 2016 and $680 billion in tax cuts over the coming decade, to Obama for his signature. It had swept through the House on a pair of decisive votes on Thursday and Friday, marking a peaceful end to a yearlong struggle over the budget, taxes and Republican efforts to derail the president's regulatory agenda.
Obama is expected sign the measure, which includes many of the spending increases he fought for all year and is largely cleansed of GOP attempts to block efforts on the environment, financial regulation and consumer protection. Republicans won a spending increase for the military and an end to a ban on exporting U.S. oil, as well as permanent tax cuts for business investment.
Senate Republicans were evenly split on the bill, with 27 of them voting in favor and 26 against. Presidential contender Marco Rubio missed the vote. Only six Democrats along with Independent Bernie Sanders, who is running for the Democratic presidential nomination, voted against the measure.
With the votes, lawmakers wrapped up a surprisingly productive, bipartisan burst of late-session legislation.
The budget pact was the last major item in a late-session flurry of bipartisanship in Washington, including easy passage of long-stalled legislation funding highway programs and a rewrite of education programs.
It was an impressive first few weeks for new House Speaker Paul Ryan (R-Wisconsin), who got the benefit of the doubt from most Republicans. House GOP members had opposed by a wide margin earlier legislation that established the framework for the budget package.
House Democratic leader Nancy Pelosi of California, a key negotiator, swung forcefully behind the measure after showing initial frustration over its lifting of an oil export ban and lack of action on helping Puerto Rico address its fiscal troubles.
"They wanted big oil so much that they gave away the store," Pelosi said, citing increased spending on domestic programs, as well as tax breaks for working families and renewable energy.
"This bipartisan compromise secures meaningful wins for Republicans and the American people, such as the repeal of the outdated, anti-growth ban on oil exports," Ryan said, also declaring victory on the large budget increase for the Pentagon and curbs on the Environmental Protection Agency and the Internal Revenue Service.
The House voted on the spending portion of the measure on Friday, when it won support from House Republicans by a 150-95 margin. Democrats followed Pelosi's lead and backed the bill by a 166-18 margin. In a procedural quirk, the House passed most of the tax cuts — virtually all of them financed with deficit dollars — on Thursday.
The bill extends more than 50 expiring tax cuts, with more than 20 becoming permanent, including credits for companies' expenditures for research and equipment purchases and reductions for lower-earning families and households with children and college students.
The spending measure would fund the operations of every Cabinet agency. It awards increases of about 6 percent, on average, above tight spending caps that were a relic from a 2011 budget deal and were opposed by both GOP defense hawks and Democrats seeking more domestic spending.
The Associated Press contributed to this report.