Bills to Defund ACORN Face Legal Hurdles, Experts Say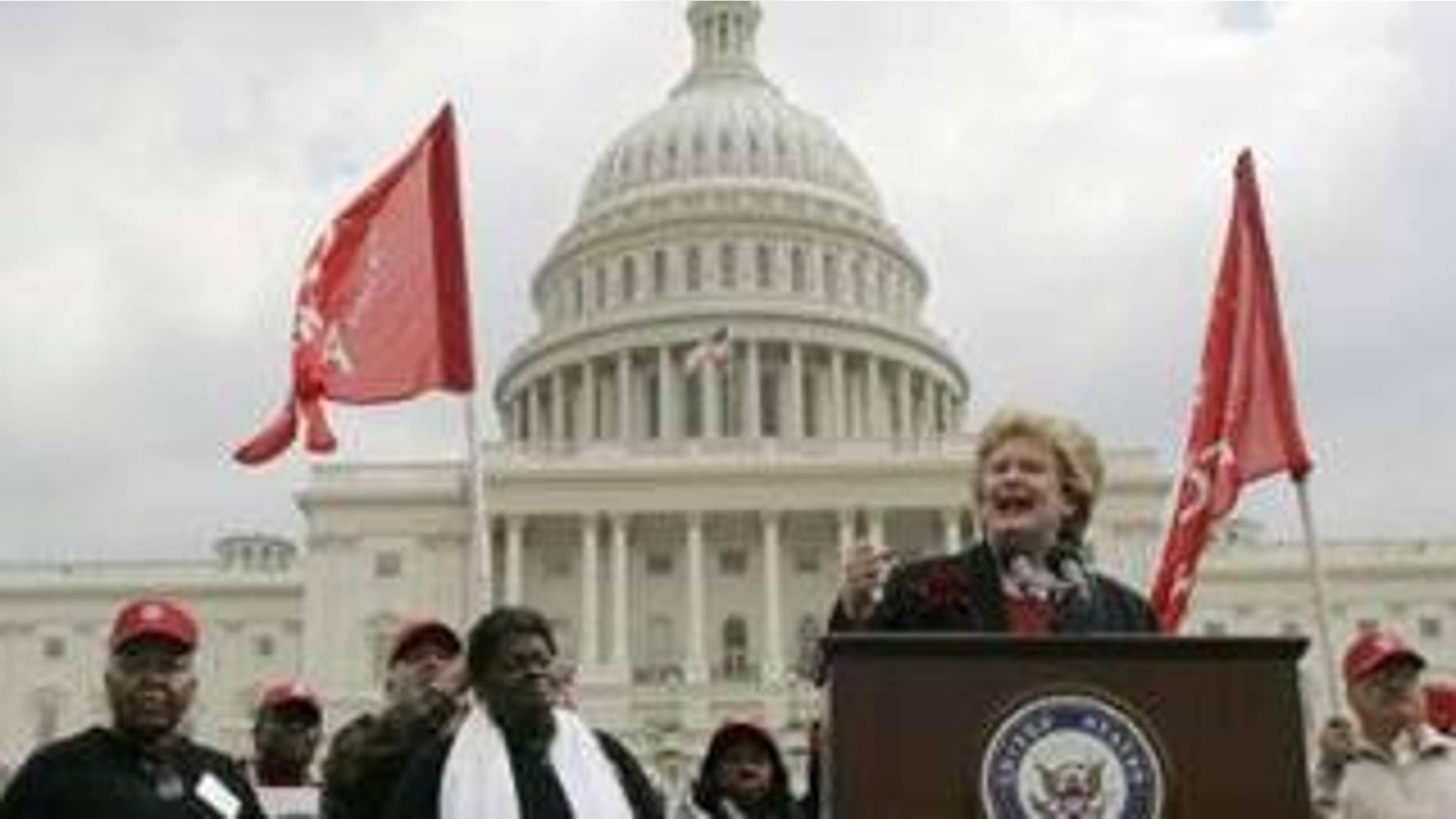 Despite overwhelming support in Congress, the effort to turn off the federal spigot that funds ACORN may be facing constitutional and political roadblocks.
In an effort spearheaded by Republicans, the House and Senate voted earlier this month to sever ACORN's federal funding after a series of undercover videos showed some of the group's employees offering advice to a couple posing as a pimp and prostitute on how to skirt tax and immigration laws.
But some legal experts say that the provisions of the bills may be unconstitutional. And the House bill in particular, they say, risks alienating defense contractors, who are longtime allies of Republicans.
The bills are illegal, some skeptics say, because their intent -- to cut off funds to a single group -- violates the constitutional guarantee that lawmakers may not punish a person or group of a crime without a trial, a legal concept known as a bill of attainder that has been reinforced by the Fifth Amendment.
A report by the nonpartisan Congressional Research Service, a think tank for lawmakers, found that the bills could be unconstitutional if lawmakers intended to punish ACORN.
"While the regulatory purpose of ensuring that federal funds are properly spent is a legitimate one, it is not clear that imposing a permanent government-wide ban on contracting with or providing grants to ACORN fits that purpose, at least when the ban is applied to ACORN and its affiliates jointly and severally," the report read.
Click here to read the full report.
"Congress must not be in the business of punishing individual organizations or people without trial and that's what this Amendment does," said Rep. Jerrold Nadler, D-N.Y. , who voted against the House bill. "Whatever one may think of the organization, the Constitution's clear ban on Bills of Attainder is there for the protection of all of our liberties."
But aides to the lawmakers who introduced the measures say they pass constitutional muster.
A spokeswoman for Sen. Mike Johanns, R-Neb., who offered two anti-ACORN amendments that were adopted by the Senate, said the senator's goal was "to protect the taxpayer from waste, fraud and abuse."
"ACORN is an organization that has a pattern and culture of employees engaging in fraud and other illegal behavior," Ann Marie Hauser said in an e-mail to FOXNews.com. "Receiving federal funding is a privilege, not a right."
A spokesman for Rep. Darrell Issa, R-Calif,., who engineered the House bill, said the congressman stands by the language in the bill, asserting that any individual or group indicted for fraud should be banned from receiving federal money.
"I think that anyone in Congress will be hard-pressed to argue why a measure that would ban federal funding to ACORN shouldn't be passed, why anyone guilty of fraud shouldn't be held to a standard where they can't receive federal dollars," Issa spokesman Kurt Bardella told FOXNews.com.
He said Issa is not seeking to punish ACORN and that Congress has the constitutional ability to withhold funds from corrupt organizations.
"If we're withholding money from an entity that is fraudulent, there's a big difference between that and being dubbed punitive," he said. "We're not suing ACORN. We're not sending them to jail."
But because Issa's bill goes beyond ACORN and would prohibit federal funding for any group that has filed fraudulent paperwork with the government or violated campaign finance laws, it could ensnare Republican-leaning federal contractors who have paid billions of dollars in recent years to settle charges and allegations of misconduct.
"Without meaning to, the House took a landmark step in holding federal contractors accountable," said Danielle Brian, executive director of the Project on Government Oversight.
"Last year, we were fighting for a repeat offender provision to protect taxpayers from contractors with a pattern of misconduct," she said in a blog posted on the group's Web site. "Members must have woken up on the other side of the bed because they revisited the issue and produced an improved accountability provision."
The group found that 62 federal contractors, including Boeing, GlaxoSmithKline and Northrop Grumman, could be prohibited from receiving additional federal funding if the House bill becomes law.
Boeing agreed to pay the federal government up to $54 million to settle two lawsuits that alleged it placed defective gears in helicopters it sold to the Army. GlaxoSmith Kline agreed to pay about $3.4 billion and Northrop Grumman $15 million to settle charges and allegations of misconduct.
But the group isn't confident that this version will get passed.
"Obviously when it comes to legislation, politics always play a major role in what happens," Scott Amey, general counsel for the group, told FOXNews.com. "That's why I'm skeptical that this will get passed."
Sen. Bernie Sanders, I-Vt., introduced an amendment Thursday that would have the Defense secretary to calculate the total amount of money that goes to companies that have engaged in fraud against the U.S. and then make recommendations about how to penalize repeat offenders.
"It is absurd that year after year after year, these companies continue doing the same things and they continue to get away with it," Sanders said on the Senate floor.
"I hope this study will receive bipartisan support and will be a first step in the process of cleaning up the world of defense contracting," he said.