Biden interior secretary chokes up while talking about importance of bison for Native Americans
'I was thinking about how the federal government tried to erase Indigenous people,' Haaland remarked
Interior Secretary Deb Haaland choked up while speaking about the importance of Native American stewardship of lands and wildlife during her remarks at a White House conservation summit Tuesday.
Haaland became visibly emotional in particular as she recalled her recent secretarial order restoring populations of American bison across the country using more than $25 million earmarked in the Inflation Reduction Act passed and signed into law over the summer. The Department of the Interior (DOI) said, under the order, bison would be returned to tribal and "ancestral" lands where Indigenous groups developed strong ties to the animal.
"We're incorporating Indigenous knowledge and honoring tribes for their role in stewarding our lands and waters since time immemorial," Haaland said before tearing up. "Two weeks ago, I signed an order to elevate the department's work to restore the American bison in prairie grasslands. And it won't surprise you that I teared up when I signed the documents."
"I was thinking about how the federal government tried to erase Indigenous people in so many ways, taking their land, taking their children, taking their lives and taking away the bison that were so central to many tribal nations' lifeways," she continued. "But you know that the bison are still here and Indigenous people are still here."
BIDEN ADMIN HIT WITH LAWSUIT OVER APPROVAL OF MASSIVE OIL DRILLING PROJECT: 'WE ARE ENRAGED'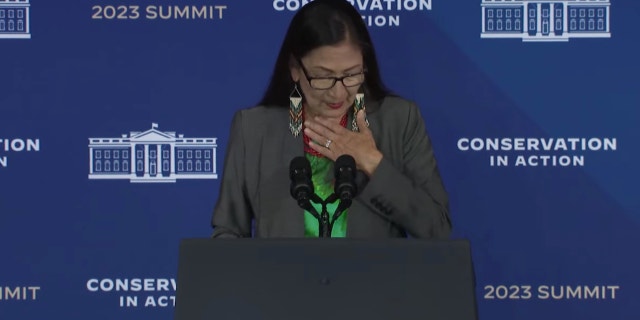 In a March 3 statement that accompanied her order, the interior secretary noted that "the American bison is inextricably intertwined with Indigenous culture, grassland ecology and American history."
And according to the DOI, bison populations which once numbered 60 million were made nearly extinct from hunting and a federal policy to inflict intentional harm on Native Americans reliant on the species in the 1800s. Then, in the early 1900s, the U.S. initiated an effort to recover bison, successfully increasing the animal's population from 500 to 15,000 as of this year.
AOC, TOP DEMOCRATS ISSUE STINGING REBUKE OF BIDEN OVER FAILED CLIMATE PROMISES
"While the security of the species is a conservation success worth celebration, bison remain functionally extinct to both grassland systems and the human cultures with which they coevolve," the DOI said in a statement.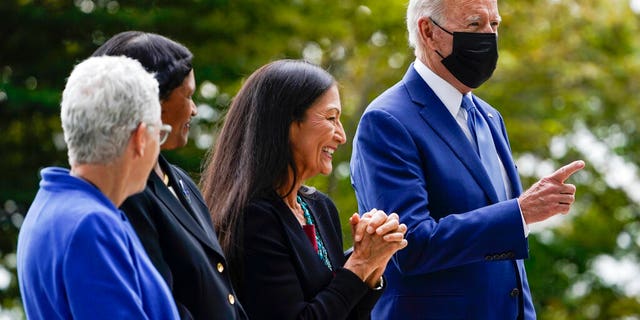 Haaland's remarks were delivered Tuesday during the White House Conservation in Action Summit. The event highlighted various actions the Biden administration has taken to preserve federal lands and waters.
CLICK HERE TO GET THE FOX NEWS APP
In addition, President Biden announced at the event that he would be establishing two new national monuments, one in Nevada and another in Texas. He also said his administration was reviewing protecting a vast area in the Pacific Ocean near Hawaii, creating a new sanctuary.
"These actions build on more than two years of the Biden-Harris Administration's progress and historic investments to advance conservation, restoration, and stewardship nationwide," the White House said.
Fox News Digital production assistant Emily Robertson contributed to this report.