At VP debate, Kaine says thought of Trump as president 'scares us to death'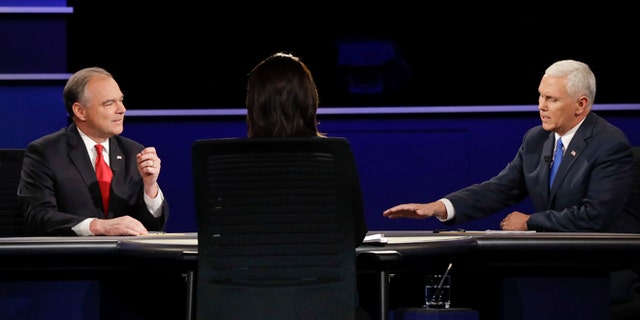 NEWYou can now listen to Fox News articles!
Tim Kaine said the thought of Donald Trump as commander in chief "scares us to death."
But the Democratic vice presidential candidate said he trusts running mate Hillary Clinton with his son's life.
The Virginia senator's son is serving in the Marines. Kaine made the comments Tuesday night during his debate with Republican Mike Pence.
He also citied his own experience "at every level of government" to explain why he's qualified. Kaine has served as a mayor, a governor and a senator.
Kaine noted that he's proud to be running with "a history-making woman." Clinton would be the first woman elected president.
In the early going of the debate, Mike Pence pitched his small-town Indiana upbringing as a key asset in his career in government, and says he can use it to help Donald Trump bring change to Washington.
The Republican vice presidential nominee said he has a "lifetime of experience" steeped in values from his immigrant grandfather and his childhood.
He said at the start of the vice presidential debate that he "never dreamed" he'd be able to parlay that start in life into the Indiana governorship or a spot on the national GOP ticket.
Pence misidentified the host institution of Tuesday night's debate. He said "thank you to Norwood University for their wonderful hospitality." The Farmville, Virginia, school hosting the event is Longwood University.
During their debate, Pence and Kaine seemed unlikely to dramatically change the way voters view Trump and Hillary Clinton, who are among the most well-known figures in the country. Still, the nationally televised debate promised a spotlight opportunity for the longtime politicians to introduce themselves to Americans, energize party loyalists and potentially sway the shrinking pool of undecided voters.
The 90-minute showdown at Virginia's Longwood University is being moderated by Elaine Quijano of CBS News. While last week's first presidential debate was watched by a record-setting television audience of 84 million people, Tuesday's contest was expected to have smaller viewership given Pence and Kaine's lower profiles in the campaign.
In a recent Associated Press-GfK poll, more than half of registered voters said they didn't know enough about Kaine to venture an opinion about him and about 44 percent said the same for Pence.
Based on reporting by the Associated Press.