As FAA Shutdown Continues, Obama Pleads With Congress to End Stalemate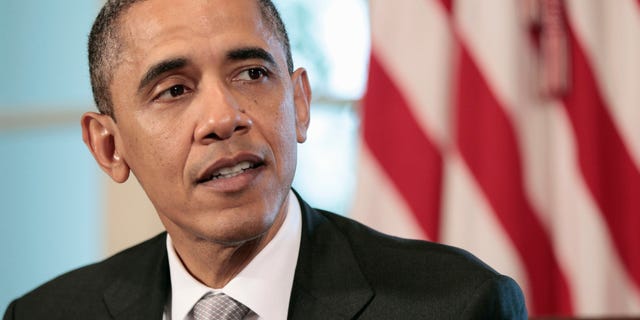 NEWYou can now listen to Fox News articles!
President Obama ratcheted up the pressure on Congress Wednesday to return from a monthlong vacation and end an impasse over funding the Federal Aviation Administration, which is in the 12th day of a partial shutdown that has left more than 70,000 airport construction workers and 4,000 FAA employees out of work.
"This is a lose-lose-lose situation that can be easily solved if Congress gets back into town and does its job," the president said at the start of a Cabinet meeting.
"I'm urging the House and the Senate to take care of this," he said. "This is an example of a self-inflicted wound that is unnecessary and my expectation and I think the American people's expectation is this gets resolved by the end of the week."
Earlier Wednesday, Transportation Secretary Ray LaHood appeared at the White House briefing room and repeatedly urged lawmakers to pass a "clean" funding bill and then work out their differences later.
"Get off the beach, get out of your mobile homes," he said to laughter from reporters. "Maybe I should have said RVs? Come back to Washington, pass the bill."
At issue are two provisions to the funding bill that would eliminate millions in subsidies for rural airline services and make it more difficult for airline workers to unionize – both of them opposed by Democrats.
Democrats want a "clean" short-term funding bill to bring back about 4,000 FAA workers who have been furloughed and more than 70,000 airport construction workers. The government is also missing out on $30 million a day in airline taxes.
With both chambers of Congress in recess until after Labor Day, the issue won't be resolved unless they come back early. But both sides continue to blame each other for the stalemate.
"The only reason 80,000 jobs are at stake is that Senate Democratic leaders chose to play politics rather than keep their word and pass the house bill," a spokesman for House Speaker John Boehner said. "That's indefensible, and they should end this crisis immediately."
Rep. John Mica, R-Fla., the chairman of the House Transportation Committee, said Senate Democrats "have no one to blame but themselves for this partial shutdown of FAA programs and airport projects."
"Senate Democrats had a House-passed FAA extension before them for two weeks, but chose to do nothing," Mica said. "Instead of passing this simple bill, Senate Democrats chose to protect outrageous ticket subsidies, as much as $3,720 per ticket in Ely, Nevada, on the backs of 4,000 furloughed FAA employees and thousands more out-of-work airport construction workers."
Rep. Nick Rahall, the top Democrat on the House Transportation and Infrastructure Committee, said House Republican leaders "had the ability to end this shutdown but refused to budge from their stubborn 'my way or the runway' approach to negotiating."
"As we have learned over the last 12 days, forcing the FAA to shut down to score a few political points for Tea Party extremists comes at a great cost to American jobs and our economy," he said.
At a news conference Wednesday, congressional Democratic leaders repeatedly accused Republicans of "hostage-taking" for the sake of union-busting. But they couldn't explain why they wouldn't just take a clean, short-term extension.
"We need to act on this issue now," House Minority Whip Steny Hoyer, D-Md., said in heated remarks, adding that "75,000 people demand it and the American people want it!"
The GOP-led House passed a long-term FAA funding bill last month that included a controversial labor provision that would overturn a decision by the National Mediation Board allowing airline and railroad employees to form a union by simple-majority vote. Republicans, who have long been concerned about union intimidation in these votes, want to keep the former rule treating a non-vote as a "no" vote.
But once that bill stalled over Democratic objections, lawmakers turned to a short-term extension that has passed 20 times before to keep the FAA operating since 2007.
But that effort stalled, too, when Republicans added a separate provision stripping $16.5 million in subsidies for rural airline services.