Arizona Rancher Will Fight Court Order To Pay Damages to Undocumented Immigrants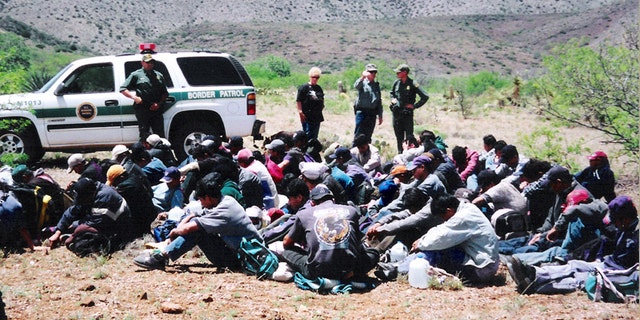 An Arizona rancher who was ordered to pay nearly $90,000 in punitive damages to undocumented immigrants he confronted, with a gun, is going to request a rehearing, his attorney said.
"We'll be filing a motion for a rehearing," said David T. Hardy, who is representing Roger Barnett. "He feels he got screwed. I have some sympathy for that view."
The U.S. Ninth Circuit Court of Appeals last week upheld a lower court verdict ordering Barnett to pay the damages for the 2004 incident, in which the plaintiffs claimed that he approached them with his dog and said he'd shoot them if they tried to leave.
The court said that an Arizona law permitted a person to threaten to use – or actually use – physical force against someone else when that person believes it is necessary for protection "against the other's use or attempted use of unlawful physical force."
But the court said that Barnett held them at gunpoint even after becoming aware that no one in the group of 16 men and women was armed, and so he could not use the argument of self-defense.
"Basically they said he took his pistol out and kept his pistol out longer than necessary," Hardy said.
In fact, Hardy added, Barnett put his gun away after realizing that no one in the group was armed, and after feeling he was not in physical danger.
"What they [judges] missed was that once he saw they were harmless, he holstered his gun," Hardy said. "When the Border Patrol showed up, [the pistol] was in his holster."
David Hinojosa, southwest regional counsel for the Mexican American Legal Defense & Educational Fund, which represented the plaintiffs in the suit against Barnett, said he is confident the Ninth Circuit Court will deny a rehearing.
"He pointed the barrel of the gun at every single one of those immigrants," said Hinojosa, who was co-counsel in the case. "He apparently didn't remember yelling racial epithets at the people, or making one lady break down to the point of crying and praying to be let go."
"The jury believed the immigrants, they didn't believe him," he said. "It's just a simple delay tactic for Barnett rather than just paying the debt."
After the Ninth Circuit Court's ruling, MALDEF released a statement that said: "Today's ruling sends the strong message that vigilantes will not be tolerated in Arizona."
Hardy took exception at MALDEF's description of Barnett as a trigger-happy vigilante.
He said Barnett has been "swamped" by the impact of undocumented immigrants and drug smugglers coming onto his property. Hardy said "the FBI twice told him his life was in danger."
"Whole areas of his land have been covered in trash" left behind by people crossing on it illegally, Hardy said. "Some are parties of illegal entrants, sometimes there are groups of 40 or 50. He has drug smugglers come through too. They take vehicles and plow through his fence."
"He doesn't like illegal immigrants trashing his land," Hardy said. "I don't think before he cared about the issue [immigration] one way or the other."
Hinojosa said Barnett has acted overzealously in the past when encountering undocumented immigrants.
"He's notorious for going on to other people's lands and assaulting immigrants in the same or similar manner," Hinojosa said. "There's a difference between wanting to arm yourself for protection, and wanting to commit assault. The American system doesn't tolerate the Wild West."
Elizabeth.Llorente@FoxNewsLatino.com
Follow us on twitter.com/foxnewslatino
Like us at facebook.com/foxnewslatino