Appeals court to weigh lifting temporary hold on Obama immigration action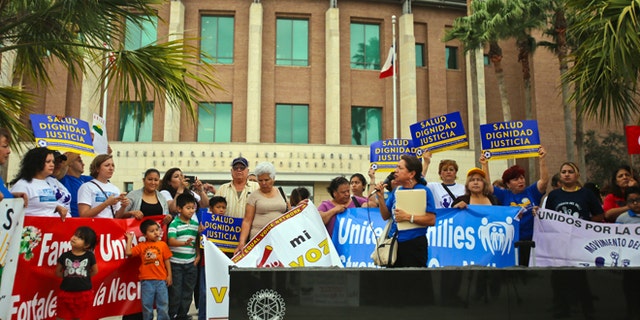 NEWYou can now listen to Fox News articles!
NEW ORLEANS (AP) – Appellate judges on Friday were to consider whether to lift a temporary hold imposed by a federal judge in Texas on President Barack Obama's executive action seeking to shield millions of immigrants from deportation.
A three-judge panel of the 5th Circuit Court of Appeals will hear arguments in a closely watched case that is holding up Obama's immigration action.
U.S. District Judge Andrew Hanen in Brownsville granted a preliminary injunction on Feb. 16 at the request of 26 states that oppose Obama's action. Hanen's rulings have temporarily blocked the Obama administration from implementing the policies that would allow as many as 5 million people in the U.S. illegally to remain.
Large numbers of advocacy groups and immigrants were planning to rally outside the New Orleans courthouse.
Obama announced the executive orders after the November mid-term elections, saying inaction by Congress forced him to make sweeping changes to immigration rules on his own.
A coalition of 26 states, led by Texas, filed the lawsuit to overturn Obama's executive action, arguing that it is unconstitutional and would force them to invest more in law enforcement, health care and education.
Justice Department attorneys have argued that maintaining the temporary hold harms "the interests of the public and of third parties who will be deprived of significant law enforcement and humanitarian benefits of prompt implementation" of the president's immigration action.
The appellate court is taking up the case at a special hearing. It was uncertain how quickly the panel might rule following the hearing. Each side was to get an hour to argue their case.
The first of Obama's orders — to expand a program that protects young immigrants from deportation if they were brought to the U.S. illegally as children — had been set to take effect Feb. 18.
The other major part would extend deportation protections to parents of U.S. citizens and permanent residents who have been in the country for several years. That provision was slated to begin on May 19.
Like us on Facebook