Anything short of 1st place in Texas could doom Ted Cruz's candidacy, experts say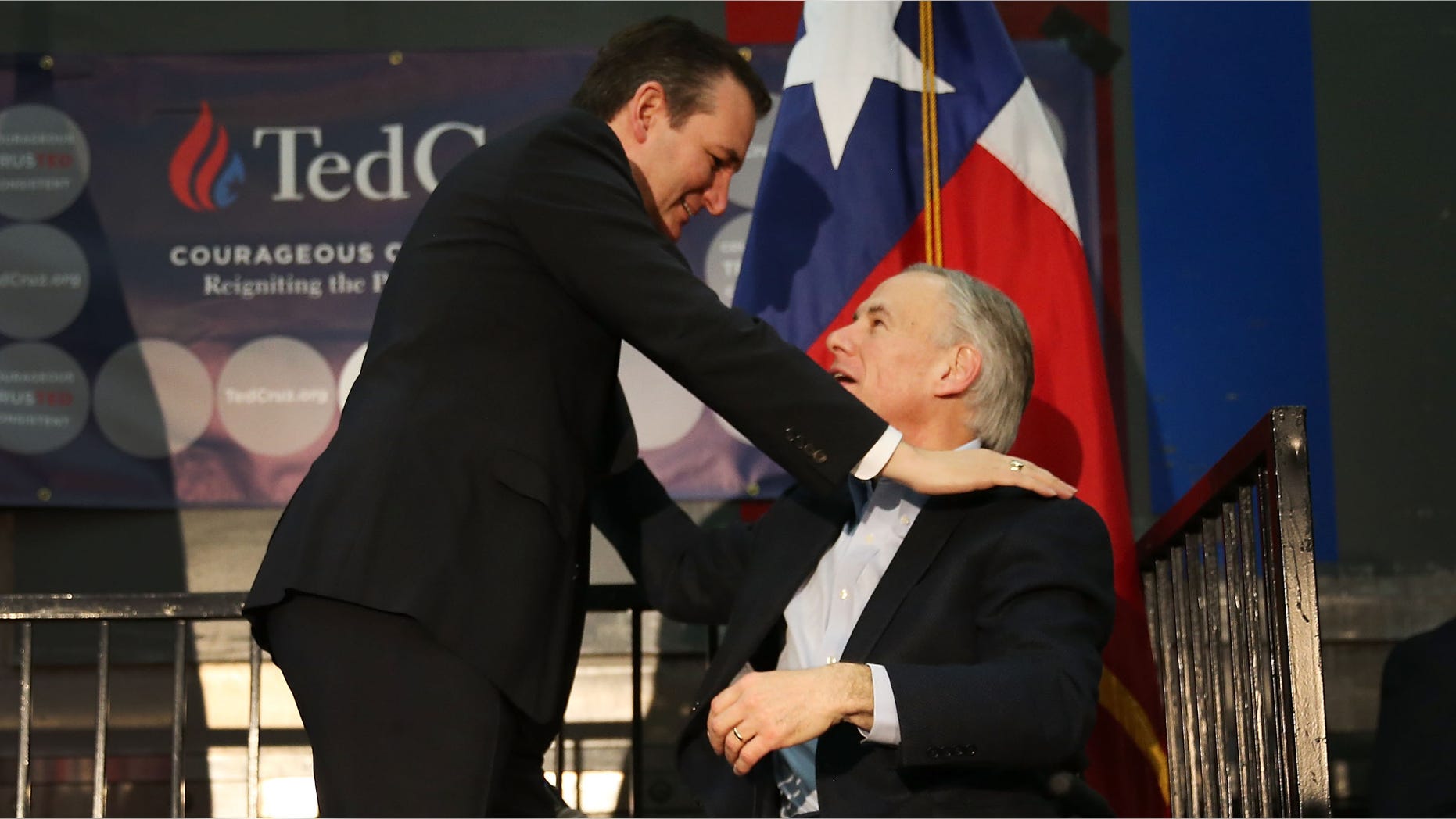 With the presidential campaign speeding up, Donald Trump and Marco Rubio have secured big named gubernatorial endorsements with New Jersey Gov. Chris Christie and South Carolina Gov. Nikki Haley, respectively.
However, Ted Cruz is banking on his former boss and mentor Gov. Greg Abbot to be the bigger draw in Texas, the crown jewel of the 11 states holding primaries on Tuesday.
The stakes are high for Cruz to dominate in his home state on Super Tuesday – especially following third-place finishes in Nevada, South Carolina and New Hampshire. He cannot afford to share the state's 155 delegates as Rubio works his way to becoming perhaps Trump's only obstacle to the nomination.
Abbott, the state's former attorney general who hired Cruz as Texas' solicitor general in 2003, has tired making waves in his first 15 months in office. He lacks the national celebrity of Christie or Haley, whose backing of Rubio before her state's primary last week was seen as helping push the Florida senator to second place.
But anything short of first in Texas would likely doom Cruz, who on Monday will campaign across the state with Abbott and bet on the governor's reputation for winning over both restless conservative activists and party standard-bearers.
"He's exceptionally popular. Governor Abbott and Ted Cruz are the two most popular Republicans in the state," said Steve Munisteri, the former longtime chairman of the Texas Republican Party and a former adviser to Sen. Rand Paul's presidential campaign. "Governor Abbott's been on the scene a very long time and has built a very loyal base."
Political longevity — Abbott has climbed the ranks of elected office for 20 years — has been toxic to Republican voters in an election year fueled by anti-incumbent resentment. But Abbott's relentless suing of the Obama administration has preserved credibility among the tea party, while his even temper and experience has long won admirers with the elite GOP donor class, including some who heavily backed former Florida Gov. Jeb Bush.
Strategists were widely dim on the impact of endorsements before Christie backed Trump on Friday, sending a new shockwave through an unpredictable race. Austin Barbour, a Republican strategist in Mississippi who worked on the campaigns of former Texas Gov. Rick Perry and then Bush before they dropped out, said Abbott could give Cruz a nudge in Texas but doubted his name recognition elsewhere.
"I don't think it's very high. That's not a negative toward him. He hasn't been governor of Texas that long," Barbour said.
Cruz wrote in his autobiography that when he was solicitor general, Abbott "allowed me to tackle the high-profile issues that few other statewide-elected officials would have given to a subordinate. That reflects his humility and deep confidence." But Abbott isn't shy about the spotlight now.
He met with Israeli Prime Minister Benjamin Netanyahu in Jerusalem and is one of only two governors to visit Cuba since the U.S. began normalizing relations with the island nation. Following the Paris attacks, Abbott made Texas the first state to sue the federal government over the settlement of Syrian refugees.
In January, Abbott began his second year on the job by announcing that the longshot push for a constitutional convention would be a new priority of his office. He spent months drafting the plan with the help of Randy Barnett, a libertarian law professor at Georgetown who is most famous for driving the constitutional challenge to the federal health overhaul before the Supreme Court.
Abbott, however, says a White House run is not in his sights.
"No aspiration at all to do that," Abbott told The Associated Press in a brief interview. "Because I have the best job in the world leading the best state in the world in the best country in the history in the world."
But Abbott is starting to have name recognition outside Texas — at least with Cruz supporters.
"He's a gentleman and a scholar," said Marlena Nobles, a 61-year-old retiree who attended a Cruz rally Sunday in Tulsa, Oklahoma, about 90 miles from her hometown of Eufaula.
Nobles said she has known of Abbott since 2011, once met him and came away thinking, "He was so completely honest. It amazed me."
Nearby stood Robert Walker, a farmer and truck driver from Longton, Kansas. He said of Abbott, "I'd probably vote for him."
Based on reporting by the Associated Press.