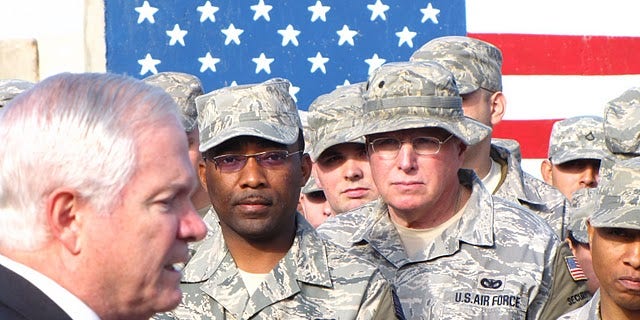 After spending two days in Afghanistan meeting with troops, Defense Secretary Robert Gates decided to spread a little Christmas cheer. He invited four United States soldiers to fly home with him on his modified Boeing 747 called the E-4B, better known as the Doomsday plane.
Pentagon Press Secretary, Geoff Morrell, told members of the traveling press that Gates had "long wanted" to bring troops back from the war zone on his own plane, knowing how long it takes them and because he often has empty seats.
A flight from Afghanistan to somewhere in the U.S. can be a two-day affair or more. It starts with a long wait for the first military plane to Kuwait and then a brutally long chartered flight (think coach seats for 17 hours) back to the states. And unless you live near Dallas or Atlanta, the only two routes those planes fly, it's at least one more connecting flight.
The E-4B can refuel in midair over the Atlantic and picks up satellite television along the way. In addition to the free flight upgrade, these four soldiers also got an all-expense paid night at the gorgeous Emirates Palace Hotel in Abu Dhabi.
Before the Secretary left on his overseas trip he instructed commanders in Afghanistan to find four soldiers who had plans to leave on his schedule, Morrell said. Two of the soldiers selected are a married couple going home to spend the holidays with family in Texas. The family includes their three sons, ages five, four and two. The couple deployed to Afghanistan together and left their sons in the care of relatives.
The third soldier is going home to Hammond, Indiana, and has deployed twice to Afghanistan during his three years in the Army. The fourth is returning from his first deployment to Afghanistan to see his wife and child in Tennessee.