We must not allow full-speed ahead for car companies when it comes to business with Iran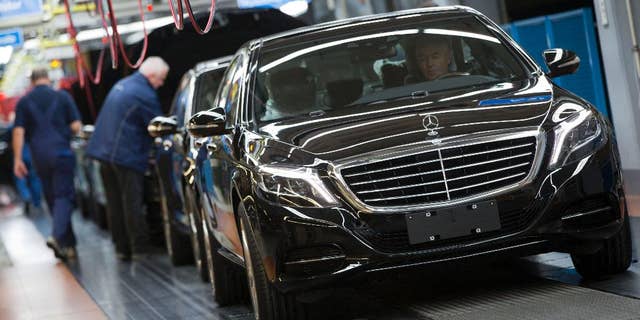 NEWYou can now listen to Fox News articles!
The North American International Auto Show – the premier industry assembly for auto aficionados and manufacturers – is in full swing this month in Detroit.
Six thousand miles away, a far different auto show involving many of the same manufacturers is unfolding in Iran. For the Iranian regime, the auto industry is more than a massive source of revenue for the Islamic Revolutionary Guard Corps (IRGC), a terrorist organization sanctioned by the United States and the international community. It also provides the country's rulers with access to advanced foreign technologies and dual-use products for its military and security forces through foreign business agreements.
Some of the same companies proudly showing off their dazzling, shiny wares at the auto show in Detroit, including Fiat-Chrysler and Daimler, are in the middle of negotiating deals in Iran that are being brokered with Iranian counterparts closely linked to the IRGC.
While the public and press check out the latest model designs and auto technology from companies like Fiat-Chrysler and Daimler, these same businesses are negotiating deals to enter a market controlled by a regime that is the world's leading state sponsor of terrorism worldwide, that represses its own citizens, and is responsible for the killing of more than 1,000 U.S. service members.
Fiat-Chrysler and Daimler suspended their business ties to Iran just a few years ago, under heavy pressure from the U.S. public and economic sanctions. But today, automakers are using the Iran nuclear deal as a legal mechanism that enables them to re-enter the Iranian market.
But if Fiat-Chrysler and Daimler were concerned about the regime's behavior before the JCPOA, they should be just as anxious now. Since the signing of the nuclear deal, Iran has tested multiple ballistic missiles in defiance of U.N. security council resolutions, smuggled weapons and missiles to its terror proxy Hezbollah, stepped up its harassment of U.S. Navy ships in the Persian Gulf, enabled Syria's Bashar al-Assad to barrel bomb his own people, and arrested and held hostage numerous dual national citizens from Western nations.
Despite this incendiary behavior, automakers insist on pushing ahead with their own lucrative business deals. Fiat-Chrysler is reportedly going announce a deal next month at the Iran Automotive Industry International Conference (IAIIC) with Iran Khodro, a subsidiary of IDRO, an Iranian government body that controls companies that developed the regime's nuclear and missile programs. In other words, Fiat-Chrysler will soon be in business with an entity posing a grave threat to international security.
News accounts suggest Daimler, with the encouragement of the German government, has signed letters of intent for a joint venture with Iran Khodro Diesel for its Mercedes-Benz trucks. The same trucks have been used in the past by the regime as mobile launchers for ballistic missiles, as well as platforms for public executions. Daimler's willful blindness enables a regime that hangs dissidents from construction cranes, trains and funds terrorists, and maims and kills American men and women in uniform. And as long as Germany encourages business deals with dangerous bedfellows and there are profits to be made, Daimler is being saddled with serious legal, political, financial, and reputational risks associated with doing business in Iran.
Unfortunately, that line of thinking is clouding the judgment of executives around the globe. We have seen this same show unfold in the past: companies eagerly exploring business opportunities in Iran only to have to back away due to sanctions or public pressure.
Given the regime's indefensible behavior, history is set to repeat itself once again. When that happens, the question for Fiat and Daimler will be: why would you do business with the world's leading state sponsor of terror?
Mark D. Wallace is CEO of United Against Nuclear Iran. He is the former U.S. Ambassador to the United Nations for Management and Reform.