Todd Starnes: Colin Kaepernick is only qualified to endorse knee pads
Former Iranian President Mahmoud Ahmadinejad thinks Colin Kaepernick is a great American. And so does Nike.
The disgraced ex-NFL quarterback who led a national crusade to disparage the national anthem and law enforcement is now the face of Nike's "Just Do It" campaign.
ESPN was the first to report that Kaepernick will headline the 30th anniversary edition of the "Just Do It" slogan.
Nike's advertisement features Kaepernick's face along with the phrase, "Believe in something, even if it means sacrificing everything."
It's beyond me why Nike would take such a financial risk and align the company with a man who once wore socks depicting cops as pigs and embraced Fidel Castro.
The only thing Kaepernick is qualified to endorse is knee pads.
"We believe Colin is one of the most inspirational athletes of this generation, who has leveraged the power of sport to help move the world forward," Nike spokesperson Gino Fisanotti told ESPN.
The new ad campaign is reportedly meant to specifically target 15- to 17-year-olds.
So Nike wants American teenagers to emulate a man who disrespects the national anthem, slanders police officers and embraces Communist leaders?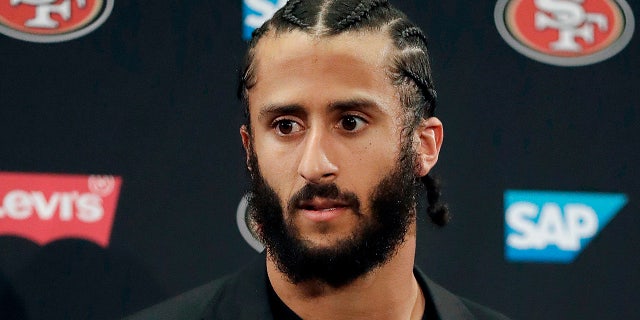 On the same day Nike's decision was made public, Iran's former president defended Kaepernick on Twitter calling him "one of the best Quarterbacks in the league."
Kaepernick became a household name in 2016 when he decided to take a knee during the singing of the national anthem.
"I am not going to stand up to show pride in a flag for a country that oppresses black people and people of color," he told NFL Media. "To me, this is bigger than football and it would be selfish on my part to look the other way. There are bodies in the street and people getting paid leave and getting away with murder."
Soon, his one-made crusade spread throughout professional sports – leading to a massive backlash from patriotic fans.
But Kaepernick stood his ground and became a revered character among America-hating leftists. GQ magazine named him Citizen of the Year in 2017.
"People of color have been targeted by police," he told CBS News. "There is policy brutality."
He once compared modern police officers to a "runaway slave patrol." And he infamously alleged that police officers were "lynching black and brown people."
"How can you stand for the national anthem of a nation that preaches and propagates, 'freedom and justice for all,' that is so unjust to so many of the people living here?"
Does Nike really want to be associated with someone who believes American police officers are lynching minorities? Were there no other professional athletes who could represent Nike's core values?
What about J.J. Watt of the Houston Texans? He raised more than $40 million to help victims of Hurricane Harvey. But apparently, Watt does not embody the core values of Nike.
Nike made a serious mistake by selecting Kaepernick as the face of the "Just Do It" campaign. This is a man who has brought shame upon the National Football League. This is a man who has dishonored our military and law enforcement.
This is a man who has divided America. Say what you want to, but Colin Kaepernick is no stand-up guy.