The Christmas story is still happening today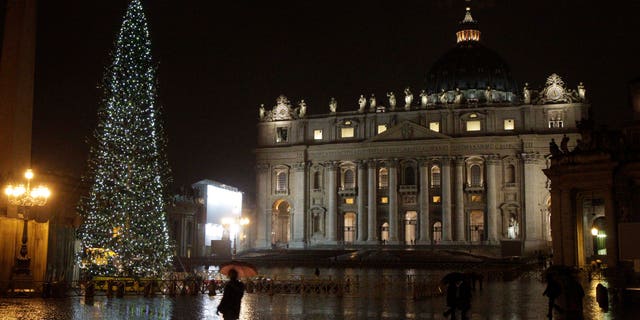 NEWYou can now listen to Fox News articles!
The Christmas story didn't just happen 2,000 years ago in a little town called Bethlehem. The Christmas story began 2,000 years ago.
Don't get me wrong. As a Christian millennial, I know the Nativity story by heart: how Mary gives birth in a stable, wraps the infant Messiah in swaddling clothes and lays him in a manger as shepherds gather 'round and a bright star guides three wise men from the East.
But the Christmas story doesn't end there. It lives on in the stories – the good news – that the media can't help but share.
The Christmas story happens again, in 2015, when 8-year-old Sa'fyre Terry insists that all she wants for Christmas this year are cards, after surviving a fire that killed her family. When her request goes viral on social media, she receives hundreds of thousands of them in what ABC News calls a "true Christmas miracle."
The Christmas story happens when "secret Santas" across three different states pay off layaways at Walmarts amounting to almost $500,000 in an act of charity that causes families to break down in tears.
The Christmas story happens when a local motorcycle club in Michigan spends the day in grocery aisles handing out forty $50 gift cards to, as they say, "folks who look as if though they may need a little extra help."
And the Christmas story happens again, when 4-year-old Prestyn Barnette asks a mall Santa in North Carolina to kneel and pray with him for a baby on life support – a baby he heard about through his grandmother's prayer group.
Each and every one of those events taps into the larger story. The larger story of a God who humbled himself by taking the form of a baby in a manger in order to save mankind.
Because God revolutionizes through the little things. He transfigures hearts starting with a whisper, rather than a shout.
As J.R.R. Tolkien puts it in his famous trilogy, "Even the smallest person can change the course of the future."
In a year when Christians were beheaded by ISIS in the Middle East, targeted and shot by an Oregon shooter and linked to a lone gunman in Colorado, it is essential that we remember God's radical example of how change first enters the world in the small things. That is where we start.
That's why we mustn't just share these stories. We must create our own stories that reveal how one person's compassion can change another person's life.
Like in my own family, when I witness my brother, a fellow Catholic, reach out to a Muslim colleague to let him know he's there for him as a friend, despite their differences. Because part of what makes our country great is that it is built upon religious freedom.
Like the homeless man, who stopped me in the sidewalk the other day on my way home from Farragut Square. He hands me a rose.
When I look down at my purse, he shakes his head "no, no." His accent makes it difficult to hear, but four words I made out clearly: "It is a gift."
The Christmas spirit is still alive and well today, if only we take the time to look for it.
As Christians, we all know the full story of Jesus' birth. Just before, Joseph and Mary frantically searched for an inn after a long journey. Afterward, the Holy Family fled to Egypt to avoid slaughter by King Herod.
But in-between, there was a snapshot of peace. A snapshot of joy. A snapshot of love. And that is what Christmas should be for us. That is what we should strive for Christmas to be for others.