Steve Forbes: Trump's already done great work on job growth. That's why he needs to do this next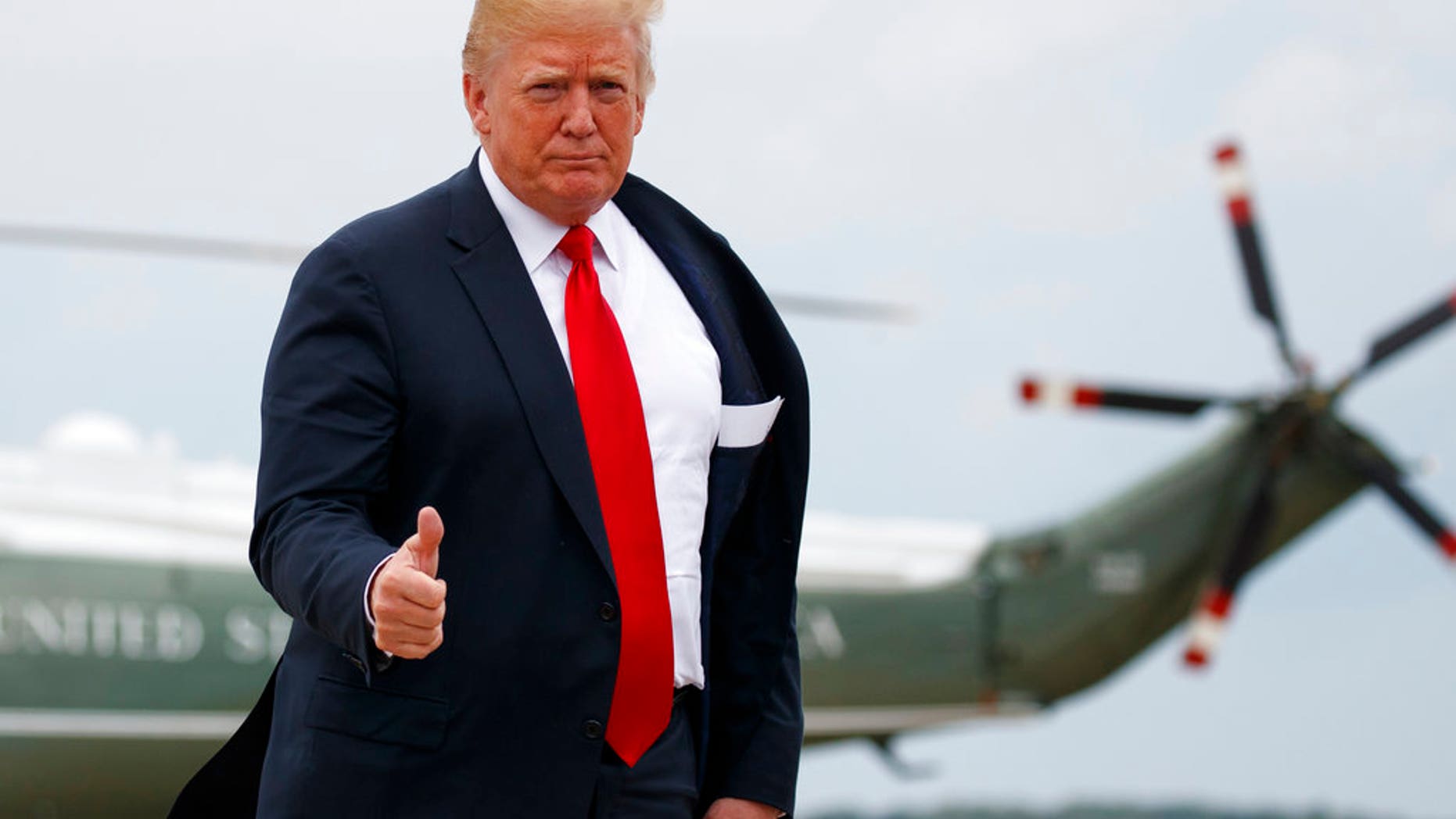 President Trump has done excellent work on job growth since taking office, as the creation of some 3.9 million jobs since his election proves.
The Labor Department reported Friday that 157,000 jobs were added in July, dropping unemployment to 3.9 percent, from 4 percent in June.
At the same time, the economy is humming along and grew at an annual rate of 4.1 percent in the second quarter of the year – its fastest rate in four years.
And on top of this, small business confidence is on the rise.
The president recently quipped that his economic policy "can be summed up in three very simple, but beautiful words: jobs, jobs, jobs."
To continue his success on job creation, President Trump should work with the Senate to ratify and implement the Kigali Amendment to the Montreal Protocol.
The Montreal Protocol, which was championed by President Reagan and British Prime Minister Margaret Thatcher, is an international treaty to phase out the production of substances that can damage the Earth's ozone layer.
In remarks upon signing the agreement in 1988, President Reagan called it "a model of cooperation" and praised it as "the result of an extraordinary process of scientific study, negotiations among representatives of the business and environmental communities, and international diplomacy. It is a monumental achievement."
The Kigali Amendment to the Montreal Protocol is an addition to the treaty that would phase out the production and use of hydrofluorocarbons – chemicals used in cooling and foam insulation. Most countries are already preparing to transition to hydrofluroolefins (HFOs), a new and environmentally sound innovation. The U.S. is prepared to lead the way in manufacturing them.
Conservatives are often accused of being anti-environment because they broadly oppose policies that will cost jobs. And indeed, environmental proposals are often top-down, bureaucratic, job-killing messes.
The Paris climate accord, for example, was crafted without thought for economic ramifications and promised negligible results. President Trump was right to withdraw from that misguided agreement.
And as early as midsummer of last year, the Trump administration's rollback of many onerous, costly, and burdensome regulations was having a substantial positive impact on the economy and will actually create jobs for Americans.
A recent analysis shows that the implementation of the Kigali Amendment would create 33,000 direct manufacturing jobs and over 150,000 jobs economy-wide. It is also projected to increase direct manufacturing output by $12.5 billion and increase output economy-wide by $38.8 billion.
These numbers are the reason why many business leaders support the amendment. It's why 13 Republican senators urged the White House earlier this year to support it.
"By sending this amendment to the Senate, you will help secure America's place as the global leader in several manufacturing industries, and in turn give American workers and advantage against their competitors in the international marketplace," the senators wrote in a letter to President Trump.
Why would implementing the amendment spark such growth? Because it would enable the United States to cement its global leadership in the marketplace with new technology in which we have already invested years of work and billions of dollars.
As other developed countries continue to transition to technology that meets the amendment's standards, and other developing countries follow, American manufacturers will have a tremendous opportunity to sell compliant technology worldwide.
Some claim the implementation of the amendment will lead to higher costs for consumers and businesses that rely on air-conditioning and refrigeration – but this simply isn't true.
Refrigerants are not a consumer product and they comprise less than 1 percent of the value of heating and cooling equipment over the equipment's lifetime. In addition, the amendment wouldn't require the replacement of existing air-conditioning systems, but would ensure the ones purchased in the future will be more efficient and innovative.
Worldwide competition is fierce. Ratification of the Kigali Amendment would allow the United States to stay ahead of countries like China that are making aggressive moves to challenge American businesses in this space.
As a successful global entrepreneur, the president surely knows it would be foolish to waste the market advantage the U.S. currently possesses. The Kigali Amendment meets the high threshold that President Trump has set for international trade agreements. It will create tens of thousands of American jobs and will strengthen America's manufacturing prowess.
President Trump needs to take the critical first step of sending the Kigali Amendment to the Senate, and then work with senators to ratify it and boost his excellent record on job growth.