School play depicts rape, filthy language and public urination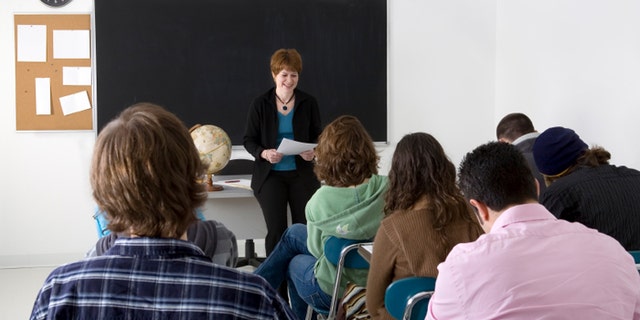 Carnegie Vanguard High School's one act play had a little something for everyone: depictions of male-on-male rape, male-on-female rape, filthy language, on-stage urination, and an actress who simulated wiping her private parts at center stage.
Oh yes, there was also a scene where a male cast member turned his back to the audience and dropped his pants, as fellow cast members deliver dialogue about the size of his appendage.
Click here to join Todd's American Dispatch: a must-read for Conservatives!
The Houston high school's racy production of "Holy Day" has generated great angst among the good church-going people of the Lone Star State.
"Hello Dolly" it is not.
A Houston Chronicle columnist described the show as "psychologically intense, an exploration of subjects such as violence, sex and race."
Carnegie's eyebrow-raising show recently advanced in the Texas One-Act Play Contest – leading to a number of complaints – mostly from the parents of teen actors at competing schools.
"I was completely flabbergasted at the content," one parent who saw the production told me.
One enraged father who attended the April 23 Region III-6A play competition filed a formal complaint with the Houston Independent School District.
"I was deeply offended by the obscene and inappropriate content," the parent wrote – demanding the school be disqualified from the competition.
I spoke at length with the father, a former public school educator for 18 years. He asked that I not disclose his name – fearing it might cause trouble for his children.
His son was also competing in the one-act play competition – representing a different school. He said many people were shocked by what they saw during Carnegie's performance.
"People were disgusted and there was complete shock at what they had just seen," he told me. "Elementary-aged children were exposed to this show."
The parent told me he confronted Carnegie's principal immediately after the performance – but his concerns were dismissed.
"At first, he said, 'well ,you know, everyone has a different tolerance level,'" the parent said. "I told him, 'No, sir. You cannot possibly tell me that it's appropriate for any audience for a young lady to portray wiping her vagina after having sex behind a prop on stage.'"
The University Interscholastic League told me they are "aware of some concerns" and are investigating the content of Carnegie's play.
"UIL is making every effort to follow up with members of the public that have expressed concerns," a spokesman wrote in a statement. "The administration of the producing school shall assure that the director complies with these requirements and that the play does not offend the moral standards of the community."
Apparently the moral standards within the Houston Independent School District are not all that high.
"Such obscene and offensive language and content has no place in any high school in the state of Texas," the concerned parent wrote in his complaint.
The district released a statement defending the theatrical production – noting they are "extremely proud" and they stand by the students "100 percent."
"The script has been thoughtfully modified to be appropriate for a broad, young-adult audience," the district's statement read. "Carnegie students have treated the script's mature subject matter with admirable sensitivity, skill and professionalism."
I suppose it does take a bit of skill to pee in a bucket during a live stage performance.
Perhaps the Tony Awards should consider adding a new category: "Best On Stage Depiction of Bodily Functions."
Carnegie parents are defending the profanity-laced production. One parent convinced the Houston Chronicle to publish a column titled, "How Edgy Should High-School Theater Be?"
"The last time I saw it, some of the audience was in tears. Others walked out. Still others sat silently in their seats, stunned by the journey they had been on," wrote Alice Savage, the mother of one of the cast members.
"Isn't theater supposed to challenge people?" she opined.
Well, sure. But can't they challenge us without dropping their pants and urinating into a bucket?
Critics want the show disqualified – but I sincerely doubt the powers-that-be will oblige. And I have no doubt the school's production could possibly win first prize.
"If they do, it will not be due to their ability to shock and offend, but to move audiences with a distinctly human story," Ms. Savage wrote.
A distinctly human story, I might add, that would be best-suited for a seedy adult bookstore – rather than a high school theatrical competition.