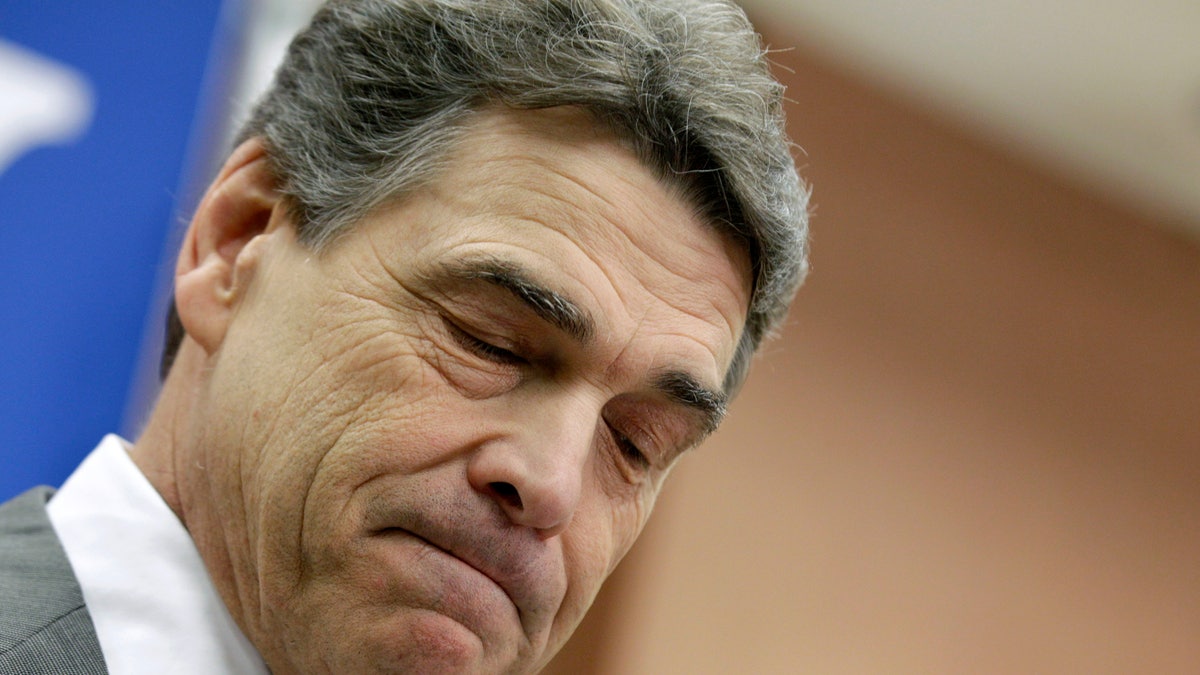 Rick Perry did the honorable thing on Thursday. For the good of his country, he stepped aside in the 2012 presidential race.
(Full disclosure: I predicted in this space last year that, if he were chosen as the Republican nominee, Gov. Perry would be the best candidate to defeat President Obama. If the two men were to face off, I predicted he would occupy the White House in 2013.)
Perry's move, coming just two days before the all-important South Carolina primary may be seen by some as something he should have done weeks ago, but the timing of his announcement today will still help the Texas governor in his quest to prevent Mitt Romney from becoming the next Republican presidential nominee.
With Gingrich surging in South Carolina, Perry's decision to drop out empowers the remaining candidates, the so-called "non-Romneys" to better challenge the for Massachusetts governor.
It also does not help Gingrich much that Rick Santorum likely experience a bonafide win in the Iowa caucuses earlier this month.
Perry's endorsement of Gingrich and his pre-emptive, but veiled response to ABC News for digging up dirt on Newt's personal life, will be helpful to Gingrich as voters have him closing, leading, or within the margin of error in multiple polls.
I've said for some time that Romney's weakness in a general election will be his biggest liability. It seems that some of what voters saw in Monday's Fox News/Wall Street Journal debate confirmed this thesis for South Carolinians. Gingrich seems to have struck a chord in his debate performance and now appears to be surging in the Palmetto State.
It's also important to keep in mind that in Iowa more than 74% of caucus-goers, tallied against Romney, and with much of the overlap--more than 60%--being split by four candidates pursuing what is in essence the GOP base, the willingness to jump on board the Mitt-train by that base still has not solidified.
Perry's exit makes it permissible for the conservative base to -- while it may not be completely solidified -- begin to congeal around the two remaining non-Romney candidates.
(In my opinion Ron Paul doesn't even belong in this primary, so his numbers are in essence irrelevant, and look for zero bounce for him out of the Perry decision.)
If Gingrich wins South Carolina and Santorum comes in second then both should stay in the race at least until Florida.
My friends at Fox News Latino informed me this morning that most of the major GOP Hispanic groups are set to endorse Santorum. But those same sources tell me that Gingrich is aggressively reaching out to the Hispanic community and has been by far the most vocal in courting minority support.
If Santorum were to pick up a surprise win in South Carolina, then it extends the fight for the non-Romney spot.
But if Gingrich wins South Carolina, and Romney comes in second, Gingrich will have the bigger number of delegates, Santorum will likely get behind him, Perry's fundraising mechanism will begin working for him, and Newt Gingrich, yes, Newt Gingrich will go on to win the 2012 GOP nomination.
The tremendous advantage that Gingrich has thus far against his rivals has been his debate performances. His plain spoken, clear ideas on the campaign trail have resonated with voters who feel caught up in the economic mess America finds itself in right now. And, even more importantly, Gingrich understand the angst that grips the majority of U.S. citizens.
Gingrich is a flawed candidate as well. His personal life past is being revisited for public consumption today, but I believe (in addition to generating massive web traffic for Matt Drudge) it will largely be seen for what it is. -- An attack against a man who lived a different way at a different time.
It also opens up an opportunity to humanize Gingrich and move him away from being "the smartest man in the room."
The GOP field in the 2012 race has been a series of poor options for conservative base voters in this primary election. But primary voters want a fighter. Even a flawed one. -- Just so long as the party's nominee can teach President Obama a lesson in the general election.
Rick Perry went a long way towards making that possible by stepping away from the race.
And no one is now sweating Rick Perry's decision more than Team Romney.
Kevin McCullough is the nationally syndicated host of "The Kevin McCullough Show" weekdays (7-9am ET) & "Baldwin/McCullough Radio" Saturdays (9-11pm ET) on 289 stations. He is the author of several books. His latest is "No He Can't: How Barack Obama is Dismantling Hope and Change" (2011).