Reverend Al Sharpton expels God in MSNBC promo sermon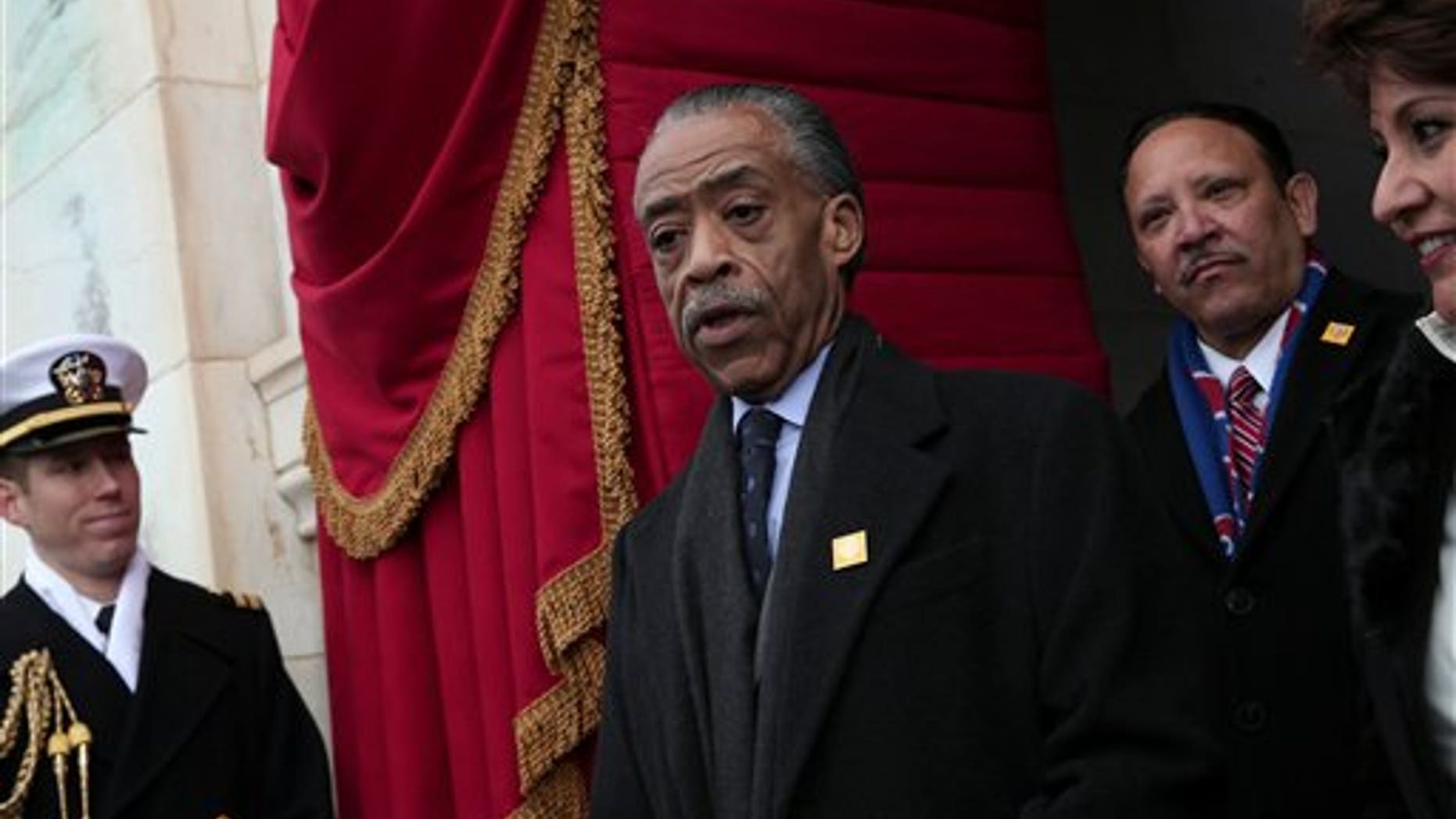 Jesus said to Peter: "Get thee behind me, Satan." Then came MSNBC. Now it's God the network is trying to push out of the way. And it's a reverend, of all people, who is doing it.
Rev. Al Sharpton appeared in a "Lean Forward" ad for his network MSNBC on February 5, where he recited a bit of the Pledge of Allegiance. The 58-year-old Sharpton, who reportedly gave his first sermon at age 9, left God out of his piece of the pledge. But he did remember to include lesbians and gays. So, he's got that goin' for him.
"We must have a renewed fight for many of the things we fought for. Because voting rights, and women's rights, and the rights of people against discrimination, whether they're African-American, Latino, lesbian and [sic] gay, must be protected, until we have a nation that is really living up to the creed of one nation, indivisible, with liberty and justice for all. Not all of one kind. But all," Rev. Sharpton argued in the commercial.
[pullquote]
That's not how the pledge goes and has done so since 1954, a few months before Rev. Sharpton, the host of MSNBC's "Politics Nation," was born. The actual pledge was changed that year to include "under God." That version of the pledge goes like this:
"I pledge Allegiance to the flag of the United States of America and to the Republic for which it stands, one nation under God, indivisible, with Liberty and Justice for all."
Rev. Sharpton removing God is shocking. For all of his faults, he has a very long history of involvement with and defense of Christian faith. According to Rev. Sharpton's AEI Speakers Bureau profile page, he preached "his first sermon at Washington Temple Church of God & Christ in Brooklyn" at age 9 and later became a Pentecostal minister under Washington Temple Church's Bishop F. D. Washington. "Sharpton preaches throughout the United States and abroad on most Sundays and averages 80 formal sermons a year," the profile continued.
But then it noted that "Sharpton says his religious convictions are the basis for his life." Apparently, commercials aren't included.
While the reverend has been a major part of civil rights history in the United States, he has been caught up in his share of huge controversies.
On January 19, NPR ran a list of "Six True-False Statements" that illustrated his complicated career. Those included his role in the bogus Tawana Brawley rape case, where he lost a $65,000 defamation judgment, and links to the Crown Heights riots in New York City.
One funny note from the piece was that Rev. Sharpton denied being James Brown's tour manager. (Yes, the Godfather of Soul.) "I never was his road manager," he is quoted as saying. His speakers bureau profile says otherwise. "This same year, Sharpton acted as James Brown's tour manager," it still reads. Oopsie.
It's almost impossible to synopsize the remaining lunacy that has summed up Rev. Sharpton's career from calls for knife control (unsurprising since he was once stabbed in the chest) to tax and debt issues to being caught in an FBI drug sting and openly advising President Obama as one of a few "influential progressives."
He remains a colorful character so ridiculous that he is hard to lampoon. That said, "Saturday Night Live" mustered a good parody of his show last May in this entertaining clip that strangely also included Mick Jagger.
Whether he's a TV host or a laughingstock, Shapton has long acknowledged it's the job of a reverend to help others find God, not edit him out. Of course, that was before his personal collection plate relied on the big MSNBC paycheck.