Pence triumphs in VP debate. And then there was the night's biggest loser...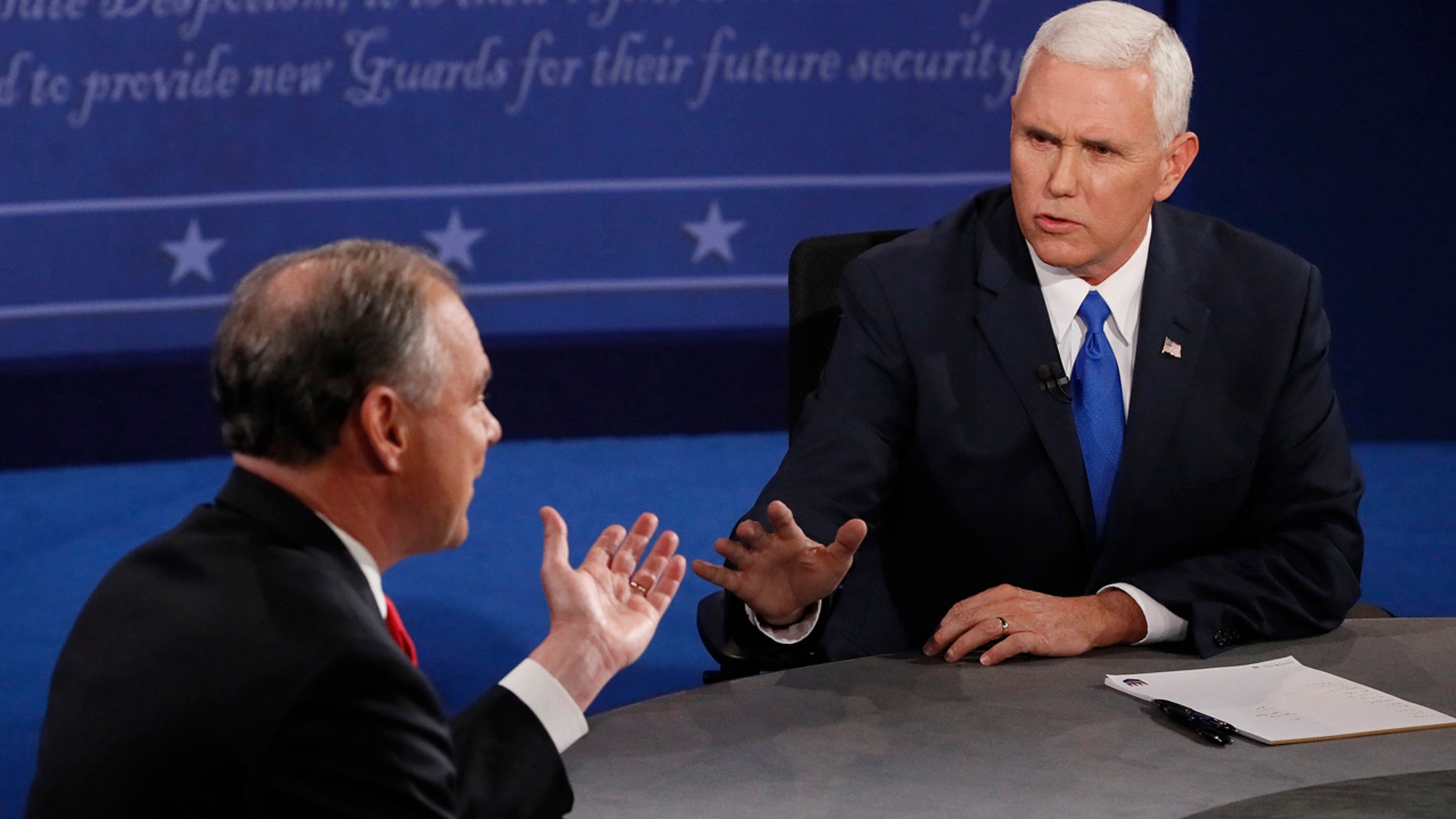 The tiny Virginia town of Farmville, home to Longwood University and Tuesday night's vice presidential debate, prides itself as a "Tree City USA" – the benefits of which, we're told, include "a framework for action, education, a positive image and citizen pride."
It's safe to assume that the evening's two combatants – Virginia Sen. Tim Kaine and Indiana Gov. Mike Pence – walked onto the debate stage hoping to achieve those same goals (especially the part about a positive image).
How'd they do?
Here are five observations.
The Tone. The evening started out on a civil tone and it stayed that way, for the most – even if one of the debaters did his best to instill some southern discomfort into the conversation (more on that in a moment).
Kaine opened the proceedings by praising Hillary Clinton for her smarts and experience and wanting to build "a community of respect" (a bow to the civil rights movement). He then took a dig at Donald Trump.
Pence likewise praised his running mate, but didn't neglect to point out that the public is in a wrong-track mood so why vote for more of the same.
And so it went through the night – each defending, even extolling their running mates' virtues. 
Granted, most any debate without Trump is going to seem somber. But this one was about as far as you get from an endorphin rush – nothing resembling Trump-level Fourth of July fireworks. Neither man raised his voice. Even when one candidate attacked the other ticket's greatest weakness – Trump's temperament, Clinton's trustworthiness – it lacked the vitriol evident at the first presidential debate.
Remember this calm when Clinton and Trump mix it up again, Sunday evening in St. Louis.
Pence. Kaine called his debate foe "Trump's apprentice." Truth is, the Indiana governor is more like Trump's antipode . . . for his calm demeanor and steady explanations of policy and his opponents' shortcomings.
Pence had a few good lines. For example, this passage when pushing back against Kaine for his propensity for touting economic-recovery numbers: "People in Scranton know different. People in Fort Wayne know different."
For those expecting an aggressive performance or a pound of Democratic flesh, Pence didn't deliver. He was more guide dog than attack dog – though he almost bared his fangs just past the one-hour mark, when Kaine kept mentioning Trump's taxes.
There's a reason why someone came up with the phrase "Midwest nice."
Kaine. Asked a question about doubts over his running mate's character, he instead berated Trump's "selfish" persona. When Pence began to cover the Clinton foreign policy record during her Foggy Bottom tenure, Kaine butted in – and kept interrupting as the night went on.
Why the rudeness? A tactical choice to keep the mild-mannered Pence off-stride.
Kaine had his talking points at the ready – too many of them, as Pence kept noting. Give Kaine demerits for too many slangy one-liners – a Clinton-Kaine "you're hired" jobs program, a "you're fired" Trump-Pence plan, etc.
And I'd further downgrade Kaine for this blunder: he went through an entire back-and-forth about immigration without taking advantage of his fluency in Spanish. Increible!
Bottom line: a tree doesn't grow in Kaine-ville. The senator left the positive image in the green room.
Quijano. This debate's moderator, CBS News' Elaine Quijano, got a yuuuge break in that she was tasked with controlling two candidates described by some as vanilla nice.
Quijano asked solid and straightforward questions: why the presidential nominees are dogged by character questions, how their economic plans will work, what to do about policing and public safety, illegal immigration, how to combat home-grown terrorism, and so forth.
For those of you wagering on the first media-bias moment, it may have come at the 35-minute mark when Quijano pressed Pence on South Carolina Sen. Tim Scott, a Republican and African-American, being harassed by Capitol Police – with no pushback against Kaine on Black Lives Matter and violent civil disobedience.
Where I'd further critique Quijano: she also put Pence on the spot for Trump's immigration plan. Was it my imagination or did Pence get most of the questions directed his way?
Though she did ask both candidates their faith, Quijano didn't press Kaine on abortion, which may have been a deal-killer for Barack Obama when he was looking for a running mate in 2008. The topic didn't come up until 98 minutes into the 105-minute debate. She also whiffed on pressing Pence over Indiana's religious-freedom law.
Two debates down, two to go, and I'm still waiting for a tough question hurled the Democrats' way.
What's Next. It wasn't the high road to Farmville —at least not so for Kaine, whose strategy was to keep his opponent off-stride and off-message. Rarely did he take a pass on mentioning Trump's character and temperament, even when it wasn't his turn to talk (the unofficial Fox News count was 39 Kaine interruption to 19 for Pence). And that's how it may look for the remaining five weeks: Clinton's campaign believes it has a lead that Trump can't overcome.
Look for Hillary to do her best to keep Trump off-balance and out-of-sorts in the remaining two debates.
America's Civil War came to its conclusion not far from Farmville, at the Appomattox Court House.
In 2016, the uncivil war that is Donald Trump vs. Hillary Clinton continues with two more clashes – debates on Oct. 9 and Oct. 19 – before hostilities cease (we hope) on Election Day.
I give Pence the edge on the night – but that's due in large part to Kaine's acting anything but a Virginia gentleman. Had Pence been more forceful in a few moments and pushed harder on voter dissatisfaction with the economy and the political class, it would have been a bigger night.
Tune in Sunday night, October 9, to see if Trump can trump that.