Opinion: Puerto Rico needs more businesses like Herbalife, whose model provides opportunity to all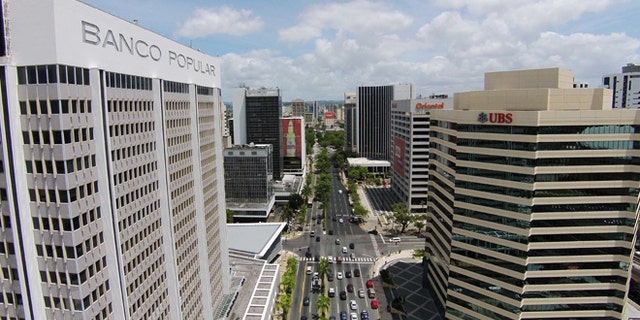 NEWYou can now listen to Fox News articles!
Puerto Rico's economic struggles are no secret. The Internet is full of opinion pieces criticizing policies that may have contributed to its continued economic decline, the mass exodus of young professionals seeking better opportunities elsewhere, and an ever-increasing government debt that also affects the millions of Americans who've invested in Puerto Rico's bonds.
However, few have delved into the dramatic impact that eight years of economic decay have had on Puerto Rican entrepreneurship. As an economist, and the founder of a relatively new organization dedicated to the development of Puerto Rican businesses, I've seen firsthand just how important it is to foster entrepreneurship on the island.
A recent study of global entrepreneurship found that only 28 percent of Puerto Ricans think there are still good opportunities to start a business on the island, down from 35 percent in 2007 and nearly half the percentage of those polled in the U.S. and the rest of Latin America. Currently only 2 percent of the population are business owners (compared to 7.5 percent in the U.S.), despite the majority of islanders stating they have the skills and desire to start a business.
Puerto Rico has had its share of struggles, especially over the last decade. If it is to turn the economic corner and begin growing again, economists agree that entrepreneurship has to be a major economic driver.
Given the poor numbers, the government has enacted a series of incentives to attract foreign investment and boost entrepreneurial activity. Non-profit organizations, like my own, along with universities and government agencies are all banding together to change perceptions and increase small business growth.
Yet, one company, who has given over 2,000 Puerto Ricans the opportunity to start their own business, has come under attack from some of the very organizations who seek to better the lives of average Puerto Ricans.
Since its founding in 1980, Herbalife (NYSE: HLF) has used its network marketing business model to offer an opportunity for hundreds of thousands of individuals around the world to invest in and start their own small business. Their model is one of the few that is specifically appealing and available to low income individuals in areas of the world where few options for employment exist. In fact, Herbalife has more than 120,000 members in Latin America (where incomes are far lower, and inequality is far higher than in the U.S.).
Since joining Herbalife, more than 2,000 people now contribute to Puerto Rico's economy that might otherwise not have an opportunity to do so. (If these were full-time employees of a single company, they would comprise one of Puerto Rico's largest private employers.) These members either purchase discounted nutrition products for personal use or have started their own small businesses selling to others.
Despite being in the middle of a severe recession, royalties paid to Herbalife's business owners in Puerto Rico have more than tripled between 2012 and 2013. I doubt many other businesses on the island can lay claim to similar success.
With unemployment stagnating at more than twice the national rate – not including the large number of long-term unemployed or those in its immense informal economy – the historically entrepreneurial Puerto Rican population is increasingly turning to businesses similar to Herbalife for an opportunity to earn a living.
Yet, despite this growing demand, some have publicly derided Herbalife's business model. One of the loudest detractors is an institutional investor who stands to earn nearly $2 billion if Herbalife fails. It would be kind to call his opinion biased.
Others are concerned that Hispanics are more susceptible to be taken advantage of by Herbalife's business model, while finding no fault in other, even larger companies who rely on the same business practices.
These organizations' biggest concerns surround the possibility of losing money in new business ventures. Yet, common sense has taught us all that there is an inherent risk in starting a new business and neither Herbalife, nor any other similar company, denies this. Without risk, there can be no reward. Stating that Hispanics lack this understanding is either disingenuous, or a little insulting.
Millions of people around the world have earned an income from networking marketing companies such as Alticor (Amway), Avon, Mary Kay, Tupperware, and Primerica. Herbalife is no different. In fact, I would say that Herbalife provides an opportunity that caters more specifically to those who are in greatest need and stand to gain the most from a new business venture, while it simultaneously has one of the best consumer protection policies in the industry, including 100 percent refund guarantees (even for shipping costs) for the return of all unsold products purchased in the prior 12 months if a member decides to stop selling Herbalife products for any reason. Most entrepreneurs endure much greater risks when starting their own ventures.
Puerto Rico has had its share of struggles, especially over the last decade. If it is to turn the economic corner and begin growing again, economists agree that entrepreneurship has to be a major economic driver. Neither the government of Puerto Rico, nor the hundreds of benevolent non-profit organizations offering a helping hand to Puerto Ricans can make that happen without the private sector. And with a relatively poor population, Puerto Rico needs more organizations like Herbalife whose business model is one of the few that can provide an opportunity to all budding entrepreneurs, regardless of their income level.
After nearly a decade in recession, every policy alternative must be considered and every opportunity that has the possibility of helping to increase entrepreneurship in Puerto Rico should be advocated for, including and especially those that can offer a chance to those from every socioeconomic background.