Opinion: Jeff Sessions is a troubling, dangerous pick for attorney general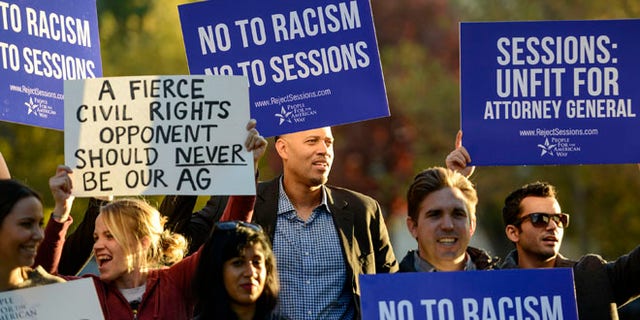 NEWYou can now listen to Fox News articles!
The name Jefferson Beauregard Sessions III sounds like a character in a Civil War drama. But Jeff Sessions, as he prefers to call himself, is posed to take a starring role in the real-life Trump Administration. The Alabama senator has been tapped by Trump to be attorney general, charged with upholding the law and Constitution for all Americans.
As attorney general, Sessions would be very unlikely to investigate violations of the Voting Rights Act, which is critical in ensuring that minorities have access to the ballot, or to investigate police brutality, as Obama's DOJ did in Ferguson and Baltimore. 
"Jeff has been a highly respected member of the U.S. Senate for 20 years. He is a world-class legal mind and considered a truly great Attorney General and U.S. Attorney in the state of Alabama," Trump said in a statement. "Jeff is greatly admired by legal scholars and virtually everyone who knows him."
The key word here is "virtually," because not everyone who knows Sessions admires him.
His nomination for a federal judgeship was sunk years ago because of charges of racism. Immigrants and civil rights advocates are rightfully critical of his radical policy positions. As attorney general, Sessions could play a major role in carrying out policies of a Trump administration — policies that could well harm Latinos and other Americans.
Sessions first came to national public attention back in 1986, when he was nominated by then-President Ronald Reagan to be a federal judge. That never happened, though, because of the sworn testimony of his colleagues. They told the Senate Judiciary Committee that Sessions had used the N-word, called an African-American prosecutor "boy," and joked about liking the KKK.
Sessions also reportedly called a white civil rights attorney a "race traitor" and dismissed the ACLU and the NAACP as "un-American." As a result, the Republican-controlled Committee denied Sessions a spot on the federal bench. So the obvious question is that, if Sessions was unfit for a low-level judgeship, how can he be considered for attorney general?
The answer is that Sessions' hardliner approach to immigration appears to line up with that of the incoming administration. As senator, Sessions has opposed every piece of immigration reform legislation that included legalization or a path to citizenship for the undocumented. Meanwhile, he has opposed Birthright Citizenship, which is enshrined in the Constitution thanks to the Fourteenth Amendment. Sessions is even against legal immigration, because he thinks too many people are coming into this country and creating "cultural problems."
Sessions record on civil rights and human rights is equally troubling. He has defended Trump's proposed ban on Muslims entering the country, arguing in favor of a religious test for immigrants. He favors turning away unaccompanied children who arrive at the border, and sees refugees as "economic and security threats." He voted against John McCain's bill to ban "cruel, inhuman, or degrading" treatment of detainees by the military. Not only does Sessions oppose President Obama's sensible criminal justice reforms, he believes that "good people don't smoke marijuana."
It should concern all reasonable citizens that Trump wants to install this narrow-minded individual with outdated views as the nation's highest legal officer.
Latinos have particular reasons to be wary of Sessions. He has called the Voting Right Act a "piece of intrusive legislation." He led the GOP opposition to Supreme Court Justice Sonia Sotomayor. And he is on record as saying that immigrants from the Dominican Republic are useless to our country. No wonder that Latino advocacy groups like the National Council of La Raza, Mexican American Legal Defense and Educational Fund, Hispanic Federation, and League of United Latin American Citizens have all come out against Session's nomination. They recognize that, based on his record, Sessions is no friend to our communities.
Yes, as President Obama himself once stated, "Elections have consequences." Having won the presidency, Trump has the right to choose whomever he wants for his Cabinet. That doesn't mean that the Senate should rubber stamp his choices. If anything, Sessions deserves intense scrutiny because of his past views and potential future responsibilities.
Consider that as head of the Department of Justice, Sessions would also oversee the DOJ's civil rights division, which almost seems like a bad joke. Or that as attorney general, Sessions would be very unlikely to investigate violations of the Voting Rights Act, which is critical in ensuring that minorities have access to the ballot, or to investigate police brutality, as Obama's DOJ did in Ferguson and Baltimore.
Sessions has shown far more interest in rooting out and prosecuting (unsuccessfully) allegations of voter fraud. The New York Times Editorial Board was insightful in terming Sessions nomination an "insult to justice."
Trump's pick to serve as the nation's top law enforcement official is toxic to the American ideal of equality for all. Jeff Sessions should not be confirmed as our next attorney general.