Opinion: 'El Papa Viajero,' The Pope That Traveled All The Way To Our Hearts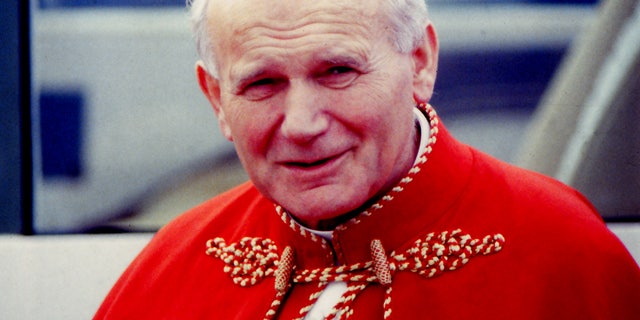 NEWYou can now listen to Fox News articles!
El Papa Viajero, or the traveling Pope, Juan Pablo II, will be canonized in Rome on April 27th. Shortly after his election in 1978, he embarked on the first of 104 foreign trips, in which he logged more than 725,000 miles. Some of the largest crowds ever assembled greeted him, in countries that no pope had ever thought to visit. More people saw him, in person, than any other man or woman has ever been seen. He did indeed consider every person alive to be part of his flock, and himself their caring shepherd. As he said: "Aren't I supposed to be the pope for all the world?"
Suddenly I was 10 years old again, standing along a massively crowded avenue in Guadalajara, and those same eyes were looking right at me, loving me completely.
I've been reading about him, and reminiscing, the last couple of weeks. I saw a picture of him today, taken when he was first elected. Frank, affectionate smile, warm eyes that seem to look right at me, beaming with an almost palpable affection, even from an old photograph on the Internet. Suddenly I was 10 years old again, standing along a massively crowded avenue in Guadalajara, and those same eyes were looking right at me, loving me completely. My own eyes filled with tears today, as they did back then, as they filled the eyes of every person in that crowd.
What was the tremendous power that he had, to move millions? I myself that experienced it then, as a girl in Mexico, and 30 years later as a grown woman in Rome, cannot explain it. But it was a universal feeling, affecting men and women, children and adults, all races, ethnicities and creeds. This man was welcomed with joyful weeping, wild affection, and mad rejoicing wherever he went. There have been men with a similar power of mesmerizing and moving crowds, men of terrible infamy. This of course was different. The people who thronged to see the Pope felt his gaze on them like a beam of pure hope and joy. He said to them: "Do not be afraid!" and in his presence, they were afraid of nothing, knowing themselves to be, each of them, indispensable children of God.
His spectacular accomplishments are too many to list. He stood firmly for the aged, the unborn and those considered useless by society, condemning the "culture of death." He was instrumental in defeating the Soviet Union, for so many years the source of misery for millions. He famously prayed at the Wailing Wall, calling the Jews "our elder brothers," and was the first pope to set foot in a mosque. He celebrated in a new and beautiful way the sexual love between husbands and wives, teaching us how it mirrors the absolute way that God loves each of us. He visited his would-be assassin in prison, to tell him that there was nothing God could not forgive, and that he himself forgave him completely.
I can never think of John Paul II without thinking of the lyrics of the song that greeted him when he arrived in the Mexico City airport in 1979, sung by a choir of children. The song was "Amigo" by Roberto Carlos. My friends and I, like thousands of children all over Mexico, learned that song, and sang it every day during our "recreo" or recess, for months leading up to his visit.
Es tu corazón una casa de puertas abiertas
Tú eres realmente el más cierto en horas inciertas.
No preciso ni decir, todo esto que te digo
Pero es bueno así sentir, que eres tú mi gran amigo.
(Your heart is a house with its doors open wide/ You are the most certain man in these uncertain times/ It's hardly necessary to tell you these things,/ But it's good to feel like this, that you are my great friend)
The song, which my American children sing in their school masses to this day, perfectly expresses what John Paul II offered each of us: friendship. His friendship, yes, but also the divine friendship that clearly animated and filled him: friendship with God himself, and that he wished for all of us to share. The loving relationship that he knew, with his own personal experiences of the crushing misery of war and slavery as a Pole, can transform and conquer any human suffering, evil, or wretchedness. He told us "Be not Afraid," and we were not afraid.