Opinion: America Latina Or America 'LaChina'? A New Challenge For U.S. Policy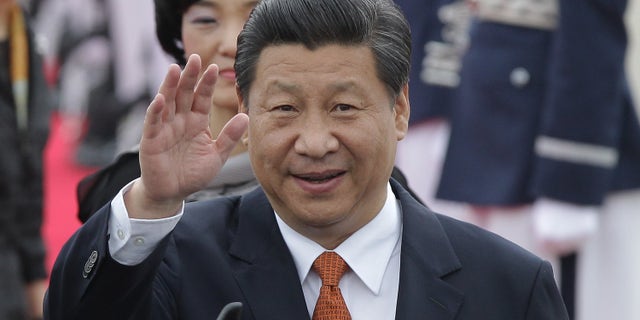 NEWYou can now listen to Fox News articles!
China's economic role in Latin America is expanding and far-reaching these days. In the meanwhile, U.S. leadership and influence with its neighbors to the south, except with Mexico, is declining. The Chinese presence comes – so far – without a political agenda, but together with the lack of U.S. initiatives, it has (and will eventually continue to have) a profound impact in the Inter-American landscape.
Chinese President Xi Jinping travels around Latin America over the past few weeks (his second tour in a year) sets the stage for what is coming. The round included Venezuela, Argentina and ended in Cuba, after a summit of the BRICS in Brazil.
In Brasilia, the Chinese president announced $35 billion in equity to finance projects in Latin America. These funds will be divided into three types: the first fund is endowed with an initial capital of $20 billion dollars to finance infrastructure, the second tranche of $10 billion is to offer credit lines to finance development projects in the region, while the last is a $5 billion dollars window to finance specific projects in areas defined by Beijing.
In response, Brazilian President Dilma Rousseff explained: "China offers us a very important relationship," referring to the offer of a strategic alliance between the largest Asian economy and Latin America. The United States tours to the region by President Obama or Vice President Biden are far from delivering when compared to any of the Xi Jinping visits.
China's loan commitments [to Latin America] of $37 billion in 2010 were more than those of the World Bank, Inter-American Development Bank and U.S. Export-Import Bank combined.
On the other hand, the "realeconomik" is self-explanatory when assessing the impact of China's importance for the Latin American economies today.
According to the International Monetary Fund, trade between China and Latin America grew 8 percent to US$255.5 billion in 2012. This growth rate surpasses 6.2 percent trade growth of the region with the United States.
On the other hand, China is already the biggest trading partner of Brazil, Chile and Peru. Trade with Brazil reached US$ 83.3 billion last year, signaling a growth rate of 10 percent, according to the Brazilian Ministry of Commerce.
Looking at the trade trends with Mexico (the U.S. biggest economic partner in the region) one comes to interesting numbers. China became Mexico's second largest trading partner behind the U.S. in 2003, with a growth trend of 823 percent over the past decade, thus creating a trade deficit for Mexico in the amount of $51.22 billion in 2012. According to the Sino-Mexican trade numbers, Mexico is only exporting around $6 billion to China, while importing close to $57 billion, which engages the Mexican government in a strong push to gain access to the Chinese markets.
One initial conclusion is that both Mexico and the U.S. are taken by Chinese imports leaving fantastic bilateral commerce and investment opportunities among them on the table, resulting in massive trade deficits for both economies with respect to China. Finally, according to a United Nations study, by 2016 China will surpass the euro zone as Latin America's second-largest trading partner.
In the finance front, as it is pointed out in a research project by the Inter-American Dialogue in Washington DC: "Since 2005, China has provided more than $100 billion in loan commitments to Latin American countries and firms. China's loan commitments of $37 billion in 2010 were more than those of the World Bank, Inter-American Development Bank and U.S. Export-Import Bank combined."
In Venezuela alone, during the past seven years, according the publicly available information, China has provided about 57 billion dollars in loans to the Sino-Venezuelan Fund, were the Venezuelan government contributed another 12 billion dollars. The fund resources can only be invested in projects contracted to Chinese companies, or to finance imports from China, whose government gets repaid for the loans with future oil production from PDVSA.
In all, the Sino-Venezuelan fund has received and spent $70 billion in seven years, and the net result of these agreements is that Venezuela owes $45 billion to China, repaying with oil at $65 per barrel, when the average price of the same in the international markets is $100. The commitment of Venezuela's oil supply to China is estimated at least 530,000 barrels per day.
In addition to the oil-secured financing to Sino-Venezuelan fund, China has provided loans to Venezuelan public sector entities from its Ex-Im Bank, or other sources, in the amount of $8 billion, bringing the debt balance as of 2014 to $52 billion, including the most recent commitment of $5 billion agreed in the round of talks personally attended by China's President in Caracas in the past couple of weeks.
The three largest debtors after Venezuela are Argentina with $14 billion, Brazil with $13.4 billion, and Ecuador with $9.9 billion (an extraordinary amount given the size of this economy).
When it comes to direct investments, the vast majority of direct investment from China, over 90 percent, has gone to natural resource enterprises, including hydrocarbons, copper and iron ore, and agriculture, with Brazil, Argentina and Peru as the primary recipients, according to a research by Thomas Mellor and Brian Sogol, from Bingham McCutchen LLP.
Nonetheless, the flow of direct investment is triggering in many observers and experts a concern of "de-industrialization," as China's final goal is to secure commodities, targeting the Latin American economies as consumers of Chinese industrial products produced in the mainland. In other words, China demand for commodities fuels growth to a region that is targeted by China's strategy as a debtor and an importer.
Although China's economic strategy does not come, at least until this point, with a clear and declared political agenda – such as exporting a particular political model or posing a direct security or military concern to the United States – countries like Venezuela and Ecuador in South America, or Nicaragua in Central America (where the Chinese government intend to build a new canal to compete with Panama) have taken particular advantage of this cooperation system.
Given the close links between Venezuela, Cuba and their ALBA partners in the region, the impact of China's role is providing margin of maneuver to a set of countries that are confronted to the democratic values and commitments expressed by the OAS charter and other instruments of international law.
This may present a challenge to U.S. interests and democratic values. However, the weaknesses of the Venezuelan economy in spite of the massive inflow of Chinese resources, and the more pragmatic approaches taken by Ecuador and Bolivia; or the Cuban gradual economic reforms (which seem like a transition out of the Venezuelan dependency of the past decade) might be signaling other issues instead, and suggesting aggressive economic policy strategies and approaches from the United States.
What does this mean from a political and policy perspective? The answer seems more an economic than a political one. The United States is giving away a fantastic opportunity to promote development partnerships across the Americas, which can integrate economies much further than we usually conceive in a free-trade agreements strategy.
The United States might also play a more significant role than China when it comes to the design of development strategies, pushing for industrialization in the region by promoting joint ventures and other forms of sustainable growth alliances.
However, the United States is playing at a disadvantage because government policy makers and businessmen strategize in a more distant way (or not together at all) than is needed to approach the Latin America opportunity.
But above all, policy makers in the United States are focused in other priorities or keep looking to the south with the offensive approach of the "backyard," instead of thinking about Latin America, and particularly its leading economies, as neighbors that can be equal partners, whom should not be taken for granted.