Opinion: A Group Of Hungry Children Show Up At Your Doorstep: What Would You Do?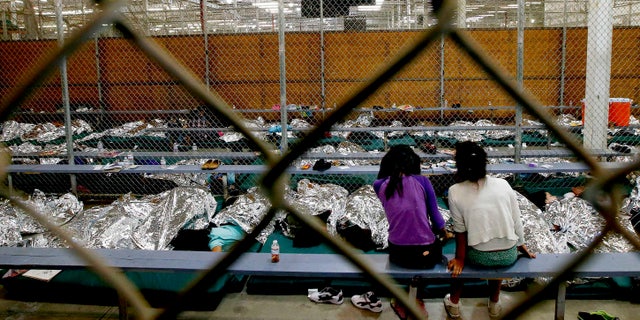 NEWYou can now listen to Fox News articles!
Imagine your doorbell rings. You open your front door to find a group of thirsty, hungry, and exhausted children standing at your doorstep. Some of them have been raped or sexually abused. Others have been robbed, beaten, or brutalized. All of them are terrified.
What would you do?
Would you make sure they were out of immediate danger? Would you invite them into your home, at least temporarily, while you figure out what to do? Would you give them food, water, and shelter and make sure they were protected from whatever danger drove them to flee to your home? Would you get the appropriate authorities involved?
Or would you slam the door in their faces, lock it and go back to doing whatever it was you were doing?
Back in 2008 our elected officials in Washington came together, on a bipartisan basis, and decided not to slam the nation's front door in the faces of children in need.
Legislative solutions must guarantee that each child be carefully interviewed by professionals extensively trained in questioning children who are victims or at risk of human trafficking, persecution or torture.
Democrats and Republicans passed legislation aimed at protecting all unaccompanied children who arrive at our Nation's doorstep from severe human trafficking and persecution. The bill, known as the Trafficking Victims Protection Reauthorization Act (TVPRA) of 2008, was signed into law by then President George W. Bush.
All Americans should be proud that our elected officials set aside differences and made clear our commitment to protecting unaccompanied children at risk of human trafficking or persecution. It speaks volumes about our values as a nation.
TVPRA requires that children from countries that do not share a land border with the U.S. – such as those from Guatemala, Honduras and El Salvador – be transferred by immigration agents to the care of the Department of Health and Human Services until a determination can be made – usually by an immigration judge – whether they have been victims of human trafficking or persecution.
The policy behind the law reflects Congress' belief that children who reach the U.S. without their parents, particularly those who have been abandoned or are victims of human trafficking or fear persecution, are among the most defenseless immigrants and deserving of special protection.
Today we are faced with a humanitarian situation the scope of which was not contemplated when TVPRA was signed into law. According to some estimates, nearly 100,000 children, mostly from Guatemala, Honduras and El Salvador, will seek refuge inside our borders by the end of this fiscal year. That's a staggering 95,000 more than just a decade ago.
Most of these children are victims of persecution or trafficking or are at risk of such harm according to the U.N. refugee agency.
RAICES, the organization that contracts with the government and has screened about 1,000 children at the Lackland Air Force Base in TX, wrote in a letter to President Obama that 63 percent of those children are likely eligible for relief. TVPRA was not designed to handle a mass influx of this magnitude. The Departments of Homeland Security and Health and Human Services, the agencies tasked with screening and caring for the children, are overwhelmed. Something must be done, and done quickly, to protect the children at risk of human trafficking and persecution.
Or not.
Some in Congress propose to effectively slam the door this time. Senator John Cornyn (R-TX) and Rep. Henry Cuellar (D-TX) have introduced a bill – dubbed the "HUMANE Act" – which would eviscerate TVPRA's protections against human trafficking and persecution in favor of speedy and efficient deportation right back to the violence and danger from which the children fled.
Other members of Congress, like Rep. Bob Goodlatte (R-VA) and Rep. Jason Chaffetz (R-CA), propose not only to gut TVPRA's asylum and anti-trafficking protections but also require that most unaccompanied children be locked up in immigration detention while their cases are decided.
And others, like Sen. Ted Cruz (R-TX) and Rep. Darrell Issa (R-CA), have cynically seized upon the humanitarian situation to call for the deportation of DREAMERs.
America is better than this. Especially when it comes to children — many of whom have survived unspeakable horrors on their perilous flight north through some of the most dangerous human and drug trafficking corridors of Mexico.
Republicans and Democrats must work with the administration to ensure that any changes to TVPRA improve, not gut, the legal protections offered to the unaccompanied children who've sought shelter in the U.S. They must not only be afforded due process, but treated with kindliness and compassion, and protected from further abuse and cruelty by those charged with their care. Legislative solutions must guarantee that each child be carefully interviewed by professionals extensively trained in questioning children who are victims or at risk of human trafficking, persecution or torture. That includes sensitivity that a child rape victim may not be able to articulate the horrific violence that she has suffered.
Now is not the time to turn our backs on due process, fairness and common decency by slamming shut the front door of America in the faces of children in need. Now is the time to embrace America's highest and best values and forge concrete, principled and moral solutions to the humanitarian situation — solutions that not only address its root causes but improve upon critical protections provided to unaccompanied children who have sought refuge in our home.