Obama is 'eye candy' -- what I learned from 'The View'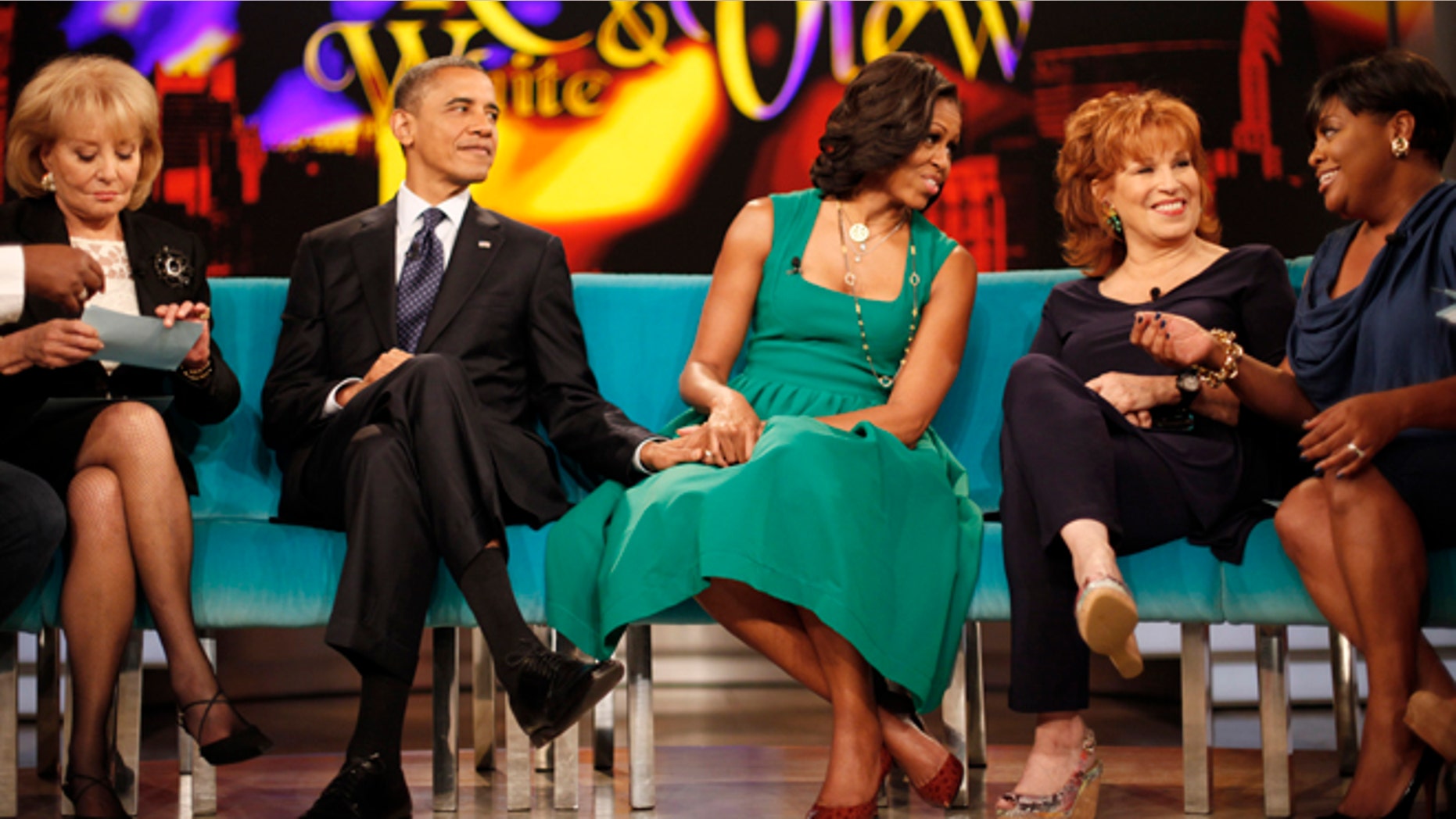 President Obama arrived in New York City Monday just one day before his speech at the United Nations. The White House revealed that he will not meet privately with any world leaders who are in New York this week. So what brought him to the Big Apple?
His schedule was cleared so he could hold a gab fest with the ladies on "The View."
It was a difficult decision, I'm sure. Benjamin Netanyahu or Joy Behar?
I received a transcript of his television appearance on Monday night. It was revealing. (The interview airs Tuesday.) It appears that the president prattled on about all sorts of pressing matters — like his most recent tell-all in Vanity Fair and whether or not Mrs. Obama makes Mr. Obama mad.
The president explained how he keeps the first lady happy.
"I like lavishing her with all kinds of attention when she deserves it, and she always deserves it," he replied.
President Obama also announced to the nation that he's eye candy.
I kid you not.
"I told folks I'm just supposed to be eye candy here for you guys," he told the gals.
That's not exactly the kind of stuff you want to be reading while you're eating your Nutter Butters.
It reminded me of when The New York Times waxed poetically about how the president enjoyed flossing in front of his body man — Reggie Love — not that there's anything wrong with that, of course.
The first couple also described their ideal post-White House life.
Mrs. Obama said she wanted to go on a long vacation — but probably not to Spain, Martha's Vineyard, Aspen, South Africa, Panama City, Vail, Maine, Hawaii, or Botswana. That's because she's already vacayed in those locales — compliments of the American taxpayer.
As for President Obama?
"The thing I think I would enjoy the most is spending time, working with kids," he told the gals. "Just giving young people the sense of possibility, of opportunity."
I suspect most young people would just settle for a job, Mr. President.
Sadly he did not do so well on the foreign policy portion of the interview. But in his defense, President Obama does have difficulty answering yes or no questions.
"Was the Libya attack terrorism?"
"There's no doubt that the kind of weapons that were used, the ongoing assault, that it wasn't just a mob action," he replied. "What's clear is that, around the world, there are still a lot of threats out there."
For future reference, Mr. President, the correct answer is "yes."
Now the average American might wonder how President Obama found the time to dish with those Chatty Cathies on "The View" – what with the world spiraling out of control.
The Middle East is in turmoil. They're attacking our embassies. They're burning our flag. Iran and Israel are moving closer to the brink.
But fear not, America. Our commander in chief always has time for Whoopie — Goldberg, that is.  Whoopie Goldberg.