Newt Gingrich wins South Carolina Primary by uniting Reagan Republicans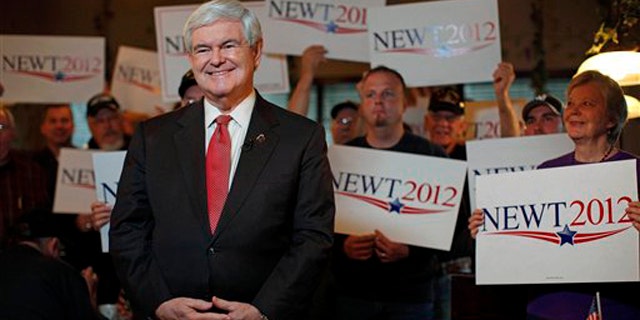 Newt Gingrich's South Carolina State co-chairman John Napier knew the "Gingrich surge" was real last Sunday afternoon. Napier, a former U.S. Congressman and retired Federal Judge, pulled into the parking lot of the Land's End Restaurant in Georgetown, S.C. for a Gingrich event expected to draw 25-30 people. Instead, over 350 people showed up before others had to be turned away. Napier said, "There were people there we hadn't seen since Reagan ran." Napier should know. He was swept into Congress from a rural district in S.C. in 1980 on the coattails of the Reagan Revolution.
Last Sunday afternoon's event was then followed by Gingrich's strong debate performances on Monday and Thursday night. Couple that with overflow crowds in rural areas of South Carolina such as Warrenville and Walterboro, and Gingrich's "Big Mo" took on a life of its own that the national pundits didn't see coming.
South Carolina is more representative of the GOP than Iowa and New Hampshire. It is comprised of economic, social and national security conservatives. All three came together to elect Ronald Reagan in 1980. Once again, all three need to be motivated and come together for the GOP to defeat President Obama.
Following last Monday night's Fox News debate, these three necessary components to a "winning GOP strategy" began to coalesce around Gingrich.
First, there was the endorsement of Rev. Bill Monroe, founder and pastor of the Florence Baptist Temple, and one of South Carolina's most respected evangelical leaders. Fox News exit polls show that Gingrich overwhelmingly carried the evangelical vote.
This was followed the next day by top economic conservatives and business leaders such as John Rainey, Bob Royall, Vivian Wong, Gayle Averyt, and Egerton Burroughs.
Then came the national security conservatives, led by retired Marine Major General and Congressional Medal of Honor recipient Jim Livingston, as well as fellow Congressional Medal of Honor recipient and retired Marine Colonel, Jay Vargas. They led veterans and national security conservatives at a Gingrich rally at the USS Yorktown on Friday night.
At the state level, Gingrich was endorsed in the closing days by South Carolina Speaker of the House Bobby Harrell, Mike Campbell, son of the late Governor Carroll Campbell and by Sally Atwater, the widow of late RNC Chairman Lee Atwater.
Campbell and Atwater helped put together Reagan's winning coalition in South Carolina's first GOP Presidential Primary in 1980. Nationally, conservative Republicans began to sense something was happening in South Carolina.
On Friday, both Michael Reagan and Chuck Norris endorsed Gingrich.
The national elite media likes to portray Gingrich as a divider. On Saturday, January 21st, despite being outspent 2-1, Newt Gingrich did something that no other Republican presidential candidate has been able to do this election cycle. He began to unite Ronald Reagan's winning coalition of social, economic and national security conservatives.
Newt Gingrich was the big winner in the Palmetto State. If economic, social, and national security conservatives continue to unite behind Gingrich, the biggest loser just might have been President Obama.
Van D. Hipp, Jr. is the former Chairman of the South Carolina Republican Party. He is chairman of American Defense International, Inc., a Washington, D.C.-based consulting firm specializing in government affairs, business development and public relations. He is the former Deputy Assistant Secretary of the U.S. Army. In 1979, he served on the S.C. GOP Executive Committee that established South Carolina's first presidential primary in 1980. Follow him on Twitter @VanHipp.