Nancy Reagan's breast cancer and her lasting contribution to women's health
Nancy Reagan's passing is a time to celebrate a life fully lived and for reflections of a life that made a difference in women's health and more particularly breast cancer awareness, detection, treatment and cure.
Mrs. Reagan was a breast cancer survivor and like fellow First Lady and survivor Betty Ford decided to share her diagnosis and treatment publicly to lessen the stigma and shame that for too long surrounded breast cancer in America.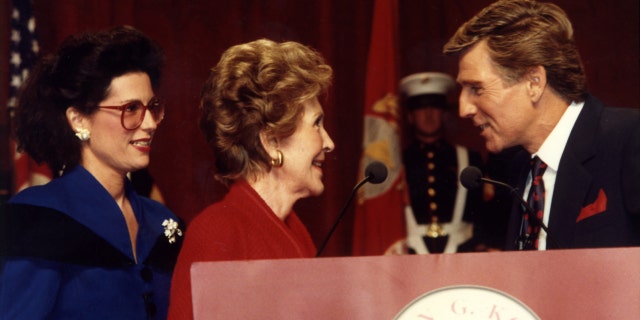 She knew that by sharing her own story she would empower others to engage in self-examination, learn about their family histories and seek professional screening, advice and care.
In October 1987, Press Secretary Marlin Fitzwater told the nation that it was during a routine mammogram (an X-ray of the breast) that a suspicious lesion in Mrs. Reagan's breast was detected. Thereafter a biopsy was made, followed by a modified radical mastectomy.
He went on to say that the cancer, just seven millimeters in diameter, was about the smallest doctors can detect on a mammogram. Laboratory tests made on it and other tissue removed in the surgery showed that the cancer was a common form that had not spread to other areas of the breast or to nearby lymph nodes.
The White House was very forthcoming in releasing Mrs. Reagan's health information to the public – a move which no doubt gave hope and valuable information to women in America and all over the world.
The New York Times gave extensive coverage to Mrs. Reagan's illness and the paper's  reporting turned out to be a powerful educational tool.
A good example of this was an article on October 18, 1987 by Lawrence K. Altman who reported the following:
"Pathologists who examined frozen sections of the cancer identified it as one within a duct in a mammary gland and said it had not invaded any other area of the breast. The type of cancer is known as a noninvasive intraductal adenocarcinoma of the breast, a White House statement said. The statement described the cancer as 'concentrated in an identifiable area of the breast.'
"Doctors generally cannot feel with their fingers a cancer that is smaller than one centimeter in diameter. It is estimated that it takes five years for a cancer to grow to that size from a single cell.  But doctors can detect smaller cancers through mammograms.
The White House's description strongly suggests that Mrs. Reagan's cancer was one that could be discovered only by mammography.
...
The fact that Mrs. Reagan's cancer was caught early was considered a very good sign by doctors not connected with her case.
Dr. Samuel Hellman, physician in chief at the Memorial Sloan-Kettering Cancer Center in New York, said in an interview that ''the big message is'' that Mrs. Reagan's cancer ''is a very favorable lesion.'"
President Reagan visited the first lady on the day of her surgery and joked to his wife,
"Honey, I know you don't feel like dancing. So, let's hold hands." This remark was typical Reagan and signaled to the nation that she was doing just fine and everything was going to be ok.
Mrs. Reagan was a supporter of the Susan G. Komen Foundation, the organization I created in 1982, long before her own diagnosis. And, after her diagnosis and treatment in 1987, I was honored to present Mrs. Reagan with the prestigious Betty Ford Award from the Susan G. Komen Foundation for her own efforts to educate and advocate for breast cancer.
Mrs. Reagan saved lives by sharing her own personal story with others.
Like her husband, Nancy Reagan was a national treasure who is now reunited for eternity with her Ronnie, forever residing in that "shining city on a hill."