Muhammad cartoon contest: Note to jihadists, in America, we shoot back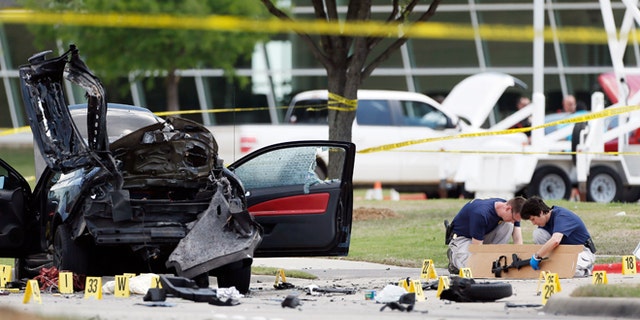 A pair of would-be jihadists learned a very important lesson over the weekend – in America, we shoot back.
The cold hard reality is that we don't know how many more radicalized Muslims might be living among us – waiting to wage jihad.
The men, believed to be radicalized roommates from Phoenix, tried to launch an attack on a gathering of freedom-lovers in of all places – the Lone Star State. It would turn out to be a most unfortunate decision.
The cold hard reality is that we don't know how many more radicalized Muslims might be living among us – waiting to wage jihad.
It turned out those practicing their First Amendment rights were protected by those practicing their Second Amendment rights. Within a matter of moments – the jihadists were quickly dispatched to the Hereafter thanks to a straight-shooting traffic cop.
Authorities have yet to categorize it as a terrorist attack, but one thing is clear. Police thwarted what could have been an unprecedented massacre on American soil.
The intended target was a contest for cartoons depicting the Prophet Muhammad, hosted by the American Freedom Defense Initiative. Among the speakers were AFDI president Pamela Geller and Geert Wilders, a Dutch lawmaker known for his criticism of radical Islam.
Now, you may not agree with Miss Geller's tactics. Some might accuse her of poking a bear – and that may very well be true.
But Miss Geller does have Constitutional right to poke the bear. She does have a Constitutional right to free speech. And those who disagree with her have a Constitutional right to disagree.
But they do not have a constitutional right to gun down those who might say or write or draw something that disparages the Prophet Muhammad.
And we should be alarmed at the growing number of pundits and talking heads who are blaming Miss Geller for the attempted terrorist attack.
"Free speech aside, why would anyone do something as provocative as hosting a 'Muhammad drawing contest,'" New York Times reporter Rukmini Callimachi tweeted.
And yet, the New York Times had no problems with the "Piss Christ" art exhibit – that's the one where a crucifix was submerged in a jar of urine. The website Newsbusters called the Times' hypocrisy a "double-standard."
"Freedom of speech does not extend to insulting the Messenger Muhammad (saw) & hence provoking the anger of ¼ of the world," tweeted British political activist Anjem Choudary.
He went on to call Geller and Wilders and the American Freedom Defense Initiative "enemies of Islam and Muslims."
Fox News contributor Katie Pavlich rightly called Choudary an "enemy to human kind." Amen, sister.
The idea that Ms. Geller is somehow responsible for what happened is absurd.
"The gunmen are fighting against freedom of speech," she told "Fox & Friends." "The First Amendment protects all speech – not just ideas that we like – but most particularly political speech. Who would decide what is good and what is forbidden? The Islamic State? Muslim Brotherhood groups? This is the key issue of our age."
Aside from a brief mention in a press gaggle, the White House has been curiously quiet about the attack. Louisiana Gov. Bobby Jindal called on the president to publicly condemn "radical Islam."
"The truth of the matter is that even though President Obama will not admit it – Islam has a problem, and it is called radical Islam," Jindal said in a statement. "And the proponents of radical Islam hate our First Amendment, they hate freedom of speech and they want to destroy it and us."
Jindal also called on Muslim leaders to condemn the violence. He said it's time for them to step up and "declare that perpetrators of such violence are the enemy, they are wrong, and they will not be rewarded in the afterlife."
The cold hard reality is that we don't know how many more radicalized Muslims might be living among us – waiting to wage jihad. Wilders sounded the alarm last week in Washington, D.C.
"I'm warning America," he said. "Don't think that what's happening in Europe today, will not happen in America tomorrow – because it will."
And it did.