March for Life reminds us that attitudes on abortion are changing -- one beautiful ultrasound at a time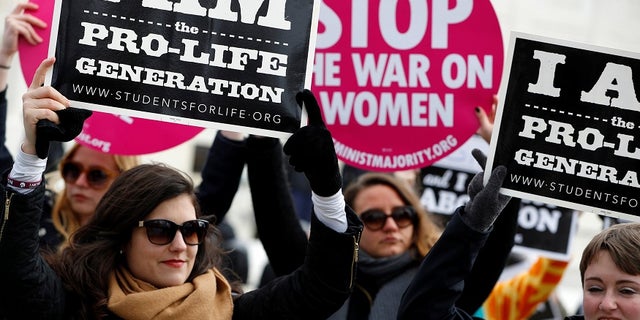 A crowd of more than 100,000 is expected to congregate in Washington on Friday for the 45th annual March for Life, the world's largest annual pro-life demonstration. The theme of this year's march is "Love Saves Lives."
In the future, love is likely to get a helping hand from science and technology to overturn the U.S. Supreme Court's 1973 Roe v. Wade decision, which said women and girls have the right to an abortion under the 14th Amendment to the Constitution. The ruling struck down laws banning abortion across the nation.
There have been enormous advances in science and technology in the last 45 years since the Supreme Court ruling. Speaking at last year's March for Life, Vice President Mike Pence said: "Life is winning through the steady advance of science that illuminates when life begins, more and more, every day." That's good news for everyone who is pro-life.
With all of these advances in technology, it's hard to imagine this not having some impact on the way Americans are beginning to view the abortion debate. The impact can be measure in opinion polls.
An annual poll released Wednesday by The Knights of Columbus and Marist on Americans' abortion views found that 63 percent of Americans now strongly support a ban on abortion after 20 weeks of pregnancy, up from 59 percent just a year ago. The number of Democrats who support the same ban has increased to 56 percent from 49 percent in January 2017. Also noteworthy is that 61 percent of Democrats want significant restrictions on abortion.
The poll also found that 62 percent of Americans said they believe life begins within the first three months of a woman's pregnancy. Among those who believe life begins at conception, 46 percent said they believe so because it is "a biological and scientific fact," versus 45 percent who said they believe it based on "a philosophical or religious belief."
In a survey conducted by the National Institute of Family and Life Advocates (NIFLA), a network of pro-life pregnancy centers, reported confirming 75,318 pregnancies through ultrasound technology in 2013 on patients identified as either seriously considering an abortion or open to getting an abortion. Of those, 78 percent – or 58,634 – chose to carry their baby to term after seeing an ultrasound image of their child in the womb.
The list of advances in science and technology dealing with pregnancy and unborn children is since the Roe v. Wade decision was handed down is long and impressive.
In the 1970s, the U.S. first saw two-dimensional ultrasounds of unborn children – black and white still images that expectant parents have become accustomed to seeing in the doctor's office. From there, three dimensional ultrasounds were developed, which take pictures from multiple points.
Stephen Smith, professor of biomedical engineering at Duke University, who helped design and develop 3-D ultrasound scanners, was asked in 2007 how he thought the 3-D ultrasound would be used in 20 or 50 years. His answer: "Everywhere 2-D is being used now there will be 3-D, and it will be in portable devices that are as small as a laptop or a PDA."
It's only been 11 years since that interview and technology is increasing so rapidly that we've already seen at least three other advances in ultrasound technology since the 3-D ultrasound. Among them, the 4-D ultrasound.
Computer technology has now advanced to where images of the baby's movements can now be streamed, as opposed to a series of 3-D still pictures. The "4th dimension" is time. The 4-D moving portion can actually be recorded on a DVD as well.
Then there is High Definition (HD), which is an improved version of the 3-D and 4-D technology. HD images still have a slight bronze tint, but with enhanced clarity and brightness. The images of the movements are more fluid. Many 3-D/4-D sessions are now performed in HD.
Going a step beyond HD, is HDLIVE4-D, which generates remarkably realistic images of the baby. Gone is the bronze tint in favor of a more genuine flesh tone. This advance allows the nurse or technician to move the light source from point to point, producing images that have truly broken new ground.
With these advances in technology, you can now find out the gender of the baby as early as 14 weeks. In fact, some companies are so confident they can tell you the gender at that early stage they offer a cash guarantee.
One thing Professor Smith may have been on to is the use of ultrasound technology in portable devices. Founded in 2014, Clarius Mobile Health created an ultrasound device that clinicians can carry in their pockets. This has led to higher adoption rates and more (and better) care more quickly, because most of the controls are automated.
This portable device combines new technology and knowledge of ultrasounds gathered over decades with a mobile phone. The user now has what amounts to a point-and-shoot mobile ultrasound apparatus with very high quality.
Laurent Pelissier, founder of Clarius said: "Eventually, we believe every doctor will own a handheld ultrasound that they will use in daily practice, just like a visual stethoscope."
In the words of Vice President Pence: "Life is Winning." It's not just winning because of good arguments or debates, or a well-crafted bill in Congress. All of those things have their place, but that's not what's going to transform hearts and change minds.
Life is winning because technology always advances, it never retreats. Life is winning with good old-fashioned science and modern technology – one ultrasound at a time.