It's been 15 years since George W. Bush launched PEPFAR and saved millions of lives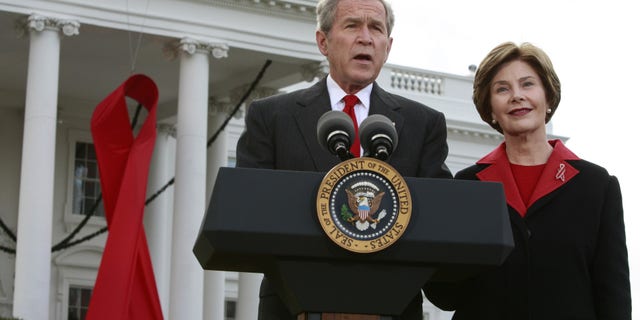 NEWYou can now listen to Fox News articles!
Fifteen years ago this week, President George W. Bush traveled up Pennsylvania Avenue to the Capitol to announce the largest commitment ever to fight a single disease – a commitment that has saved the lives of millions of people with HIV/AIDS.
President Bush's creation of President's Emergency Response Plan for AIDS Relief (PEPFAR) was a remarkable bipartisan commitment of $15 billion to fight the deadly AIDS epidemic in low-income countries.
In his announcement of the program during his State of the Union address, President Bush said that "seldom has history offered an opportunity to do so much for so many."
PEPFAR is currently funding life-saving antiretroviral treatment for 13.3 million people with HIV/AIDS, and has leveraged funding from other sources providing treatment for a combined total of about 21 million people.
The mission of PEPFAR is to do the right thing by our brothers and sisters needlessly dying. It shows them and their families what the heart of our country is, and provides the resources needed where very few existed.
The situation on the continent of Africa and in Haiti was grim at the beginning of this century. Less than 50,000 people were receiving anti-retroviral drugs in sub-Saharan Africa. Haiti had an HIV prevalence rate of 19 percent. Over 16 countries were facing the prospect of losing over 10 percent of their population to AIDS.
In addition, 36 million people were living with HIV (the virus that causes AIDS) and a staggering 22 million people had already died from HIV/AIDS.
President Bush was encouraged by the results of a pre-PEPFAR smaller commitment targeting mother-to-child transmission of HIV. He charged his team with looking for a way to do something on a much larger scale.
The primary motivation of the program was humanitarian. But the program was also intended to make a statement on American values.
PEPFAR also had another mission, which was secondary in President Bush's consideration, but one that was no less important. Against the backdrop of the Sept. 11, 2001 terrorist attacks, PEPFAR was a way to ensure that the 16 countries hit hardest by HIV/AIDS and many more like them were given new reasons for hope.
President Bush later successfully advocated for passage of the 2008 Reauthorization of PEPFAR, which brought an additional five-year commitment of $48 billion to the fight against HIV/AIDS.
President Bush and First Lady Laura Bush visited Africa together twice and hosted three State Dinners for African leaders. Mrs. Bush made five trips to Africa and to 12 of PEPFAR's focus countries.
The Bushes' commitment to PEPFAR was continued on a bipartisan basis by President Obama, and now by President Trump.
President Trump has continued to fund PEPFAR. He signaled his commitment by placing the AIDS Red Ribbon on the North Portico of the White House last December for World AIDS Day.
Laura Bush has frequently said that it's the generosity of America that enabled PEPFAR to achieve such dramatic results. To date, over $70 billion has been committed by the United States to help our partners fight HIV/AIDS.
The U.S. investment has been leveraged to encourage significant additional funding from the international community – most notably through the Global Fund.
PEPFAR has also supported the testing of more than 85.5 million people for HIV and enabled 250,000 health-care workers to be trained. It has prevented 2.2 million babies from being born infected with HIV.
In order to reach these results, PEPFAR had to instill strong management principles at all levels of the program's implementation. It has continuously used data taken from the field to help it push medicines towards areas of greater need, and demanded accountability and strong reporting from the field.
Working with governments, local clinics, and faith-based organizations PEPFAR has also built relationships between Americans and participants from PEPFAR countries.
As the "emergency" in its name suggests, PEPFAR was intended to be a massive, short-term infusion to stem the rising tides of infections. One large victory is that today more spending for HIV/AIDS treatment comes from indigenous country support than from international donors.
A 2015 UNAIDS report showed that 57 percent of spending on AIDS now comes from the countries with the highest burdens of the disease, and 43 percent comes from international donors. The United States' generosity through PEPFAR, and its contributions to the Global Fund, have been leveraged to build up capacity for countries to more effectively fight their own epidemics.
The mission of PEPFAR is to do the right thing by our brothers and sisters needlessly dying. It shows them and their families what the heart of our country is, and provides the resources needed where very few existed. It has been excellently administered, results-oriented, and built tremendously powerful bridges to our partners.
As other opportunities arise to do "so much for so many," Americans and our leaders can take heart and courage in PEPFAR's shining example of success.
On this 15th anniversary of one of the greatest humanitarian accomplishments of our country, we should look for more cost-effective, data-driven and results-oriented ways to extend the same heart of compassion towards other global problems that can't be solved without the power and capabilities of the United States.