Hit Broadway show celebrates diversity by excluding whites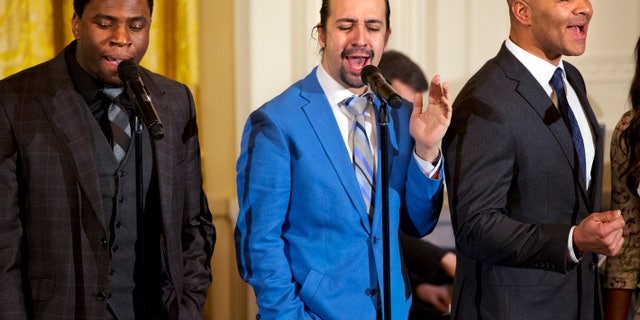 Imagine that you are an out-of-work performer – looking for a job.
You discover an advertisement for "Hamilton" – the hottest show on Broadway. The producers are searching for cast members for nationwide productions.
Click here to join Todd's American Dispatch: a must-read for conservatives!
You can sing. You can act. You can dance. You're a triple threat.
But there's just one problem – you are also black. And the casting notice stipulates the producers are only hiring "WHITE ACTORS."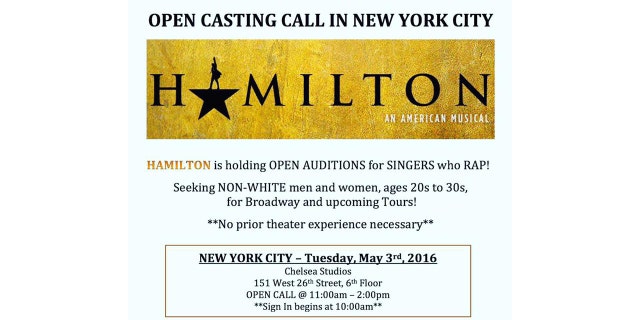 Now, let's imagine the cries of injustice. Al Sharpton would lead marches through Times Square. Civil Rights groups would stage boycotts. #ThespianLivesMatter would trend online.
I could imagine President Obama stepping into the national firestorm. He would remind us of the teachings of Dr. Martin Luther King, Jr. He would tell us – judge people on the content of their character, not the color of their skin.
But in reality something different happened this week. The producers of "Hamilton" – a rap musical that offers a fresh take on the Founding Fathers -- really did put out a casting call. "Seeking NON-WHITE men and women, ages 20s to 30s, for Broadway and upcoming Tours!" their casting notice read. The NON-WHITE part was in all caps.
Oh, they also need singers who rap. Sorry, Vanilla Ice. I'm afraid you might be a bit too – vanilla.
CBS 2 News in New York City reports that "Hamilton's" casting notice for 'NON-WHITE" performers may violate the city's human rights law.
"You cannot advertise showing that you have a preference for one racial group over another," civil rights attorney Randolph McLaughlin told the television station. "As an artistic question – sure, he can cast whomever he wants to cast, but he has to give every actor eligible for the role an opportunity to try."
NYC's Commission on Human Rights declined to say if they were investigating, the television station reported.
Actors Equity, the Broadway union, tells me the "Hamilton" casting notices were not in compliance with their policies. They said that all casting notices are supposed to be open to performers of all races and ethnicities.
And while the show has earned national praise for casting minority performers to portray our Founding Fathers, it's not the first time "Hamilton" has courted controversy.
In early March, they posted a casting call for actors to portray Aaron Burr and George Washington, the New York Daily News reported.
Here's the actual casting call:
"George Washington: Males & Females, 30-49, African American, Hispanic, Asian, South Asian, Native American, Middle Eastern, Southeast Asian/Pacific Islander, Ethnically Ambiguous/Mixed Race, African Descent. Non-White, tenor/baritone."
In other words, no white folks need apply.
After a bit of online outrage, the producers changed their minds and decided to open the auditions to the pigmentationally-challenged.
But don't expect too much diversity. As the Daily News pointed out none of the lead roles are currently played by a Caucasian.
And by the way, what in the world does "ethnically ambiguous" mean – Canadian?
Ironically, opinion seems to be on the side of the producers.
"NON-WHITE in all caps and bold is my favorite part," one Broadway fan wrote on Facebook. "It's just so unapologetic and something we're all not used to seeing. The great white way is finally getting revamped."
"Caucasian actors are way at the front of the line when it comes to casting so give other ethnicities a chance to catch up," another wrote.
And then there's this item: "For all the white people complaining about the NON-WHITE part of this ad, just go audition for the 98.9 percent of the other roles that are out there for you."
There were some critics, though. One Broadway fan said they understand that "Hamilton" was trying to make a point by using ethnic actors to play our white Founding Fathers, but "do they really have to exclude ALL whites to make that point?"
"That would be considered racism if the tables were turned," wrote one reader. "It should be called out for what it is – racism."
"Hamilton" producer Jeffrey Seller told CBS his casting call for NON-WHITE performers is on the up and up.
"I stand by it and believe it to be legal," he told the television station.
That may be true, Mr. Sellers. But discrimination is discrimination – no matter which way you color it.