'Hell No!' Cashier refuses to serve Trump backers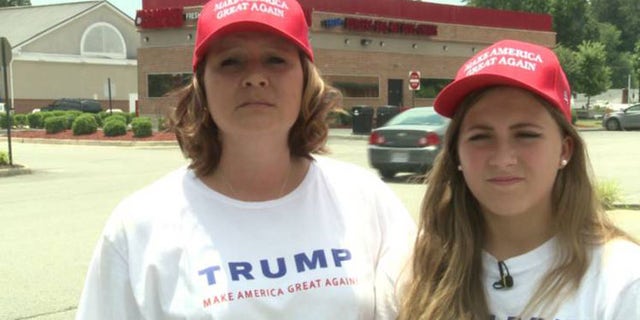 NEWYou can now listen to Fox News articles!
Shannon Riggs and her cousins were famished after attending a Donald Trump rally last week in Richmond, Va., so they decided to drop by Cook Out – a regional restaurant chain known for its tasty burgers.
The group was decked out in Trump swag – from T-shirts to those iconic red hats emblazoned with the campaign's slogan: "Make America Great Again."
Click here to join Todd's American Dispatch: a must-read for conservatives!
But apparently the cashier at the Cook Out in Colonial Heights does not believe Trump can make America great again. Nor do they believe his supporters deserve to eat Cook Out hamburgers.
Riggs explained what happened during the June 10 incident to television station WTVR.
"As soon as we got to the window, someone inside said 'Hell no! I'm not serving them,'" she recounted.
They were denied service simply for being Trump supporters!
"You should not be discriminated (against) based on who you support, whether it be for Bernie, Hillary or Mr. Trump," Ms Riggs told the television station.
Click here to get a signed copy of Todd's latest book - primer on how to restore traditional American values!
The folks at Cook Out disputed the notion that they denied the family service. A company spokesperson told me the manager on duty "immediately had someone else take the customer's order."
But while the family waited for their order – they said other workers laughed at them. Disgusted, they demanded a refund and left the restaurant.
"Once you witness discrimination first hand, it's a totally different experience," 16-year-old Lauren Wolfrey told the television station. "I was in a state of shock.
"They had this sense of anger," she added. "They were just really rude to us."
Cook Out conceded the employee violated their policy on rudeness.
"The manager on duty apologized and granted the customer a refund," the spokesperson said. "The employee that was rude was immediately terminated per policy."
The folks at Cook Out tell me they gladly feed everybody regardless of political affiliation – Republican or Democrat.
"This was an isolated action of a single person and does not represent the principles on which Cook Out operates," the spokesperson told me. "To deny anyone from eating at one of our restaurants would never cross our mind and of course, would be totally ludicrous."
Now had this been an isolated incident -- it would not be all that newsworthy. But there is a very disturbing pattern emerging this political season.
Trump supporters have been consistently and methodically bullied and intimidated - beaten and bloodied.
Remember what happened in San Jose, Calif., – when an angry mob brutally assaulted and terrorized his fans?
The effort to silence supporters of Donald Trump is not just outrageous. It's unconstitutional. It's un-American.
And it's a mighty sad day in these great United States when a person can't order a hamburger without getting a side of partisanship.