Hatred of Israel prompts a UN official to discuss action against the Jewish state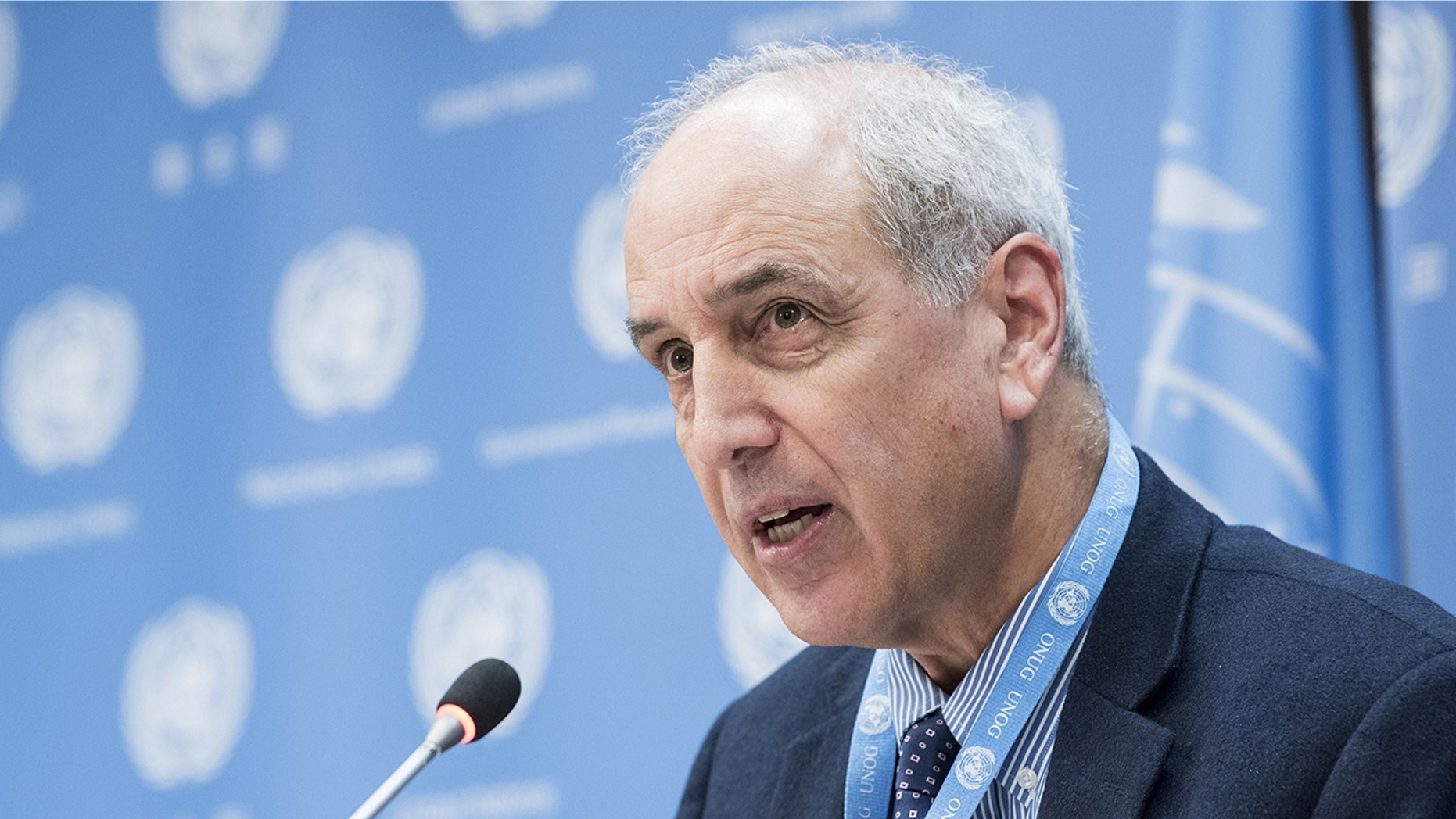 Fox News reported exclusively this week that a senior United Nations official has suggested that Israel's U.N. membership may need to be reviewed or suspended for violating international law.
The U.N. official – Michael Lynk, special rapporteur for human rights in the Palestinian territories – also said that other nations may need to "review their relationships with Israel in the military, political, and economic investment spheres."
If Lynk's denunciation of Israel was just the sentiment of one hate-filled U.N. official that would be bad enough.
But in truth, Lynk's threat of international action to possibly suspend or even expel Israel from the U.N., isolate it, and cut off trade and investment is just one in a long list of examples of how the U.N. has targeted Israel for decades with hatred, discrimination, prejudice and absurd lies.
This is truly bullying of a small nation on an international scale.
U.N. officials have not threatened to suspend or revoke membership of North Korea, which imprisons people in slave-labor camps. They have not tried to boot out Syria, where a ruthless dictator has killed hundreds of thousands of innocent civilians in a civil war in the past seven years.
Russia has illegally invaded Ukraine and Georgia and annexed Crimea, but remains a member of the powerful U.N. Security Council. Iran – which deprives its citizens of basic human rights, supports terrorism, sends fighters to wage war in neighboring countries, and would love to get nuclear weapons – does not face threats of being kicked out of the U.N.
But Israel is targeted for more condemnation than any other country. This is despite the fact that Israel is the only true democracy in the Middle East, governed by an elected prime minister and parliament; a country with an independent court system, free expression and other human rights that are guaranteed to all; and – not coincidentally – the only Jewish nation on Earth.
And Israel – a country where Jews have lived for 3,000 years – is absurdly branded the "occupier" of the ancient homeland of the Jewish people.
Israel is a tiny country one-twentieth the size of California. It faces 200,000 rockets and terrorist attacks from Hezbollah in the north and from Hamas in the south. And it hears daily threats from the fanatic rulers of Iran to wipe the Jewish state off the map – and the Iranians are serious about this murderous goal.
While the non-existent "state of Palestine" and some U.N. officials try to figure out a way to expel Israel from the U.N., American Ambassador to the U.N. Nikki Haley stands strong and courageously in defense of truth and justice for Israel.
Yet Haley has failed to convince the Security Council and General Assembly to denounce terrorist Hamas' serial use of civilians to violently breach Israel's international border abutting Gaza.
"Attacking Israel is their favorite political sport," Haley lamented, quite accurately, from the U.N.'s podium.
Hamas knows that no U.N. agency will ever condemn it for murdering Jews, even if it does this by putting Gaza's women and children in harm's way.
To the contrary. Just days after 62 Palestinians were killed during a Hamas-led attempt to breach Israel's border security fence to enable armed terrorists to attack civilian communities in Israel, the Geneva-based U.N. Human Rights Council convened a special session that voted to investigate Israel – but not Hamas.
This came despite the admission by a Hamas official that 53 of the dead were members of Hamas or affiliated with another terrorist group, Islamic Jihad.
Speaking at that debate, U.N. human rights chief Zeid Ra'ad al-Hussein, described the Gaza Strip as "a toxic slum." But whose fault is it? Al-Hussein neglected to mention that Hamas has diverted humanitarian shipments of building materials sent to Gaza – earmarked for repairs of civilian houses – for use in expanding its labyrinth of terror tunnels that reach into sovereign Israeli territory.
The U.S. had enough. The next day, Ambassador Haley announced that America was leaving the U.N. Human Rights Council for its unending bashing and serial outrageous resolutions singling out the Jewish state.
Then there is ironically named, United Nations Relief and Works Agency (UNRWA), which employs more than 11,000 people in the Gaza Strip, including medical personnel as well as teachers and administrators in schools.
UNRWA claims to have 267 schools servicing over a quarter-million students in Gaza. But far from serving as a voice of reason, peace and reconciliation, UNRWA deploys its unique math of servicing fifth- and sixth-generation Palestinian "refugees." This feeds the culture of victimhood.
UNRWA's self-declared "peace curriculum" would be a joke if it wasn't so tragic. Its textbooks never identify the state of Israel – it's all Palestine, from the Mediterranean to the Jordan River. Israel isn't demonized in the curriculum; it simply doesn't exist.
And the teachers and administration of UNRWA schools? They announced, out of the blue, that schools and offices would be closed on May 14 and 15. Those were the very days that Hamas was planning the deadliest riots at the Gaza border, to coincide with the historic opening of the U.S. Embassy in Jerusalem.
Clearly, by closing UNRWA schools the U.N. employees meant to encourage youngsters to become cannon fodder for Hamas' deadliest macabre theatre. I doubt there is a more powerful exhibition of mass child abuse in our time.
Speaking of protecting children, UNICEF is recipient of massive financial support for its global efforts in this area. Indeed, in the years from 2012-2017, Japan donated $50 million to UNICEF projects, including for a project defined as "documentation of grave violations against children."
But the UNICEF report did no such thing. If the report really did intend to document child abuse, it would have to shine the light upon the U.N.'s own client – the morally corrupt Palestinian leadership.
The report says nothing about Hamas' summer camps where it brainwashes little children to hate Jews, its use of women and children as human shields, or its use of U.N. school grounds to launch missiles at Israel. No, you will only read lies demonizing the Jewish state with mendacious propaganda.
Against this backdrop, presidential senior adviser Jared Kushner and his Middle East peace team deserve credit for demanding that Arab states must grant citizenship to fellow Arabs who have lived there for decades. The team is trying to end the ludicrous coddling of sixth-generation Palestinian "refugees," who vie for international aid while more than 60 million legitimate refugees need the world's help to secure their future.
U.N. Secretary General Antonio Guterres should fire Michael Lynk, the "human rights expert" whose idea of contributing to peace is to punish the victim of terrorist attacks –Israel – instead of the violent terrorist group Hamas.
Guterres must take control of the U.N. or he may have to look for new funders beyond the U.S. to underwrite the travesty and folly that his international organization is descending into. American taxpayers have had about enough and now we have a president who just might shut the U.N. checkbook permanently.