Geraldo Rivera: Getting punched in face is nothing compared to missing a dance step on live TV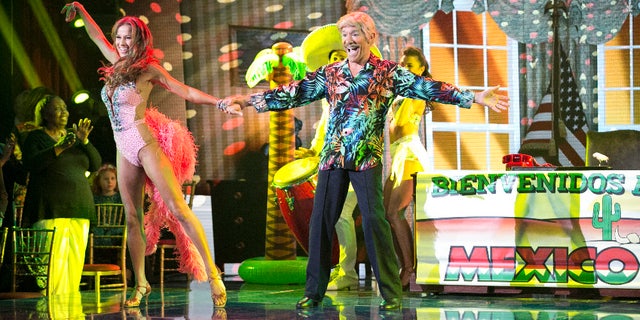 NEWYou can now listen to Fox News articles!
My main takeaway from Dancing With The Stars, Season 22 is that I probably should not have waited until I was a lame 72-year-old to do the show.
The physical challenges of the dance routines are rigorous, the training akin to the buildup to a boxing match. Actually, boxing has the advantage over dancing in that fighting is not as tough, at least not to me — and I was a boxer for 25 years. Getting punched in the face is nothing compared to the embarrassment of missing a dance step on live TV in front of 12 or 13 million viewers, which I did routinely on DWTS.
I joked when Edyta and I were eliminated that if we hadn't been, "I would have demanded a recount.
To put it mildly, my performance was lamentable, really disastrous. It was especially bad during the widely anticipated World Premiere Event last week, Monday 21 March.
My partner, who deserved far better than this reporter, was Edyta Slwinska. A glamorous, classically trained ballroom dancer who hails from Poland, Edyta was making her grand comeback to the program after an absence of several years. During that time she and her husband – the dashing Alec Mazo, a Stanford-educated businessman who also dances professionally and won Season 1 of the program – had a child: their adorable son Michael, age two.
Our dance that fateful premier night was a Cha Cha, a Latin number. Since dances on the show are actually thematic mini-musicals, ours needed a story. Returning to one of my old chestnuts, The Mystery of Al Capone's Vault, our idea was that Edyta was the long-sought treasure that eluded me when I opened the Prohibition–era gangster's vault in the basement of Chicago's old Lexington Hotel back in 1986.
Like this show, Al Capone's Vault was on live television. Actually Capone's worldwide audience (and resulting embarrassment) was far larger, approaching 40 million in those days before cable and Netflix. It is still the highest-rated syndicated show in television history, as far as I know.
Aside from the theatrical aspects, the Cha Cha dance demands considerable hip swiveling and rhythm. Rhythm I may never have had despite my proud Puerto Rican heritage. I lost the ability to hip swivel when I had my left knee replaced in 2009, then suffered devastating consequences from back surgery in 2010. One consequence was loss of all feeling in my right foot, which now is like a peg leg, numb and senseless.
Aside from recent fears that I could no longer shake my booty, I turned down several earlier requests to appear on DWTS, when I was more physically able. But my children feared I would have an affair with my dance partner. Backstage romances then seemed en vogue on the show. Fifteen years clean and sober in that regard since wife Erica, fidelity is no longer an issue.
I also wanted to send the message to the big Baby Boomer generation coming up behind me that they should get off the couch and shake their booty. Use it or lose it. Everybody our age has something that hurts, but move what you can for as long as you can since you'll have plenty of time to be still after you die.
During rehearsals, the lame foot led to several falls, but with the help of hidden ankle, knee and back braces I got to the point where I felt I could make it through the routine without falling down.
The problem was I choked during the live show. Added to my physical chunkiness, during the middle of the Cha Cha I zigged when I should have zagged and as a result earned for poor Edyta and myself the lowest score of the 12 couples competing. When crotchety DWTS judge Len Goodman heaped scorn on my inability to point my toes I laughed, since my ankles were immobilized with tape.
And it was ridiculous to think that I could compete against this year's crew, which features some great, young athletes, including Superbowl MVP Von Miller of the Denver Broncos and Antonio Brown, the Pittsburgh Steeler's All-Star wide receiver; the deaf heartthrob Nyle DiMarco, winner of America's Top Model; Wanja Morris, the charismatic heart of Boyz II Men (who dances with soon-to-be superstar Lindsay Arnold; UFC fighter both gorgeous and tough Paige VanZant; super sweet Kim Fields, lately of Real Housewives of Atlanta; Ginger Zee, who's the popular Good Morning America meteorologist; the wonderful Marla Maples, who I've known since she was the second Mrs. Donald Trump and who is handling the renewed attention with grace; Mischa Barton, who surged to fame on The OC; and Fuller House star Jodie Sweetin. Former pro NFL quarterback Doug Flutie of "Hail Mary" fame was the only other contestant over 50, and he's 20 years younger than I am.
Comparing this group to my colleagues on last season's Donald Trump show Celebrity Apprentice, all I can say is this was a much nicer group, loving and supportive instead of backstabbing and conspiratorial.
So I forgot my first routine and then similarly botched my second routine this past Monday.
The idea was "President Donald Trump" (me) being interrupted in the Oval Office by drop-dead gorgeous First Lady Melania, played by the equally drop-dead gorgeous Edyta Slwinska.
My conservative presidential suit is stripped off by two of the breathtaking dancers in the troupe, and Edyta and I do a "Salsa to Mi Amigo" number by the late great Tito Puente who was mi amigo in real life. The idea was to stress the irony of Donald dancing the Latin Night Salsa and to ride the wave of attention that the candidates' wives were receiving in the tacky, "Whose Wife Is Hotter" debate slinging between Trump and Senator Ted Cruz.
To make a long story short, my dance this past Monday didn't suck as badly as it did on premier night — but it was pretty bad. The score was the same as the first night, a meager 13 out of 30, but it didn't matter, since unbeknownst to us, we had already been voted off.
They should give scores based on a handicap, like in golf.
I joked when Edyta and I were eliminated that if we hadn't been, "I would have demanded a recount."
My supporters in the studio audience, including best friend forever Cheech Marin and everyone in my family took the defeat fairly well,except my 10-year-old Sol Liliana who started sobbing inconsolably. Since the only star she really wanted to meet was Von Miller, I brought the strapping 6'3" 240-pound linebacker over to give her a hug, which went far to relieve her disappointment. He and the others, including the production team, were superconsiderate and nice.
Looking back on the experience, all I can say is that I wish I had done more to keep Edyta on the show's center stage. That aside, the whole experience was a blast.