Elie Wiesel: The man who shouted for us all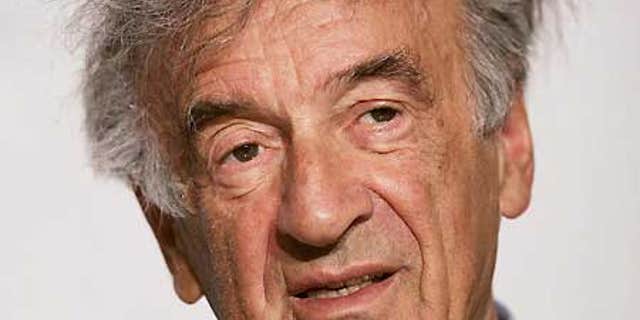 NEWYou can now listen to Fox News articles!
On September 22, 2011, Elie Wiesel stood across the street from the United Nations, directed his attention to the world body, and said: "What is happening today is a disgrace. The United Nations was a great idea…But they have perverted it." It was yet one more demonstration of the unique moral fiber of this great man, who passed away on July 2, 2016 at the age of 87.
Years earlier, Wiesel had rejected efforts by the U.N. to coopt him with the label of a U.N. "eminent person" as soon as he discovered he was being used to legitimize U.N.-driven antisemitism.
Wiesel made his plain-spoken remarks on the occasion of the tenth anniversary of the UN's racist "anti-racism" conference in Durban, South Africa, which had taken place in September 2001.
The Durban spectacle, infamous for the vicious antisemitic attacks on Jewish participants and the Jewish state under the guise of combating xenophobia, ended just two days before 9/11.
The streets of Durban were filled with banners reading "the martyr's blood irrigates the tree of revolution in Palestine" and "for the liberation of Quds, machine-guns based upon faith and Islam must be used."
Eli Wiesel did not need a reminder of the bond between incitement to hate and violence.
The story was recounted by Wiesel at an event sponsored by the Touro Institute on Human Rights and the Holocaust that took place outside of UN headquarters, while the UN General Assembly was celebrating Durban on the inside. Said Wiesel:
"I almost became part of the UN's [2001] Durban I conference. Kofi Annan was Secretary-General and he created a group that the UN called a 'group of eminent persons' that was supposed to give its moral auspices to Durban I. Kofi Annan called me and how could I say no? Then I got the program. I called up Kofi and said I must resign. He had already announced the composition of the group and my name was on it. I went to see him in person and told him I cannot participate because I realize now from the program that Durban is supposed to be a conference against antisemitism, but is becoming a conference of antisemitism. 'Oh no,' he said, 'you come and speak.' I said 'I am not going' and I resigned in protest."
He didn't just resign. Almost eight years later, in 2009, the UN sponsored "Durban II" in Geneva. This conference was billed as a global reaffirmation of the 2001 Durban Declaration, which libelously declared that Jewish self-determination creates Palestinian victims of Israeli racism. The lead-off speaker – and the only head of state to attend – was Iranian President Mahmoud Ahmadinejad. And then there was Eli Wiesel, speaking this time in the room next door at an unofficial non-U.N., Touro-sponsored, event.
In his words: "We are now in the United Nations, an organization created in response to the atrocities of the Second World War, and we have to protest against an antisemitic speech delivered by the head of Iran. Why this man was invited to the UN is beyond me. Why he was even allowed to say what he said, why he wasn't stopped by the president or the chairman is beyond me. And so we are here to speak about antisemitism. It is intrinsically related."
U.N. Secretary-General Ban Ki-moon and then U.N. High Commissioner for Human Rights Navi Pillay had remained glued to their seats, directly behind Ahmadinejad, as the Iranian President said that the "Zionist regime" was created "on the pretext of Jewish sufferings" and "the word Zionism personifies racism that falsely resorts to religion…to hide their hatred and ugly faces."
By the time of the third Durban iteration in 2011, Wiesel, then over 80, could so easily have chosen a more comfortable path than standing shoulder-to-shoulder with outsiders. Instead, with tremendous dignity, and with a clear sense of human limitation but without despair, he told those assembled beyond the U.N. walls:
"Antisemitism is still a subject that we must deal with. To me, it is a source of astonishment. From the viewpoint of logic, if Auschwitz didn't cure the world of antisemitism, what could and what will? …But then antisemitism never actually disappeared.
"Antisemites accuse us of being too rich or too poor, too universalist or too nationalistic, too intelligent or too stupid, too learned or too ignorant. Whatever we are, we are excessively what we are.
"Antisemites denounce our feeling of superiority. But then I learned never to allow the enemy to define my Jewishness. I will not allow them to touch the core of my identity, which is simply I am a son of the Jewish people.
"So why then do our enemies go on? Because they are convinced that if they go on and on, somehow it will not only change the world, it will change us in our own eyes."
Wiesel's response was, therefore, to remind us of the tale of the courageous sage committed to equal human dignity who shouted in the streets "remember, remember who we are, remember the dangers we face, and remember our duty" – not because we will change others, but so that others cannot change us.
This was Wiesel's definition of the Jew and his answer to antisemitism. Surely it is also a lesson for humankind.
September 2016 marks the 15th anniversary of Durban. The U.N. has already announced this is a cause for celebration.
Elie Wiesel's shout will be deeply missed. His voice, however, continues to reverberate, stirring us all from silence.