David Bossie: House Democrats plan a witch hunt against Trump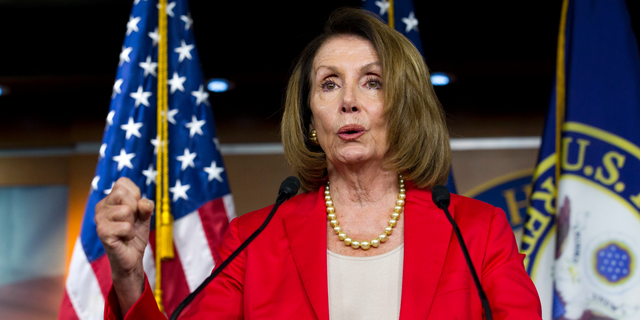 NEWYou can now listen to Fox News articles!
Next month the circus officially comes to Washington when Rep. Nancy Pelosi, D-Calif., is expected to go from being the U.S. House minority leader to become speaker of the House, once the newly elected Democratic majority takes office.
After Pelosi and her new majority are sworn-in, their subpoena cannon will be loaded and pointed at the White House. The Democrats will mount one politically driven investigation after another, backed by billionaires George Soros and Tom Steyer, along with other rich far-left donors.
Congressional oversight of the executive branch is an important part of our system of checks and balances. But oversight only works if it's seen as a legitimate fact-finding exercise.
The major problem for this incoming Democratic-controlled House is that the Democrats have already concluded that their investigations should all come to the conclusion that President Trump must be impeached.
The liberals who will soon control the House have spent two years trying to get to this moment and are foaming at the mouth now that it's here. They have set expectations way too high and are poised to overreach and make clumsy mistake after clumsy mistake along the way. This crew has proven repeatedly that they can't help themselves.
The angry mob of partisan Democrats on Capitol Hill has no positive policy agenda for the American people. The Democrats are instead setting their sights on orchestrating the most disgusting political smear campaign in American history. If you thought the job they did on now-Supreme Justice Brett Kavanaugh during his confirmation hearing was a low point, just you wait.
On the left there is an urgency to destroy this president created by their out-of- touch elitist benefactors and backed up by their unhinged radical base. They are going to stop at nothing to try and impeach the president by any means necessary.
Pelosi's Democrats are preparing for war. With less than a month until the 116th Congress begins, I'm extremely concerned about the stunning lack of urgency on the Republican side.
Here's my message: if you're a loyal supporter of President Trump and his successful policy agenda, it's time to stand up and be counted. This president needs steadfast public defenders and he needs them now.
Incoming Democratic House committee chairmen Adam Schiff of California, Elijah Cummings of Maryland, and Jerrold Nadler of New York are out for blood. They are determined to conduct a witch hunt by digging into every aspect of President Trump's private life and business dealings before he took office.
These partisan leftist chairmen must be confronted immediately. The scope of any investigation that they initiate must be limited to areas of inquiry pertaining to the Trump administration since January 20, 2017.
Any topic outside of that timeframe is not legitimate congressional oversight; it's a taxpayer-funded political hit job.
Republican ranking members like Reps. Doug Collins of Georgia, Jim Jordan of Ohio, and Devin Nunes of California are responsible for making that case in the court of public opinion. If they have any questions, they should study former Democratic Rep. Henry Waxman of California and his ardent defense of former President Bill Clinton.
I served as the chief investigator on a House committee in the late 1990's and the battles waged by Chairman Dan Burton, R-Ind., and Waxman are the stuff of legend.
Here's my message: if you're a loyal supporter of President Trump and his successful policy agenda, it's time to stand up and be counted. This president needs steadfast public defenders and he needs them now.
As I describe in The Washington Post, behind Waxman there was a pack of well-seasoned lawyers and political operatives who never gave an inch, 24 hours a day, seven days a week. They challenged every subpoena; questioned every motion, and employed every dilatory tactic available.
These new Democratic committee chairmen and their staffs aren't interested in fairness, protocol, or the truth. They need to be dealt with accordingly.
A precedent must not be set that it's appropriate to try and impeach a president simply because you don't care for his agenda or his style. Similarly, laws can't just be enforced for anti-establishment figures and fully ignored for the connected elites.
Hypocrisy must be pointed out and counterpunches must be delivered swiftly. Once the partisan witch hunt on Capitol Hill starts, it must be equally as painful for the congressional inquisitors.
President Trump needs defense and communication teams on both sides of Pennsylvania Avenue staffed up and ready for the fight of their lives. The best of the best must be recruited for this all-important effort to defend the president, the Constitution, the rule of law and the presidency itself.