Ali Noorani: Administrative action on immigration is only a short-term solution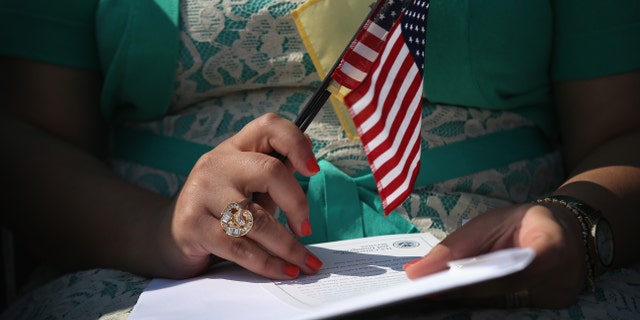 NEWYou can now listen to Fox News articles!
President Obama appears to be ready to make good on his pledge to move forward with administrative action on immigration.
This is a short-term, temporary solution that may very well protect millions of families. But whether you agree with the president's move or not, there is no denying that an immigration system this broken requires a long-term fix.
I offer a third way for the congressional leadership to respond: Block administrative action by rolling up your sleeves and getting to work on legislation.
Rather than cater to anti-immigrant forces and fight the president "tooth and nail" on administrative action, Republican leadership should seize the opportunity to get credit for creating a new immigration process that works.
Yes, Latinos would give Republicans credit for actual immigration solutions. But so would a range of conservative leaders.
Business leaders want a stable workforce where they don't have to worry about the federal government intruding on their operations. Law enforcement officials want to focus on the pursuit of criminals, not waste valuable resources on civil immigration violations. And faith leaders look forward to the day when fewer families in their congregations are separated by deportations.
Being the party of "no" makes for a tough road to the White House in 2016.
There are reports of a split within congressional leadership on how to respond legislatively once the president acts. One faction favors blocking the execution of administrative action step by step. The other, more extreme faction favors shutting down the government until the president cries "uncle."
Both approaches fall short. A purely political response to administrative action effectively turns the microphone over to extremists, and Steve King and Ted Cruz should not define the Republican position on immigrants and immigration. Public support for immigrants and immigration will plummet, and it will be nearly impossible for Republicans to pass — and take credit for — their own set of reforms.
The central problem with both responses is this: Immigration isn't about politics. Immigration is about real people.
Even in a toxic political environment, the conservative base of faith, law enforcement and business leaders talk about immigrants as people they know, people they value. They empathize with the dreams, aspirations and struggles of the immigrant community — documented or not.
Carlos Gutierrez, President George W. Bush's commerce secretary, put it well: "The Republicans can overreact and give the impression that they're not so much against the concept of executive action but that they're against immigrants. And that would be a big problem."
In the belief Congress represents the overwhelming majority of Americans who want practical immigration solutions, I offer a third way for the congressional leadership to respond: Block administrative action by rolling up your sleeves and getting to work on legislation.
Instead of allowing the Democrats to force you into a political corner, call their bluff.
Spend these precious next few weeks preparing a clear vision and a legislative process for reform to be put in motion on the first day of the 114th Congress.
By taking the reins and actually passing reform legislation, Republicans can claim credit for permanently replacing our broken immigration system. If not, they may get credit only for separating families and further destabilizing the workforce.
Rather than retreating to the corners of rhetorical fire and poisoned wells, now is the time for Congress to come to the table and act on the simple truths that everyone knows: Our immigration system is broken. Our economy suffers as we cannot compete for talent. Immigrant families are deeply wounded. Law enforcement resources are spread thin.
Congress was just handed a golden opportunity by an electorate that gave Republicans control of both houses. Administrative action can be only short-term, and anything it fixes can be only temporary. Only Congress can put in place a solution that is permanent by replacing a system we all recognize is broken.