A visit to the USS Dwight D. Eisenhower: An up close look at the pride, the leadership and the respect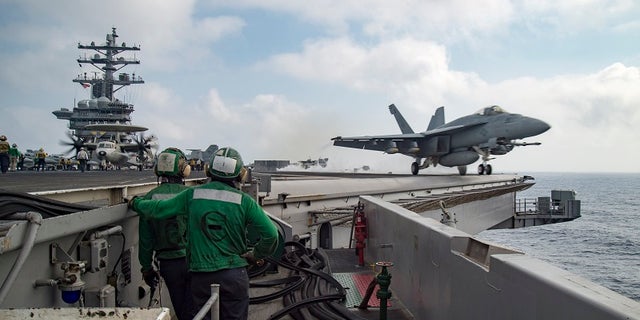 NEWYou can now listen to Fox News articles!
Have you ever landed in a plane on a runway that is essentially a tipped over version of the Empire State Building…only moving quickly through the Atlantic Ocean? Well, that is the amazing experience I was privy to recently. Oh yeah, and what I landed on contains a mini-nuclear power plant.
If anyone ever offers you the chance to do the same, I urge you to say YES.
My home for one night was the USS Dwight D. Eisenhower aircraft carrier; the "Mighty Ike" as is it so aptly nicknamed. I landed in a C-2 Greyhound carrier on-board delivery aircraft, or COD. As a member of the media, I was afforded the opportunity to travel with 10 community leaders who were Distinguished Visitors of the U.S. Navy.
The way we landed is by hooking onto a cable on the deck of the carrier…also known as a "trap" landing. This slows the plane from 105 MPH to Zero in about 2 seconds.
Full disclosure, I am not a big fan of flying commercial airlines…although I do it…so the thought of this landing was a bit daunting, at first. But, when I arrived on the Navy base in Norfolk, I met the men and women who had my life in their hands.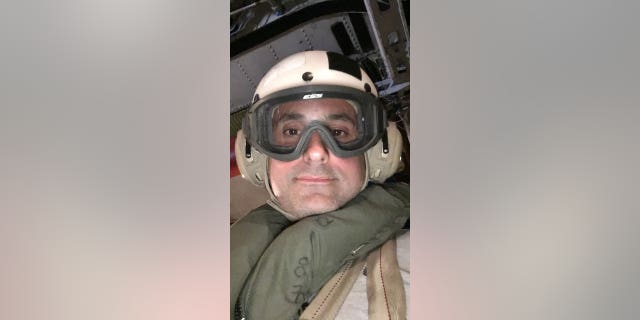 Their confidence and professionalism was more than reassuring, it was calming. My fear quickly transformed to excitement. Still, as we hit the deck…literally…I couldn't help but think about the first person who decided they would give it a try. What was going through their head at the time?
Launched in October of 1975, and weighing in at 95,000 tons, Ike is about 1,100 feet long, 250 feet wide and about 24 stories high. They call these carriers floating cities, and not just because of their size. Ike can house a crew of over 6,000 and contains a store, a library, a chapel, medical and dental offices, a post office and, in addition to many other amenities, there is…of course…a Starbucks.
But, what struck me while on board was that as much as Ike is a floating city, it is a floating community. The men and women who serve all work in conjunction to make this impressive feat of engineering work.
With high winds blowing, one jet was taking off just feet in front of us as another was landing not too far behind. It is a sight and sound I will never forget - the awesome power of the plane, the smell of the jet fuel and the rumble and boom as it launched.
I won't get too technical, but imagine the teamwork that needs to take place each and every time an F-18 fighter jet lands at high speed on a moving ship. There is wind speed and direction, ship speed, flight trajectories, maintenance, etc. etc. and that is just during training. My experience didn't include the threat of being in hostile territory.
I was able to witness training for other dangerous situations. During this, I learned that everybody on board the carrier has firefighter training. They ran realistic drills to prepare for fires, and enemy fire. Some people called it controlled chaos. It seems more like organized chaos. Everybody had a job to do, and they did it.
This brings me to the most impressive aspect of the carrier, as a Navy tourist at least. I was told several times that the carrier's flight deck is the most dangerous place in the world to work. Standing on the deck as F-18's were catapulted, roaring off the ship at high speeds, I could not argue that point.
For the men and women working on deck, losing focus for any amount of time could end in disaster. With high winds blowing, one jet was taking off just feet in front of us as another was landing not too far behind. It is a sight and sound I will never forget. The awesome power of the plane, the smell of the jet fuel and the rumble and boom as it launched is something I can never imagine getting used to.
Remember, many of the sailors who choreograph this carrier flight deck dance, and all the engineering that goes along with it, are in their late teens and early 20's…young men and women getting their first real taste of responsibility.
This gets me back to the floating community aspect. Before preparing to leave the ship, we were invited to a frocking ceremony. A big frocking ceremony. Frocking is "an administrative authorization to assume the title and wear the uniform of a higher pay grade without entitlement to the pay and allowances of that grade." This is a big deal for these sailors. More than 250 became frockees this day, and their fellow shipmates came out in droves to congratulate them. Food service members banged pots and pans together when one of their own went on stage, mechanics banged wrenches, so on and so forth. They were all part of something bigger than themselves.
While on deployment, some of these men and women are stuck in tiny windowless rooms together working long hours and not seeing the light of day for up to weeks at a time. In the Arabian Gulf, they can be working in temperatures that rise up to more than 120 degrees. This all seemingly happens with few complaints. That requires a special person.
And then there was me.
Although I never complained, the trip was not a walk in the park for me. In just 24 hours I was worn out. That despite the fact that I spent one night sleeping in what would be considered the lap of luxury on a carrier, on a large bunk in a room with a TV and carpeting (I will say, in my defense, the TV only showed 4 or 5 stations). I was, however, about 15-20 feet below the flight deck with F-18's taking off, so let me amend that description to say that I spent one night NOT sleeping in what would be considered the lap of luxury on a carrier. The flight operations ran until about 1am and then I had to compete with the quieter, yet still noisy sounds of the ship. Many sailors told me that when they leave the ship it is too quiet to get any sleep. Go figure.
This is just a small portion of what I got to see and hear on Ike…the pride, the leadership, the respect. Someone told us the Navy doesn't own the ship, the citizens do. They are just it's keeper and stewards. From what I saw, they are doing it well...keeping our country safe and even serving on humanitarian missions. I have always respected members of all our branches of the military, but a trip like this really brings their work into perspective.
The day we left, we catapulted off the deck. The plane went from zero to 128MPH in about 3 seconds. We were safely airborne and on our way back to shore. As oil dripped on me from the roof of the plane, I thought to myself that if I were flying commercial I would be freaking out right now. Instead, I took a nap.
Jason Kopp is a Fox News producer.