FIRST ON FOX – A Planned Parenthood sex educator, Mariah Caudillo, shared on TikTok how youth can acquire sex toys. In another video she discussed how to use fruits and vegetables as "spicy toys."
Planned Parenthood, a leading advocate of comprehensive sex education, took home over $600 million in taxpayer dollars from reimbursements and grants, according to its 2021 report. The newer sex ed pushed by the abortion-rights organization is less grounded in purely clinical facts and includes information on sexual orientations and gender identities.
For example, Caudillo believes comprehensive education should be "pleasure-based" and include "skill building."
"[C]omprehensive sex education curricula is mostly written by white folks who have a tendency to do the bare minimum as it relates to… acknowledging the intersections of racial justice, social justice and reproductive justice," she said in a post on LinkedIn.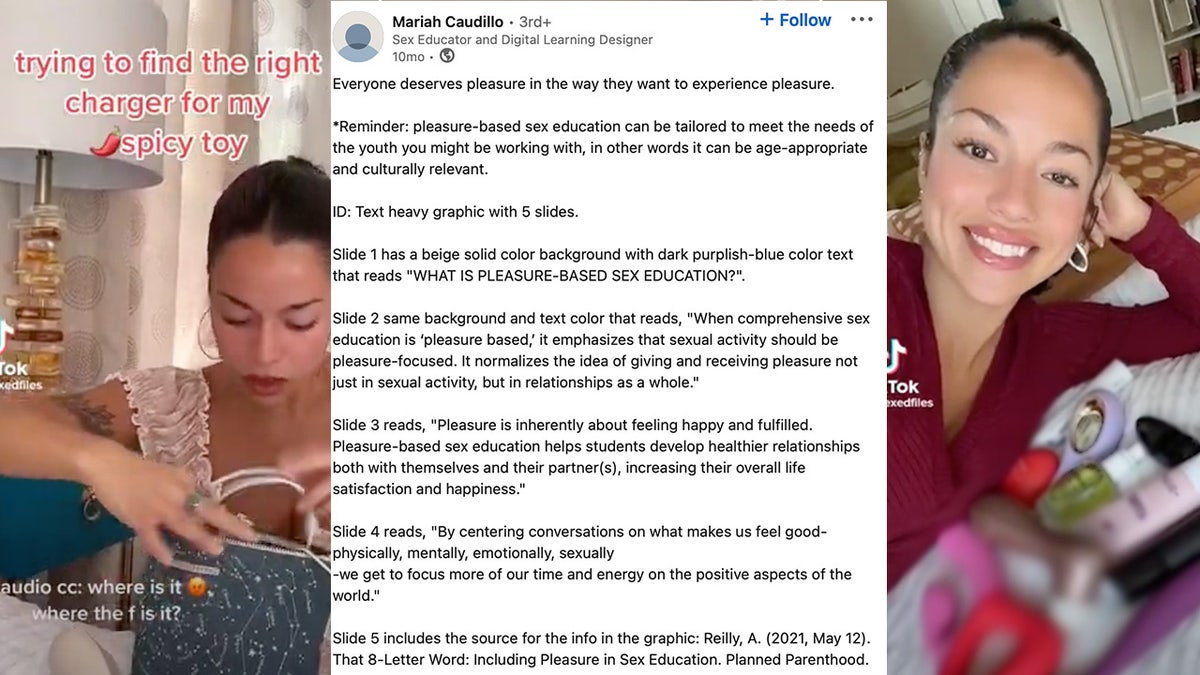 She went on to say that "pleasure-based sex education" can be appropriate for young people.
ILLINOIS PLANNED PARENTHOOD FIRE BEING INVESTIGATED AS ARSON, POLICE SAY
"Everyone deserves pleasure in the way they want to experience pleasure. *Reminder: pleasure-based sex education can be tailored to meet the need of the youth you might be working with; in other words, it can be age-appropriate," she said.
In TikTok videos, Caudillo pretended to use a sex toy on herself, discussed her favorite sex toys and showed off her collection of "spicy" objects.
Other videos on sex toys included recommendations on how minors and teens can acquire them.
Caudillo also discussed in a video how individuals can hide "spicy toys" from parents and proceeded to provide information on using fruits and vegetables as sex toys. It was unclear whether Caudillo intended for the fruit videos to be for a young audience.
The sex educator works for Planned Parenthood Mar Monte, the largest affiliate in the U.S., which provides health and education services to more than 220,000 people annually at over 30 locations in mid-California and northern Nevada.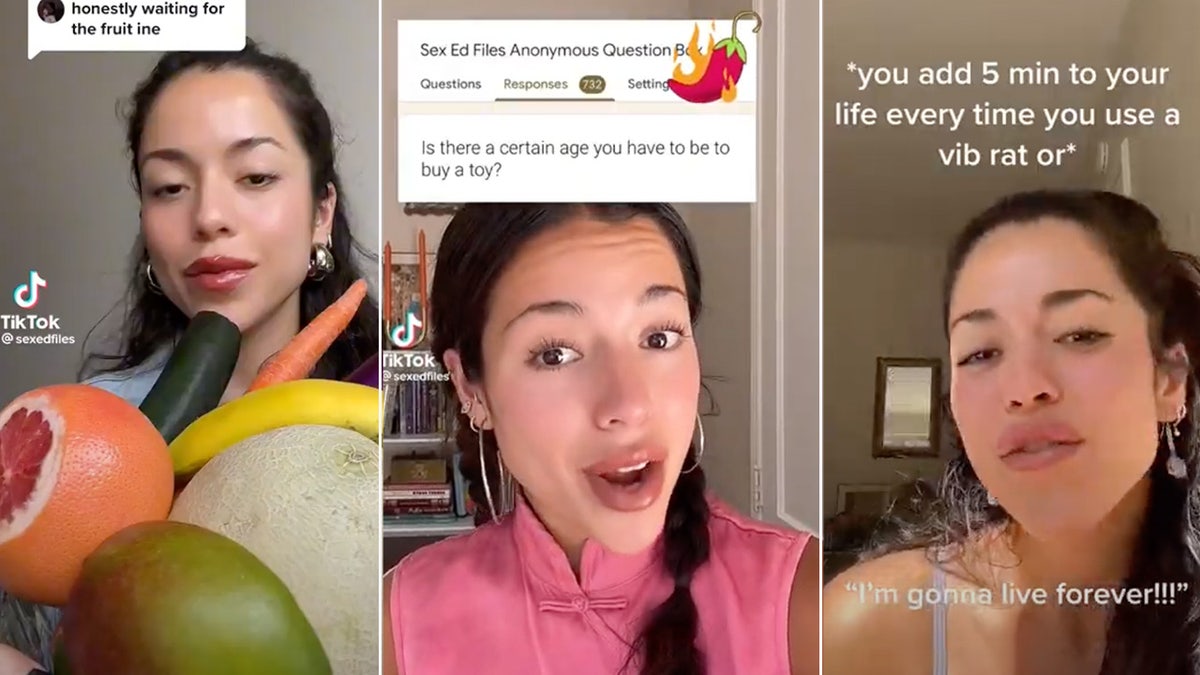 "Is there a certain age you have to be to buy a spicy toy? To my knowledge, there's not an actual law that prevents young people from purchasing spicy toys. But typically, adult stores have age restrictions, which prevents young folks from purchasing spicy toys in person. You usually have to be 18 and up to shop at these... adult stores," she said. "However, it's not illegal to buy spicy toys online, even as a teen, which most people do. You just have to purchase them with a valid credit card, debit card or gift card. So the best thing to do, if you're curious about spicy toys, or you just want to explore what's out there or if you want to purchase them, or one, – whatever – is to do so online. Do keep in mind that some of these stores also have age restrictions on their website, but like this app, people can access them anyway."
'ANGRY AND BITTER' MICHIGAN SCHOOL BOARD MEMBER CLAIMS 'WHITENESS IS EVIL,' FACES BACKLASH FOR DIVISIVE TWEETS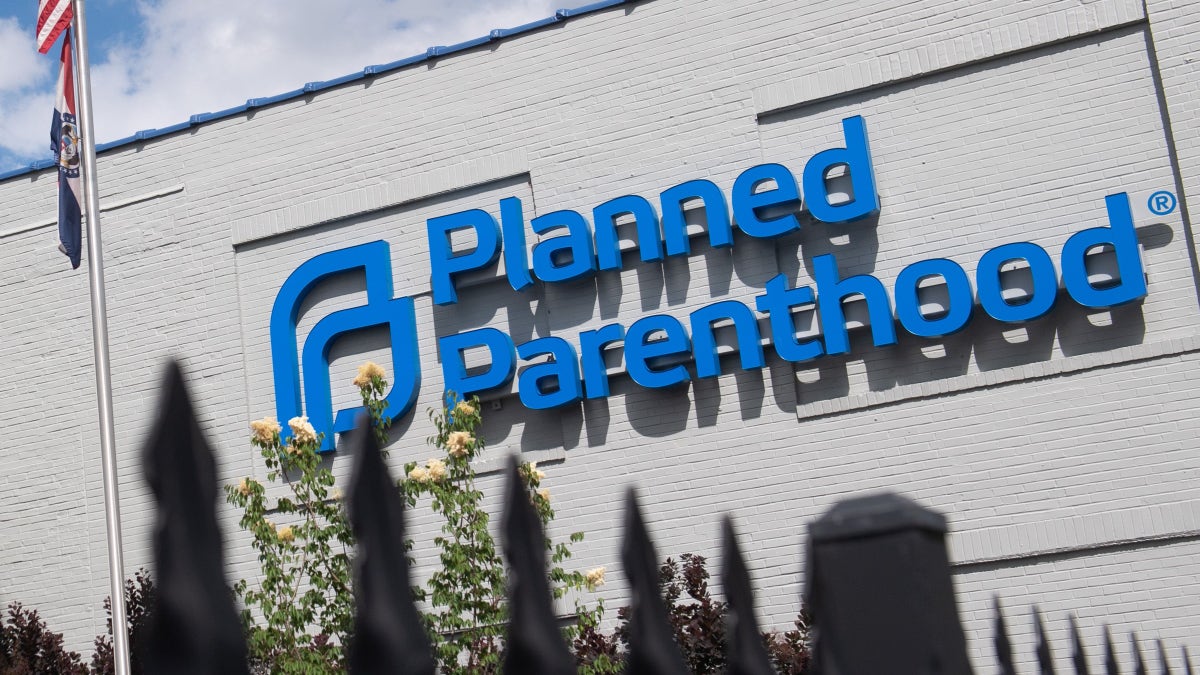 As part of her position as a Digital Learning Designer, Caudillo appears to work with youth to create sex ed materials.
Fox News Digital reached out to Caudillo and Planned Parenthood for comment but did not immediately receive a response.
Before she became involved in sex ed curriculum, Caudillo worked in middle school classrooms as a Planned Parenthood health educator for two years. In April 2021, she said in an interview that some of her social media posts on Instagram were a mirror to what she taught in the classroom.
"The Sex Ed Files is essentially a folder mirroring the work… in the classroom, full of resources, inclusive sexual health information, quotes from sexuality professionals and activists, art, and my favorite: anonymous questions from students in sex ed," she said.
Fox News Digital previously reported that an executive director at Planned Parenthood's sex education arm claimed that children are born "sexual" while simultaneously advocating for comprehensive sex education from kindergarten through 12th grade and porn literacy for certain ages.
I USED TO RUN A PLANNED PARENTHOOD CLINIC. THIS IS WHAT YOU SHOULD KNOW ABOUT HOW HORRIBLE WORKERS FEEL
Bill Taverner, who has advocated for sexuality education at U.S. congressional briefings, is the executive director of Planned Parenthood's Center for Sex Education located in New Jersey. The Center provides training materials nationally and hosts the largest conference for sex educators in the U.S.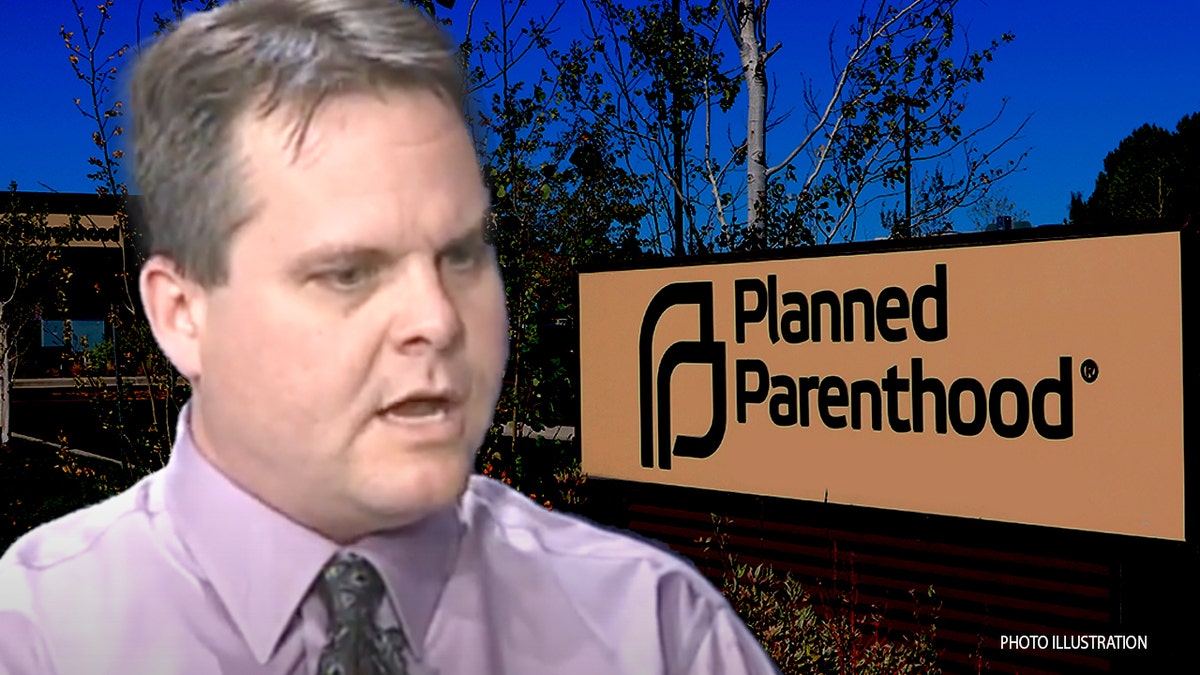 In 2015, he said, "[We have] in our society, an assumption of asexuality of people with intellectual disabilities. It's a myth that's perpetuated, and really we are all sexual beings from birth until death."
Planned Parenthood said in a guide entitled the "Fundamentals of Teaching Sexuality" that "sexuality is a part of life through all the ages and stages. Babies, elders, and everyone in between can experience sexuality."
CLICK HERE TO GET THE FOX NEWS APP
Around the year 2012, Taverner said children of a certain age should be taught about pornography in sex education, a position he has maintained up until at least February 2021.
Taverner appeared to say during the same 2012 interview that some of "erotica" was "useful."