Oklahoma State University sued over policies that punish students for 'opinionated' views
Speech First is suing Oklahoma State University over three policies they argue are designed to chill and silence student speech
A college free speech advocacy organization is suing Oklahoma State University (OSU) over policies that they argue deter, suppress and punish students for constitutionally protected speech regarding political and social issues.
Speech First filed a lawsuit Tuesday against OSU challenging three of its speech policies they claim are designed to chill and silence student speech, which is in turn a violation of the First and Fourteenth Amendment rights of students, according to the lawsuit.
"These policies not only force students to censor themselves when they interact with one another, but they also put students in the mindset that they should be offended by the opinions of others they disagree with, and that by committing the offense of being 'bias,' or what most of us may just call 'being opinionated,' warrants disciplinary action against you," Executive Director of Speech First Cherise Trump said.
OSU learned about the lawsuit through the media, but said it would be carefully reviewing the complaint, according to a statement provided to Fox News Digital.
"Oklahoma State University values and cherishes everyone's right of free expression on campus as an essential pillar of democracy," the statement said. "The free exchange of ideas and opinions is part of the educational experience and fosters excellent critical thinking insight."
"We respect different viewpoints and strive to promote healthy and considerate discussion," the statement added. "As a matter of course, it is inappropriate to comment on pending litigation."
OKLAHOMA STATE UNIVERSITY HOSTS 'DRAG QUEEN STORY HOUR' FOR KIDS AS YOUNG AS 2-YEARS-OLD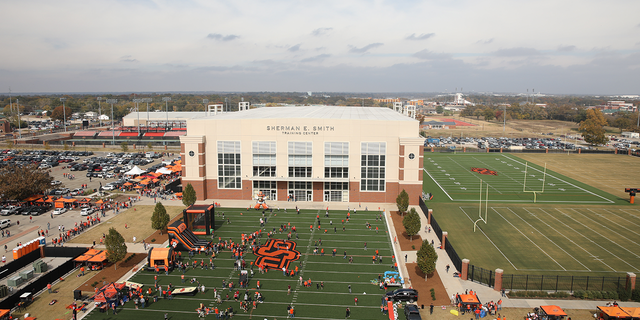 One of the policies at issue in Speech First's lawsuit is the bias-incidents policy that allows students to file reports against their peers for their "bias" and includes speech both on and off campus, as well as on social media, according to the lawsuit. Bias is defined by OSU as "a disproportionate weight in favor of or against an idea or thing, usually in a way that is close-minded, prejudicial, or unfair."
Because bias is defined so broadly, "speech is often labeled 'biased' based solely on the listener's subjective reaction to it," Speech First said in a press release.
Students have been reported for actions like, writing a satirical article about "safe spaces," tweeting "#BlackLivesMatter," chalking "Build the Wall" on a sidewalk and for expressing support of President Donald Trump, according to the lawsuit. Members of bias-response teams are responsible for logging the incident, investigating the situation, meeting with relevant parties and attempting to "reeducate" the "offender," which can result in formal or informal discipline, according to the lawsuit.
Trump told Fox News Digital that Speech First often refers to these teams as "censor squads," but they are "essentially the thought police" that asks students to report fellow students "for anything that goes against the university's orthodoxy of their policy prescriptions."
"These are the same types of tactics that we have seen in regimes across the world in the past, and it is disconcerting to see those tactics being practiced on campuses," she added.
The lawsuit also challenges OSU's Harassment Policy, which disciplines students for speech deemed "intimidating" or "verbal abuse," as well as any actions that are "persistent, severe, or pervasive" or actions that "threatens or endangers the mental ... health" of another student, according to the lawsuit. Speech First said the policy is "so vague that it can easily be applied to a wide swath of protected speech."
In the age of microaggressions, where students regularly talk about how violence has been committed against them because of something someone has said, "you kind of ask yourself what is considered to threaten and endanger someone's mental health" because the definition is so broad, Trump said.
The third policy challenged is OSU's Computer Policy which "forbids students from using their student email accounts for protected political speech," according to Speech First's press release.
Clubs on campus, like the College Republicans or the College Democrats for example, are unsure if an event they advertise over email would be included in this policy, Trump said.
"It [the policy] doesn't tell you what counts and what doesn't," she said. "Students don't actually know if they send something that's political in an email, whether or not they might lose access to their emails later on."
EX-VIRGINIA TECH SOCCER PLAYERS ALLEGEDLY BENCHED FOR REFUSING TO KNEEL GETS $100K SETTLEMENT: ATTORNEY
The "vague" policies restrict constitutionally protected speech, which in turn, "chills protected speech and expression," according to the lawsuit. Some examples of actions that could result in student punishment include a comment made in class, a written comment, "incorrect name or pronoun usage" or an "offensive picture or image."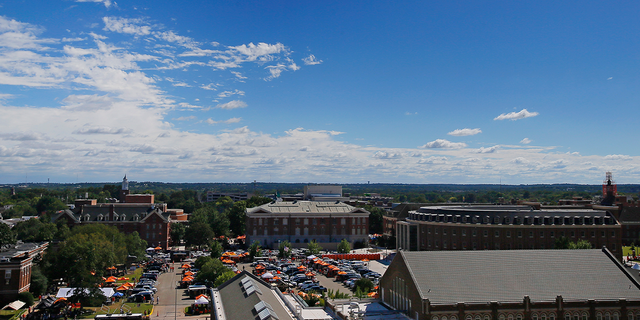 CALIFORNIA COLLEGE TRUSTEE APOLOGIZES AFTER 'THREATENING' REMARKS ABOUT FACULTY WHO OPPOSE EQUITY INITIATIVES
"Oklahoma State's policies are clearly designed to monitor, investigate, and restrict student speech all together," Trump said. "The fact that students can't even express an opinion without worrying that another student can use a campus policy to report on them shows us that the school's administrators have no interest in protecting students' rights."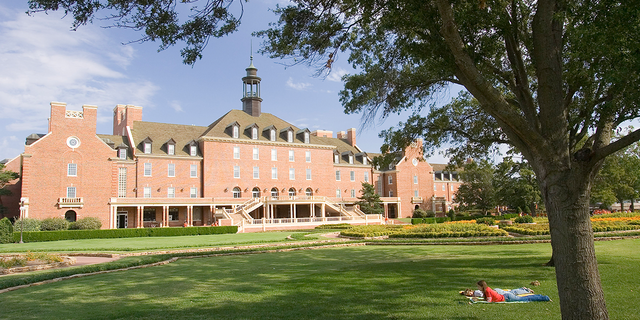 Speech First argues that these policies will lead students to self-censor their speech, which in turn, will impact the college experience where student's ideas should be challenged, shared, and vigorously debated.
"Universities should focus their efforts on fostering and promoting debate and open discourse" and "encouraging students to engage with ideas they find challenging," Trump said. "Oklahoma State's policies have the opposite effect and violate their students' First Amendment rights."
"These policies are stopping students from exchanging in robust debates," she added. "Instead, it's creating enmity among students and their peers."
Trump said that student members of Speech First who attend OSU want to be able to discuss political and social issues that are important to them, but because of these policies, they don't have the opportunity for fear of retaliation.
"It is evidence of a prevailing trend across the country on college campuses that needs to be stopped," Trump said. "University officials have created a series of rules and regulations on campuses that restrain, deter, suppress and punish speech based on anything that's political or social."
CLICK HERE TO GET THE FOX NEWS APP
Speech First has challenged similar bias-response teams at the University of Texas, the University of Michigan and the University of Central Florida, which have now been disbanded as a result.