North Korean defector shocked at what she learned at 'woke' Ivy League school: 'Brainwashing'
Yeonmi Park said Columbia teachings were 'exact same' ideas she learned in North Korea
A North Korean defector issued a stark warning Monday on "woke" ideology in American classrooms, believing the U.S. could "absolutely" be headed down the path of her home rogue regime if it doesn't reverse course.
Author Yeonmi Park joined "Fox & Friends First" to discuss the parallels between far-left indoctrination within her Ivy League education at Columbia University and "brainwashing" in North Korea.
"The things that I was learning at Columbia University really shocked me because it was the exact same thing that my North Korean teachers were brainwashing me in the classroom," Park told Todd Piro. "At Columbia University they were literally saying that all the problems that we have is because of capitalism, because of white men, and the solution for all these problems is a communist revolution in the name of equity."
FATHER LOSES IT AT SCHOOL BOARD OVER BOOK DISCUSSING 'BESTIALITY' ALLEGEDLY AVAILABLE TO 7-YEAR-OLD DAUGHTER
"They were saying that we need to destroy this country, and we need to rebuild the country in the name of equality of outcomes, and that same ideology drove my home country into what it is that state North Korea," she continued.
Park fled the rogue regime, in search of freedom, when she was just 13 years old in 2007.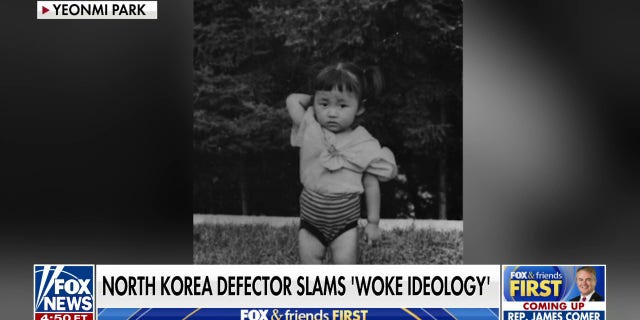 But her journey to the U.S. was anything but easy - she and her mother were sold into slavery by human traffickers after crossing into China.
Eventually, she was able to escape to Mongolia, and South Korea, before seeking refuge in the United States in 2014.
Park, who enrolled at Columbia in 2016, noted how her Ivy League-privileged classmates shared a contorted view of "oppression" and the real impact of capitalism and free thinking on society as a whole.
CLICK HERE TO GET THE FOX NEWS APP
"It's really funny to this day to me that somehow not having a problem is a problem," Park said. "They literally create a problem out of nowhere and create injustice out of thin air… Their oppression is that somehow we cannot catch up their ever-growing non-grammatical pronouns, and that's the biggest oppression they face."
"And they'll continue somehow that there's no free health care, no free education, no free house, no universal income, nothing is free in this world. And… I ask them like, what is it about America that you hate so much? And they said that they hate America because there's inequality," she continued. "Inequality is a sign of progress. Inequality means you can rise, and there are other people in North Korea like me, watching my family members who are poverty, the enemies of poverty, and they don't say that."
Park also called out politicians and business moguls like Nancy Pelosi and Jeff Bezos for refusing to call out communist China for "modern-day slavery" while routinely addressing slavery in America that happened "hundreds of years ago."
"They do not want to stand up against China's Communist Party because they want the money," she said. "They want to make the money from this evil regime."