Trump serves fast food to North Dakota State Bison football team at White House
President Trump invited the North Dakota State Bison, the seven-time NCAA Football Championship Subdivision winners, to the White House Monday, and once again rolled out a menu of a few of his favorite fast-food dishes.
The president reportedly served the young men a buffet of McDonald's hamburgers — same as he did when he hosted National Champion winners, the Clemson Tigers, in January. However, this time he added fan-favorite Chick-fil-A to the mix, with a selection of what appeared to be chicken sandwiches, chicken nuggets and the fast-food chain's signature sauces.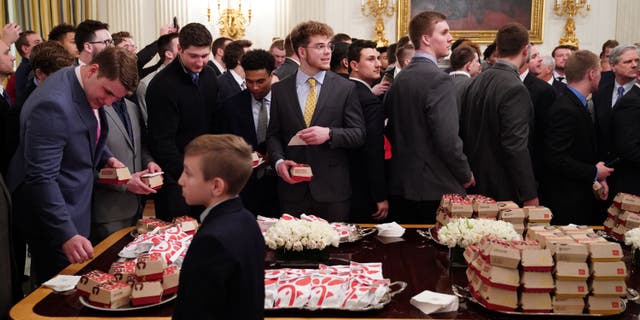 TRUMP PLANS TO SERVE MCDONALD'S, WENDY'S, BURGER KING DURING DINNER WITH VISITING COLLEGE FOOTBALL TEAM
"We like American companies, OK?" Trump said of his choice of food offerings.
President Trump greeted the athletes, calling the group, "big, strong, powerful champions."
The Bison reportedly approached the trip as a team bonding experience.
CLICK HERE TO GET THE FOX NEWS APP
"We addressed [politics]," Coach Matt Entz told the Grand Forks Herald. "This isn't a political trip, this is a Bison trip and, personally, I sold it as two things: It's one more opportunity for the 2018 team to be together, but also in my mind the start of the 2019 season and the things we're going to do together."
As expected, the White House's fast-food treatment sparked plenty of negative reactions on Twitter.
FOLLOW US ON FACEBOOK FOR MORE FOX LIFESTYLE NEWS
Before the meal, the Bison team awarded the president with an honorary jersey with his name and the number "45" on the back.