Taco Bell brings back popular Nacho Fries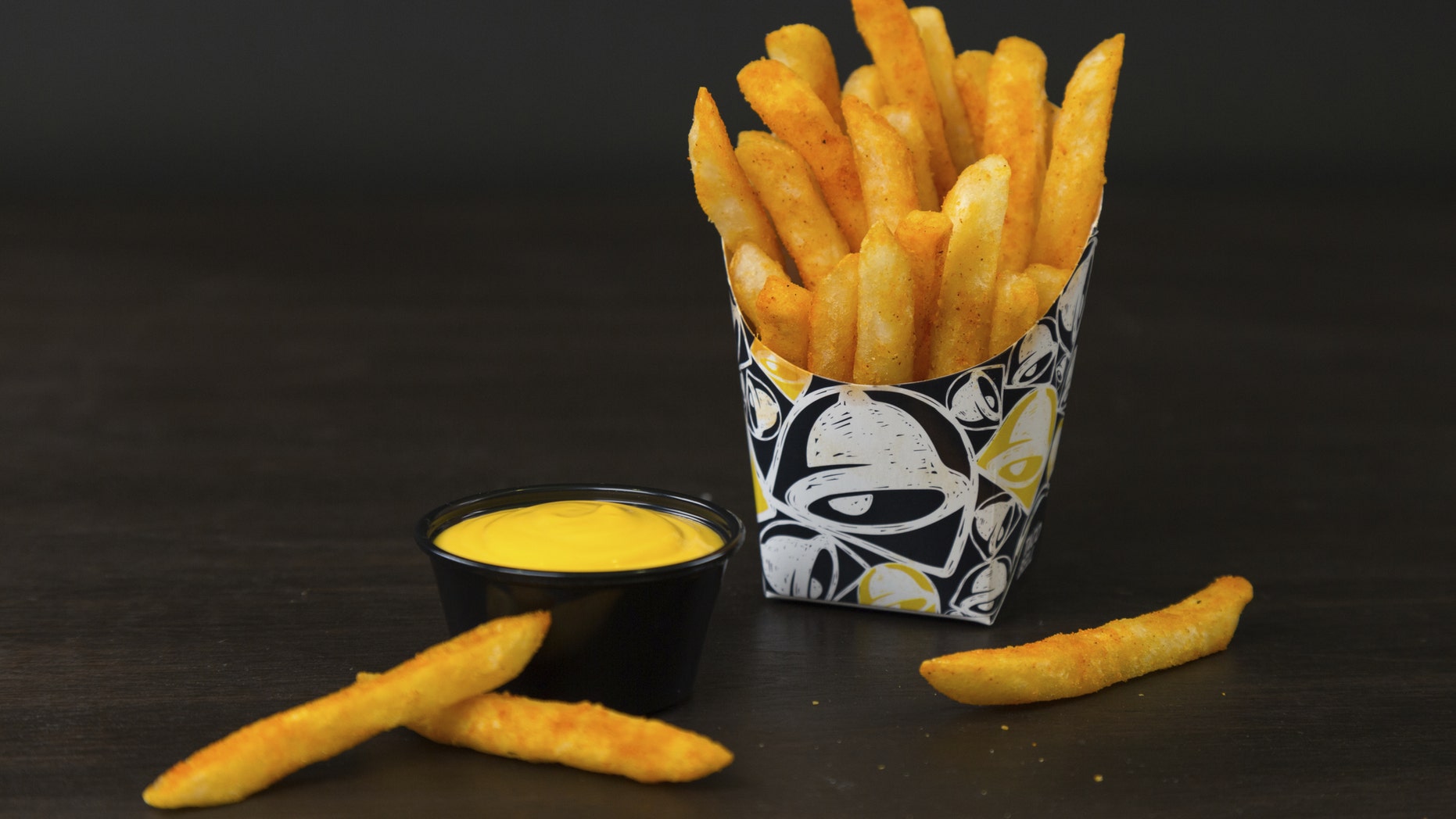 Fans of Taco Bell's Nacho Fries get ready – they're coming back.
Taco Bell will add the seasoned fries back to its menu on Jan. 24 – a year after it first debuted the limited-time side item, the fast food chain declared in a faux "leaked internal memo."
"We've heard our fans loud and clear – they've made waves across social media, demanding that we bring back our famous fries, crisped to perfection with bold Mexican seasoning and served with a side of warm Nacho Cheese sauce," the memo said.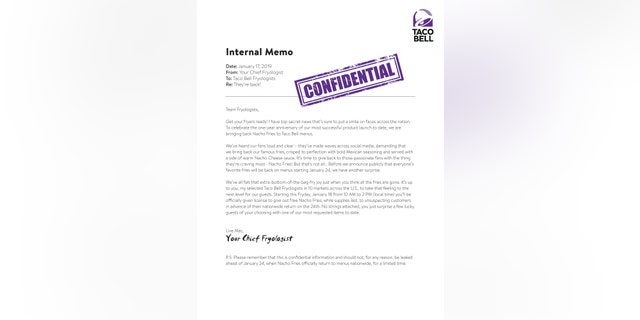 Unfortunately, the fries will only be available for limited time.
TACO BELL BRINGING BACK NACHO FRIES, DEBUTING FUTURISTIC RESTAURANT
Earlier this week Taco Bell's Twitter account reassured a fan that the Nacho Fries would be back "soon."
To kick off the return of the fries, Taco Bell will "surprise" customers in 10 cities by including the side item for free with certain orders on Jan. 18.
TACO BELL RELEASES BILLBOARD THAT DISPENSES REAL NACHO CHEESE TO ANNOUNCE MENU ITEM RETURN
The locations participating in the fries surprise are:
2222 Barranca Pkwy, Irvine, California
2404 North Washington Avenue, Dallas, Texas
4248 Dale Blvd, Dale City, Virginia
303 West Imperial Highway, Brea, California
1100 Rockville Pike, Rockville, Maryland
4300 Highway 360, Fort Worth, Texas
4101 Campus Drive, Irvine, California
 500 8th Ave, New York, New York
 840 8th Ave, New York, New York
 224 7th Ave, New York, New York
4030 Belden Village St, NW, Canton, Ohio
5772 Hollister St., Houston, Texas
3350 W. Roosevelt Rd, Chicago, Illinois
1037 Chestnut St, Philadelphia, Pennsylvania
Taco Bell isn't the only fast food chain upping its fry game. Later this month, McDonald's will offer fries smothered with cheese sauce and bacon nationwide for a limited time.
Mmmm. Bacon.