Smirnoff vodka trolls Trump in new outdoor ad campaign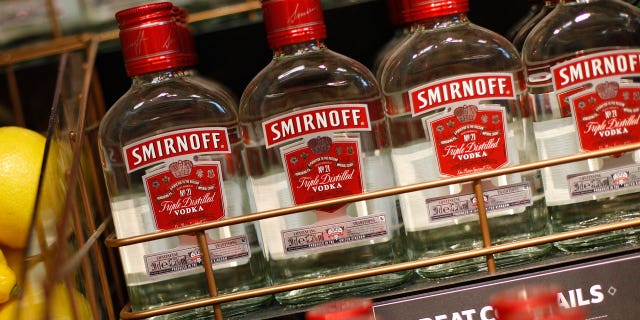 NEWYou can now listen to Fox News articles!
Smirnoff has just joined the ever-growing list of companies that are trying to troll President Trump.
Smirnoff, a vodka brand which was first founded in Moscow in 1864, is apparently making light of its own "ties to Russia" in a new outdoor advertising campaign that has already been spotted by commuters in the New York area.
YOU COULD WIN DINNER WITH PRESIDENT TRUMP
"Made in America," reads the ad. "But we'd be happy to talk about our ties to Russia under oath."
The ads are presumably taking a jab at Trump's remarks following former FBI Director James Comey's Senate Committee Hearing on Thursday, during which Comey implied that Trump fired him over his ongoing investigation into Russian interference in the 2016 presidential election.
The following day, Trump vowed that he would be "100 percent" willing to testify under oath about Comey's accusations of Trump demanding his "loyalty" on the matter.
MIDDLE EASTERN AIRLINE TROLLS TRUMP WITH AIRFARE PROMOTION
A Twitter user by the name of Kate Kosturski is credited with uploading the first photo of the ad on June 10. Furthermore, her original post has already been retweeted more than 6,300 times and earned over 12,500 "likes" as of Tuesday morning, mostly by social users (and former "Star Trek" star George Takei) who were just tickled by Smirnoff's snarky joke.
For customers curious about Smirnoff's actual "ties to Russia," Bloomberg BusinessWeek reported that the company was founded by Pyotr Smirnov, who began distilling vodka in 1864. Following a revolution in the early 20th Century, Pyotr's son Vladimir escaped Russia and registered the company in Europe. The manufacturing of the product was later moved to the United States.
The company is now owned by Diageo, a large, muiti-brand British alcoholic beverage and spirits company.
According to AdWeek, a New York City advertising agency called 72andSunny is responsible for developing Smirnoff's new outdoor campaign.
FOLLOW US ON FACEBOOK FOR MORE FOX LIFESTYLE NEWS
As mentioned above, Smirnoff isn't the first company — or even the first beverage company — to troll Donald Trump in its advertising campaigns. Leading up to the 2016 election, a Mexican brewery called Cerveza Cucapá sold Trump t-shirts which transformed into anti-Trump t-shirts after exposure to heat, and in April 2017, a Canadian beer brewery by the name of Maverick released a limited edition Fake News Ale with a caricature of Trump on each can.