Restaurant patrons are leaving huge tips for their servers this holiday season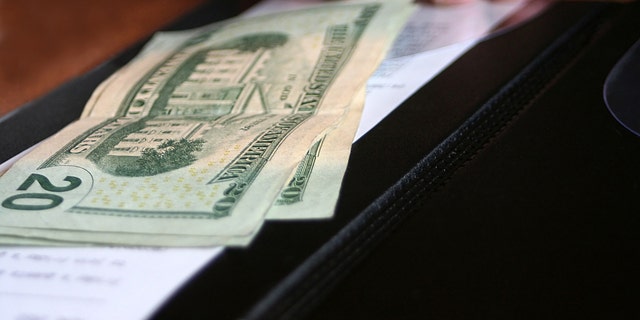 It may be the most wonderful time of the year, but for many hardworking restaurant staffers, it's business as usual.
With the holidays in full swing, Secret Santas across the country are making headlines not just for their serious restaurant tips, but for how that generosity is truly brightening the season for countless families.
On Dec. 17, Trisha Murphy of Ellsworth, Maine, was floored to find a $500 tip on a $38 bill. The single mother of four works up to 60 hours a week at Denny's in addition to attending nursing school part time, and that morning she had the misfortune of having her car towed, to the tune of a $735 bill, according to CBS News.
WIDOWED GRANDMOTHER SURPRISED WITH EMOTIONAL HOLIDAY GIFT
Taking to Facebook to share the tale, Murphy said she is wholeheartedly thankful for the patron's goodwill. She recounted that she arrived at Denny's that day "racking my brain" as to how to make ends meet ahead of Christmas.
She said she "almost collapsed" when the receipt printed.
"I looked up at this grungy looking man, my face as white as snow, and tears in my eyes. He just smiled again and said "Merry Christmas dear", and almost danced out of the restaurant," Murphy wrote. "I don't know this man's name, but I hope he realizes that he literally saved Christmas for my children and I! Good people do still exist."
SEX AT DOMINO'S, THE SZECHUAN SAUCE SHORTAGE, AND OTHER FAST-FOOD SCANDALS FROM 2017
Similar stories of holiday cheer have unfolded in recent days in Virginia and Arizona. On Dec. 15, waitress Liz Heron of Jimmy's Old Town Tavern in Herndon found a $1,010 tip on a $125 lunch bill. Left by do-gooders who call themselves the "Tip Bombers," the anonymous crew has a tradition of leaving a major gratuity at a randomly selected restaurant each year.
Still recovering from the devastation of losing all her possessions and pets in a 2015 house fire, Heron told Fox 5 DC that the overwhelming gesture gave her "hope for humanity."
FOLLOW US ON FACEBOOK FOR MORE FOX LIFESTYLE NEWS
An in Scottsdale, Ariz. staffers at the 5 & Diner were stunned to discover a whopping $2,000 tip on a $17.23 breakfast bill. WSMV reported that the unidentified customer made just one request — "Please split with the whole staff. Merry Christmas!"
'Tis the season to look out for others, after all.