'Pizza pocket' hoodie debuts for pizza lovers on the go
True pizza lovers will reluctantly admit that the divine dish is not the easiest food to eat on the go, making a new "pizza pocket" hoodie all the more clever of an invention.
Earlier this week, the so-called "Pizza Pocket Hoodie" made its official pre-debut with a crowdfunding campaign on Kickstarter. Touted by user ScrapTown USA as "the world's first hoodie that can cleanly hold your pizza while keeping it warm and close to your heart," the blue, unisex hoodie features a cartoon graphic of a pizza slice, conveniently positioned over a real-life pocket for wearers to fill with the saucy, cheesy treat.
PRESIDENT TRUMP, KIM JONG UN DINED ON PEAR KIMCHI, CHOCOLATE LAVA CAKE AT 'SOCIAL DINNER'
Meanwhile, the makers of the comical outwear say that the product's thoughtful design is no laughing matter.
"The insulated pouch is removable and hand washable to be used for as many slices as your stomach can hold. The flap of the pouch contains embedded magnets to help keep the heat in and pizza warm," the hoodie's description page reads.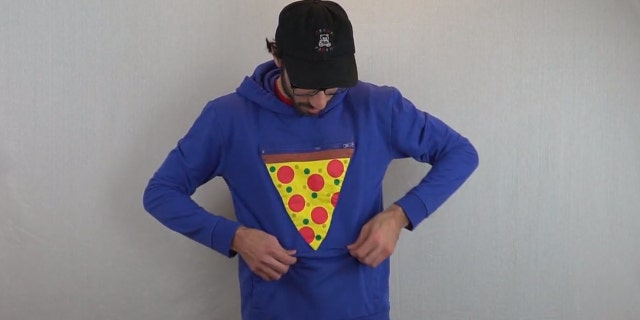 "The pouch is designed with three layers. An outer polyester layer, a middle foam layer and an inner metalized film layer. The combination of these layers help keep the pizza warm for hours."
FOLLOW US ON FACEBOOK FOR MORE FOX LIFESTYLE NEWS
As of Wednesday afternoon, the campaign has raised $1,715 from 28 backers of a $5G goal with 29 days to go. If the goal is met, the product will be ready to ship in June.
If this product comes to fruition, pizza pie enthusiasts will surely be glad to stylishly sport their own little "pizza heaven" wherever they go.
CLICK HERE TO GET THE FOX NEWS APP