'Nog to the world: 8 'eggnogs' to try around the world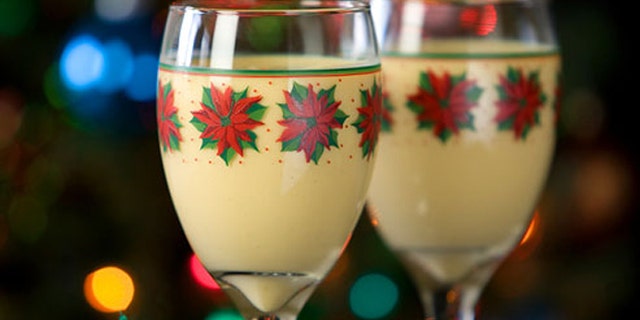 America's devotion to eggnog — the frothy festive beverage of milk, sugar, and eggs, served hot or cold and oftentimes spiked with rum, brandy, or other liquors — is strong, Army strong. Some have even "rioted" for their right to indulge in the holiday treat.
In what has been dubbed the Eggnog Riot of 1826, 70 cadets at West Point were involved in a seasonal skirmish after drinking vats of homemade eggnog at a Christmas celebration on campus in defiance of the superintendent of West Point's strict rules about alcohol consumption. The students carried on the eggnog excess of years prior, which led to the court-martial of several participants.
Nowadays, eggnog, customized, entirely legal, and less scandalous, abounds from sea to shining sea at office parties, bars, and homes. While traditional eggnog can be found abroad, nations around the world have their own version of the sweet creamy concoction. But does a "nog" by any other name taste as sweet?
Chilean cola de mono (literally "monkey's tail"), Abu Dhabi's silky date milk, and the potent bombardino swilled in the Italian Alps present a strong argument for the affirmative. Whether your holiday travels take you down the street or around the globe, toast the season with the world's top destinations for eggnog. Cheers!
Cola de Mono (Chile)
Named for former Chilean president Pedro "Monkey" Montt, Chile's spirited holiday beverage combines coffee, milk, and pisco. Called cola de mono (translation: "monkey's tail"), the festive drink is served chilled to combat warm December temperatures. Those heading to the Southern Hemisphere should hit Valparaíso's new Palacio Astoreca, a national landmark-turned-boutique hotel with a restaurant by an elBulli alum. Chef Sergio Barroso serves a killer cola de mono made with local tonka beans, star anise, and an elegant, semi-frozen coffee "cloud."
Advocaat (The Netherlands)
Holland's holiday spirit is so strong that some versions have to be eaten with a spoon. Dutch advocaat combines brandy or cognac with sugar, fresh vanilla, and a sinfully large quantity of egg yolks. Bottled varieties by Bols or De Kuyper are widely distributed and available internationally, but the best advocaat is made fresh, topped with whipped cream and cocoa, and enjoyed immediately. For a taste of Dutch decadence, try the cardamom-scented advocaat amongst the Rembrandts at Restaurant d'Vijff Vlieghen in Amsterdam.
Chilled Camel's Milk (United Arab Emirates)
Although their version is nonalcoholic, Emiratis can teach the world a thing or two about nog. Throughout the UAE, chilled camel's milk is blended with pitted dates in a surprisingly healthy take on the hearty beverage. In keeping with Arab hospitality, the date drink is often offered as a welcome beverage to houseguests throughout the year. At Abu Dhabi's luxe desert resort Qasr Al Sarab, it's lightly sweetened with local honey and presented to guests upon arrival.
Tamagozake (Japan)
Occasionally called "sake-nog" by Westerners, tamagozake is actually an uncommonly delicious Japanese home remedy for colds. A raw egg and pinch of sugar are continually whisked into warm sake until uniformly dissolved into a thick, creamy texture. Tamagozake can be served year-round but rarely appears on Japanese restaurant or bar menus, given its strong medicinal association.
More from The Daily Meal
10 Famous Cuisines in Unexpected Places

Awesome Apres Ski Spots

Which Airlines Have the Healthiest Food

12 Icy Breaks to Take This Winter