Lena Dunham has a tattoo of her favorite restaurant in a very private place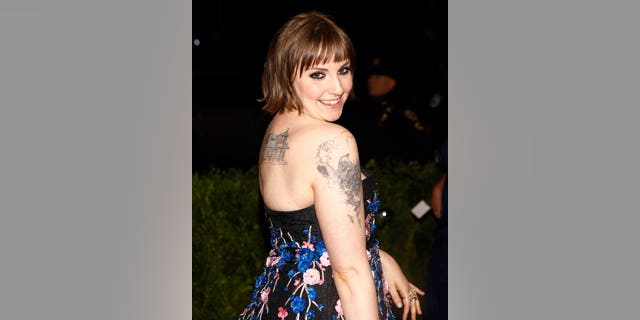 Lena Dunham showed off even more quirks than usual in her Vogue "73 Questions" interview, describing her nine tattoos — the most fascinating of which aren't for the public's eyes.
Dunham, 30, explained that her most prominent ink, on her upper right arm, is of Ferdinand the Bull, who she described as "a famous pacifist."
"On my side, Jemima [Kirke] tattooed a little picture of her dog, Rosie," she added. "I have an illustration from a children's book — a drunk guy did it. It's not great, I should get it covered up. Then I have Laura Thornhill, who's one of the first female skateboarders in history."
"I have Eloise as a tramp stamp — you know, Eloise who lived at the Plaza? And then here," Dunham, 30, continued, pointing to her inner wrist on her right arm, "and it says 'staunch' right there from 'Grey Gardens.'"
Dunham's most intriguing ink, though, is below the belt.
"On my butt, I have a snake wrapped around the moon," she revealed. "I also have a sign for The Odeon, which is my favorite restaurant in Tribeca."
This story originally appeared on NYPost.com.