Kraft says there is a Polly-O string cheese shortage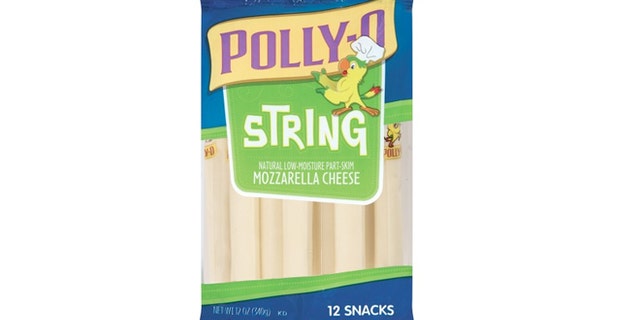 If you think a Velveetapocalypse is bad, try being a kid during the latest disaster to strike America – a shortage of Polly-O string cheese.
Lunchboxes have been missing the string cheese staple since Kraft Foods, the company that produces Polly-O, recalled some 735,000 cases of the snack at the end of October. And from the looks of it, there won't be relief anytime soon.
"My son doesn't want the health store stuff. He wants what's familiar. He wants the Polly-O."
"The same thing that happened with Velveeta, that's what's happening with Polly-O right now," said Julio Jonel, the dairy manager at a Food Emporium grocery store in New York City. "I haven't stocked it since mid-November. Now I just found out that it may not be back until midsummer."

According to the FDA, Kraft recalled millions of packages of Polly-O that came from a plant in upstate New York after the company received complaints that the cheese was spoiling too soon.
Shipped nationwide, the defective string cheese became discolored long before its expiration date, which ranged from Oct. 25 through Feb. 11. Kraft says production at the plant was initially halted while they investigated, but has since resumed. The recall included the 22 string cheese products on this list, distributed by the FDA.

Now, more than three months since the recall, some consumers in New York and New Jersey say they've searched several stores and still can't find Polly-O.

"There is a kind of brand loyalty," said Jake Daehler, a father of three who lives in Manhattan and is experiencing the Polly-O shortage firsthand. "There is one string cheese that has captured the kid market. My son doesn't want the health store stuff. He wants what's familiar. He wants the Polly-O."
Other customers have taken to Kraft's Facebook page to complain as well.
"My child could be the poster child for 'I only WANT Polly-o String Cheese,'" Claire Behrle, posted on Jan. 7. "She does not like any other. At this point, we have not found it for sale since the recall. When will it be back? (did I mention she's 19 yrs.)."
When contacted by FoxNews.com, Joyce Hodel, a Kraft spokeswoman, was unwilling to answer questions about the restocking and recall process, stating: "There are many variables that could affect how products get back into stock after a recall...As far as talking about our recall process, I'm afraid I can't share details as those are confidential."
It's unclear how widespread the shortage is. When pressed, Hodel said it could be national. FoxNews.com reached out to 30 supermarkets in different cities across the country. Most grocers said they did not stock the Kraft brand string cheese, and if they did there were no issues with getting it delivered. But a dairy manager at Detroit's Lance's Hometown Market reported a shortage in his warehouse and another manager at Vicente Foods in Los Angeles said he has been placing orders for Polly-O since the recall and has yet to receive a shipment.
As to when the Kraft predicts the Polly-O shortage will end, Hodel said: "As we have been communicating to customers, we expect to get most of our Kraft and Polly-O String Cheese products back in stock during March this year."
Jonel, the dairy manager at Food Emporium, has been stocking shelves with Organic Valley and Horizon string cheeses to offer families healthy alternatives. He also is pushing Sargento string cheese to devoted Polly-O-ites. While he says there was an adjustment period, some families have made the switch. And considering he doesn't expect to have Polly-O back until midsummer, he's glad that at least some consumers are eating the substitutes.
Still, for those who prefer Polly-O, three months is a long time to wait.
"Im in Northern NJ and I have been to 6 stores!!! no such luck!! Kraft is the only brand with 0% Lactose!!! I hope they are back before March!!!" Danielle Masucci Cierech wrote on Kraft's Facebook page.
If Polly-O is restocked by March, that will make it a five-month shortage.
Editor's note: This version updates an earlier story, which stated that Polly-O production at the Kraft plant had stopped. We apologize for the error.