Fast-food employee spits on customer's food in viral video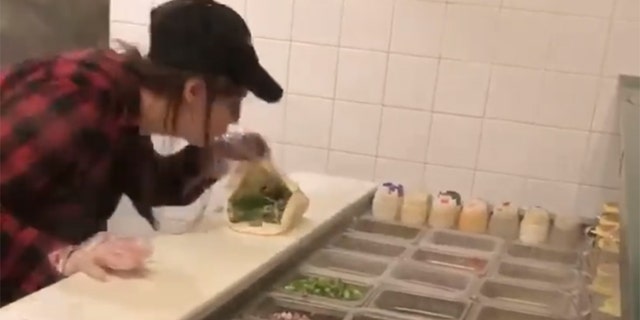 A Pita Pit employee in Missoula, Mont. has been terminated after a Facebook video showed her spitting on a customer's sandwich.
The video, which has since gone viral with nearly 300,000 views, was uploaded to Facebook shortly after the altercation, which is said to have taken place at 3 a.m. Saturday.
MCDONALD'S CUSTOMER TURNS VIOLENT AFTER RECEIVING WRONG BREAKFAST ORDER
In the recording, the customers are heard "daring" the employee to "do it" moments before the woman spits in the pita sandwich she is making. The altercation escalates with the customer throwing the sandwich and the employee trying to climb over the counter.
WARNING: Video contains strong language.
It is unknown what sparked the altercation. ShaeLynn, who uploaded the video and claims to be one of the customers, alleged the confrontation started because "this racist [employee] spit in our food because apparently she was having a bad day and didn't wanna[sic] be at work!"
The viral video has elicited thousands of likes and shares, and has brought negative attention to the downtown Missoula restaurant, prompting the owners to comment on the incident.
FOLLOW US ON FACEBOOK FOR MORE FOX LIFESTYLE NEWS
In a public Facebook post published on the restaurant's page, the owners issued an apology to their customers.
"We are shocked and saddened by the early morning incident that took place in our restaurant," the post read.
The owners then go on to directly address ShaeLynn in a longer message, saying they are "mortified" and wish they could "take back what happened."