Chinese airline brewing beer that tastes best at 35,000 feet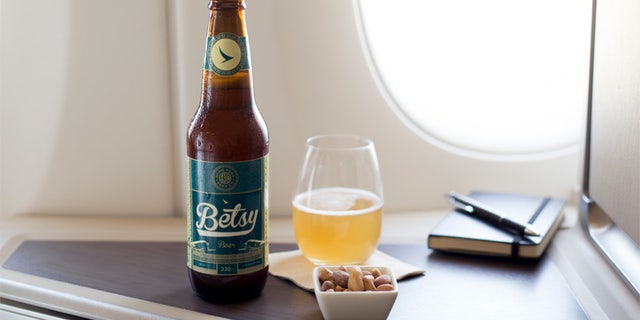 Cathay Pacific Airways knows that passengers' senses of taste and smell are diminished at 35,000 feet-- and they're reportedly compensating for it with beer.
On Tuesday, the Hong Kong-based airline announced a new in-flight innovation: Betsy Beer, a beverage specifically brewed with the "ingredients, aroma and necessary carbonation to taste great both in the air and on the ground."
Named after the Cathay Pacific's first airplane, a Douglas DC-3 nicknamed Betsy, Betsy Beer claims to be the world's first beer specifically designed to be enjoyed at high altitudes.
BALTIMORE BREWERS FIGHT BACK AS DIAGEO PREPARES TO OPEN US GUINNESS FACTORY
"We know that when you fly, your sense of taste changes," the airline wrote in a press release. "Airlines address this for food in certain ways. But nobody has ever tried to improve the taste of beer at altitude."
According to the release, Betsy Beer is brewed with only Hong Kong- and U.K.-sourced ingredients, which include British hops called known as "fuggle," honey sourced from the New Territories of Hong Kong, and "dragon eye" fruit, also known as longan.
The company also says that their signature Betsy Beer is brewed by the Hong Kong Beer Co., which worked with Cathay Pacific and an "expert tasting panel" — including Thomas Lau, the chairman of the Hong Kong Craft Beer Association, and May Chow, who was named Asia's Best Female Chef at the 2017 Asia's 50 Best Restaurants ceremony — to develop the flavor.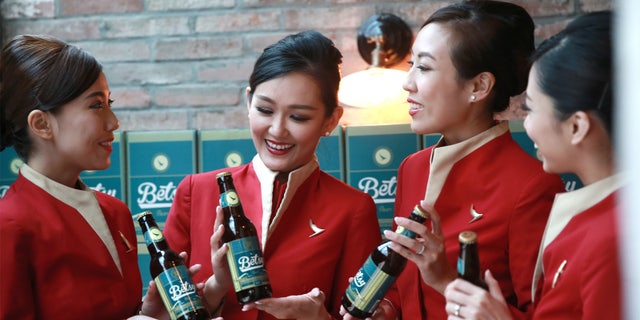 While Betsy Beer may be the world's first beer brewed specifically for airline passengers, preparing special altitude-optimal food has long been a concern for airlines.
In 2012, Surf Air CEO Simon Talling-Smith, then the executive vice president of Americas for British Airways, told Fox News that a passenger's "ability to taste food and wine decreases thirty-percent at altitude."
To compensate, airlines in-flight chefs have long been experimenting with aromatics, herbs and spices in an effort to enhance the flavor of their foods, added food and travel author Howard Hillman.
FOLLOW US ON FACEBOOK FOR MORE FOX LIFESTYLE NEWS
But beer, it seems, was not given an altitude-friendly overhaul, at least according to Cathay Pacific's claims.
Cathay Pacific says Betsy Beer will be available for First and Business Class passengers on flights between Hong Kong and the U.K. starting on March 1, and through the end of its initial launch on April 31.
Betsy Beer will also be sold in airport lounges in Hong Kong and Heathrow airports, as well as in select restaurants in Hong Kong.