Burger King's 1-cent Whopper deal charges man nearly $1,100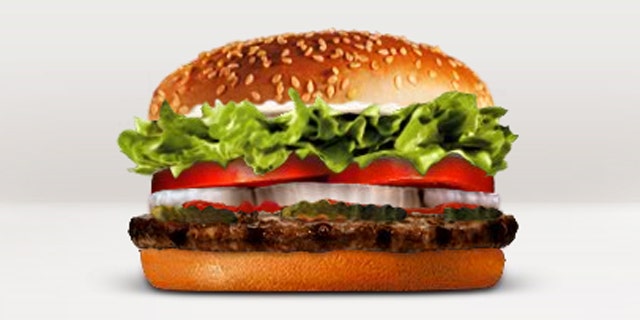 That's one whopper of a bill.
A California Burger King customer was shocked to see he was charged nearly $1,100 after trying to take advantage of Burger King's penny Whopper Detour deal.
BURGER KING CUSTOMER CLAIMS WHOPPER CONTAINED DEAD COCKROACH: 'I HEAVED A LITTLE BIT'
The promotion asks customers to head to McDonald's and open up their Burger King app to order a Whopper sandwich for only a penny. When Los Angeles resident Boyce Harvey was within proximity of the McDonald's, he took out his phone and activated the deal.
However, when Harvey went to pick up his hamburger at Burger King, the manager said they could not find his order. While inside the fast food chain, Harvey selected another deal, got his food and left.
After Harvey left the restaurant, he noticed the outrageous $1,093.91 charge to his account, 6 ABC reported.
BURGER KING IS AMERICA'S FASTEST DRIVE-THRU CHAIN, STUDY FINDS
Harvey told 6 ABC that there is now an overdraft on his account, and that he is working with Burger King to sort it out.
In a statement to Fox News, Burger King confirmed the incident, but said it was an isolated event.
FOLLOW US ON FACEBOOK FOR MORE FOX LIFESTYLE NEWS
"We've seen tremendous success with the Whopper Detour promotion since its launch last week. We can confirm that the case concerning this guest is related to an isolated technical issue, and we're taking this very seriously. We've been in direct contact with the guest to ensure a full refund is issued immediately," the statement read.